'It's a happening place now.'
Tom and Nancy Ulmer, take a turn on the dance floor at Cowboy Bob's on a recent Saturday night.
Asbury, Mo. | Pop. 207 
Roger Nomer | Globe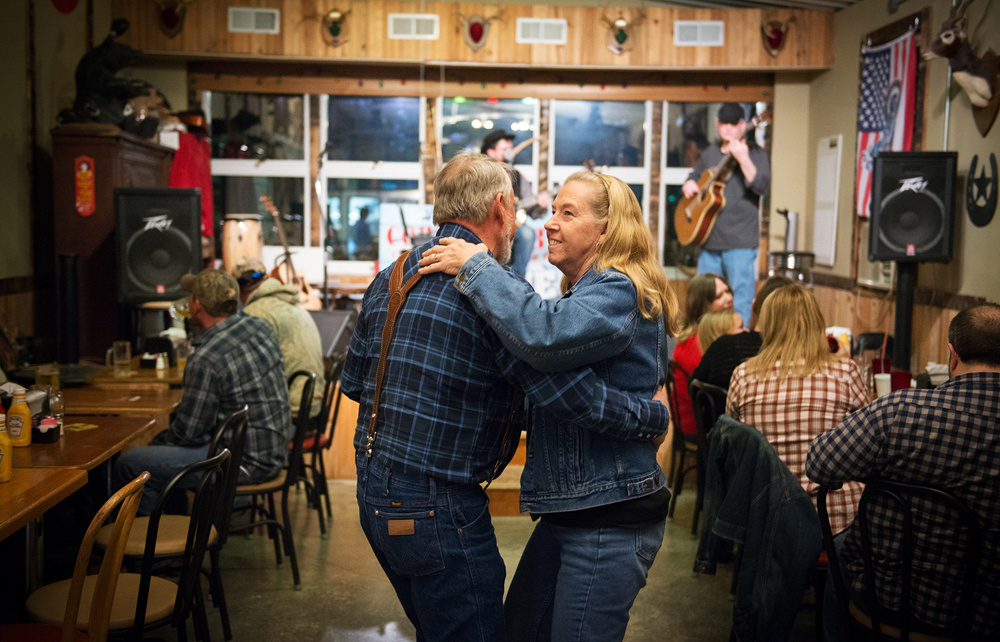 In a tiny town on the Missouri-Kansas border, a local business is sparking a resurgence.
People get out.
They'll stay awhile, eating food, spending money, being entertained. They have come to Cowboy Bob's.
"It's a little magnet in the middle of nowhere," said Becky Peavler, who signed on as a server at Cowboy Bob's in October, as she prepares for the onslaught of diners.
The restaurant, which in May will celebrate a year in business, is the first restaurant to open in Asbury in many years — at least seven, when the now closed Stewart's Café across the street opened. Before that, no one can recall.
"I'd say it's unusual for something new to open in a town this size," Peavler said.
By Andra Bryan Stefanoni astefanoni@joplinglobe.com ASBURY, Mo. — It's Saturday night in a town whose population wouldn't even fill a small elementary school most nights. But on this night, stand by either of the two city limit signs and you'll see a line of car headlights approaching on Missouri Highway 171, dotting the darkness as they pass farm fields to the north and the south of town.
A year ago, their drivers would have hit the city limits and spent exactly 24 seconds in Asbury, a dot on the map between Joplin and Pittsburg, Kan.
Tonight, some of the cars slow to a stop. >>
'Easy place to live'

Built as a railroad switching town halfway between Joplin and Pittsburg, Kan., Asbury's population since the last century has held fairly steady: From 226 residents in 1920 to 207 in 2010.
But a 1912 edition of "History of Jasper County" painted Asbury as a town on the move.
"The town of Asbury was laid out in 1896. So rapidly did the town grow that before the close of the year there were six stores, two livery stables, two hotels and an implement house. The population increased so fast that it was necessary to build a two-room school house. Asbury also had a well edited paper in 1912, and a bank," the history noted.
Over a plate of Cowboy Bob's barbecue that he washed down with a cold mug of beer, Asbury native Greg Ulmer, 55, painted a picture of the town's commerce that continued well into the 1960s.
"We had a Chevy dealership, two banks, a barber shop, a grocery store, a tractor supply, a school — a lot going on here," Ulmer said. But business owners grew older and retired, or left for greener pastures. The school, built in 1926, closed the late 1980s when the state mandated Asbury's students begin attending Carl Junction.
Mayor Benny Brown, who was at the restaurant listening to the music, said there are still many "good people" living in Asbury.
"I've traveled all over the country but there is no place like home," said Brown, who owns a trucking company. 
Roger Hittle and his wife Rhonda, said they found Asbury to be a place where neighbors cared about one another and, perhaps, a place where dreams could come true.
"After getting out of the Army, I traveled around the country every place you could possibly think of. People here in this part of the country are some of the friendliest you'll find anywhere," Hittle said of his choice to become rooted here in the 1970s. "The standard of living is a little depressed, but it's also an easy place to live."
Roger's dream
Having served at times as a city councilman and mayor, Hittle also had been thinking for years about what to do with the ramshackle block he had purchased in the center of town. He had eaten at restaurants throughout Southeast Kansas and Southwest Missouri and knew what he liked and what he didn't.
He tore down the existing buildings, salvaging what he could to reuse. Then six years ago, he began to build a new business.
His goal was to serve up barbecue and live entertainment with no cover charge, and to include a small general store where residents could go for basics: canned goods, Kleenexes, a loaf of bread and the like.
"A lot of people referred to it as Roger's dream. It sorta was. Maybe it was folly, I don't know," Hittle said.
He crafted the bar's countertop out of wood from rafters dating to 1913. He hung behind it an enormous mirror from a barber shop that once stood on the site.
He built a stage out of wood from a nearby grain bin, and incorporated scrap metal from a Kansas coal shovel. In the restaurant, he created a custom grill disguised as a stagecoach driven by two mannequin cowboys. In the general store, his wife stocked shelves with not only necessary items, but gift items, as well. The decor throughout? Decidedly western.
"For years, everyone drove by and wondered, 'What's it going to be?'," Ulmer said. "It took six years, but now here we are."
Hittle was emphatic that the end product be family-friendly — no hard liquor, no smoking, no cussing. He didn't want people coming to Asbury and "getting in trouble," he said.
He also wanted people from all walks of life to feel welcome. It achieved that, Peavler said.
"When you think about it, Asbury may be small, but the circle around Asbury is huge. And it's an eclectic group living in that circle," Peavler said. "I think that's what's nice about this place — everyone fits in."
That was evident on this Saturday night with the crowd of some 40 people — a mix of out-of-towners and local folks, families with children, couples, blue-collar workers, a farmer or two. They're entertained by Lost Cannon, three Southwest Missouri men of varying backgrounds who use a blend of stringed instruments to cover tunes with country, rock and bluegrass influences.
Ulmer said they're among the many musicians now coming to town happy to have a place to play, a jar of tips and a hot meal, and appreciative crowds.
"We have Bobby Degonia of Livewire, Rebecca Hawkins Project, Joe's Old Time Country, the Granny Chicks," Ulmer said. "They take requests, people dance, it's a good time."
'Happening place now'
Charlie Lewis, who by day manages a ranch a few miles away and on Friday nights is the karaoke master at Cowboy Bob's, said he's happy to see the town more lively these days.
"There's a lot more action around Asbury than most people think," he said. "It's a happening place now."
Floyd Reeves, who a few years ago opened a bait and tackle shop in his garage a few blocks off of Highway 171, said the influx of people coming to town now and stopping has helped his business. 
"Cowboy Bob's has gotten people to slow down and see my sign, that's for sure. It's helped keep some jobs in town, especially for women to be waitresses and cleaners," Reeves said. "It brings a lot of people in to town and they see something other than just a gas station."
Hittle shrugs off taking any credit for his contributions to the town's future — it was already a good place to live, he said.
"We have some decrepit houses, but we're working on getting them tore down. We have city sewer, city water on the city well. We have a large enough generator to run the pump if the electric goes out," Hittle said. "All the streets are paved, we have a new city tractor, and everything is paid for with plenty of money in the bank because we've spent wisely over the years."
"We're conveniently located to about anything you'd want to buy in Joplin or Pittsburg, and here with the real estate prices, overall, your dollar will buy you a little more."
Pulling together
While Asbury's future appears a little more solid now, Hittle has battled a number of health issues and has been in and out of the Veterans Administration Hospital in Fayetteville, Ark. Last Saturday, as Hittle recuperated at home from his own most recent emergency, a waitress had to leave unexpectedly during the supper hour because of an asthma attack. Ulmer's wife, Norma, abandoned her own plate of food and took on the role of waitress.
"That's just what you do in Asbury," she said as she served patrons. "We know each other, we pitch in when we need to."
Her husband said everyone is pulling for Roger.
"He's a good friend, and we have some unfinished business to work on," Ulmer said, stepping out the side door to show off a beer garden in progress, the centerpiece of which is a custom stage Hittle engineered out of a semi trailer.
"This place has a lot to offer," Ulmer said of Cowboy Bob's. "So does Asbury. People need to come check it out."