Program teaches immigrants about U.S. language, culture, including holiday tradition
NOEL, Mo. — In a nod to that first Thanksgiving in Plymouth in 1621, a mix of different cultures and nationalities came together in Noel this week for a meal.
About 50 students and their families attended the second Thanksgiving meal organized by Crowder College instructors who teach English as a second language. For a few, this was their first time eating the holiday fare.
"I like the food … (and) I like being with family and friends," said Anida Defang, 44, who came to the United States in 2015 and was sampling for the first time turkey and other traditional staples. She is originally from Pohnpei, an island in the Federated States of Micronesia in the western Pacific.
Defang said she hasn't been back to Pohnpei since she moved to the United States and misses the island's rivers and waterfalls, but on Monday, at First Baptist Church in Noel, she said she was thankful not only for the meal but also for the company.
In another nod to that first Thanksgiving, Defang and many of those who gathered in Noel had taken a long journey of their own to get to their new country.
'My three kids'
Among those in attendance was Cesar Martin Diaz, 44, of Southwest City. With him were his three sons, all of them enjoying turkey, potatoes and gravy.
Food in the United States is more sweet than food in Mexico, which is spicier, he said, adding that he appreciates both.
"(Thanksgiving) is nice. I like it. There's good food (but) it's different," Diaz said.
Diaz said he moved to the United States 17 years ago from Toluca, Mexico, following a sister who lived in Carthage. He lived there for a year before moving permanently to Southwest City, he said.
He said he moved to the U.S. for better work opportunities, and today he works at Simmons Foods, which has a poultry processing plant in Southwest City. He said he decided to stay so that his sons could have a good education and better opportunities. All three of them — 15, 12 and 6 — were born in the United States.
For Diaz, Thanksgiving is a time to be grateful for family, and to come together.
"I like it living here," he added. "It's more calm and relaxed … (and) I'm happy for my three kids."
Clothing, currency, customs
During the meal, instructors showed the movie "Desperate Crossing" to students and their families. It is a documentary about the obstacles and challenges the Pilgrims faced as they were moving and settling in the New World nearly 400 years ago.
Some in attendance played games while others read aloud thank-you notes.
One of them was Defang, who said she was thankful to be in the United States with her family.
She first moved to Houston, Texas, after arriving in the country, living with her eldest daughter before permanently moving to Noel in 2016 with her niece. At first, she said, she only came to Noel to visit family, but decided to stay because she enjoyed the peacefulness and the diversity of the town, especially when she met other Micronesians who live in the area and helped her feel at home.
Language was a barrier, she said, as was learning currency, clothing customs and interacting with others.
She said that when she was growing up in Pohnpei, women wore dresses and did not wear pants, for example, and life was more traditional and strict compared with American culture.
Defang, who works for Tyson Foods, which has a poultry processing plant in Noel, enrolled in the ESL classes two months ago. She said she is taking things step by step, improving her English and learning more about American culture and government before deciding what she wants to do next with her life.
"It's hard to (get) citizenship but I don't mind (waiting), I just want to learn more about the culture and the government (for now)," she said.
This is the second year that ESL instructors have held a Thanksgiving meal for students. The purpose of this event is to acquaint students who are immigrants and non-English speakers with U.S. customs and practices, said Trish Udell, ESL instructor.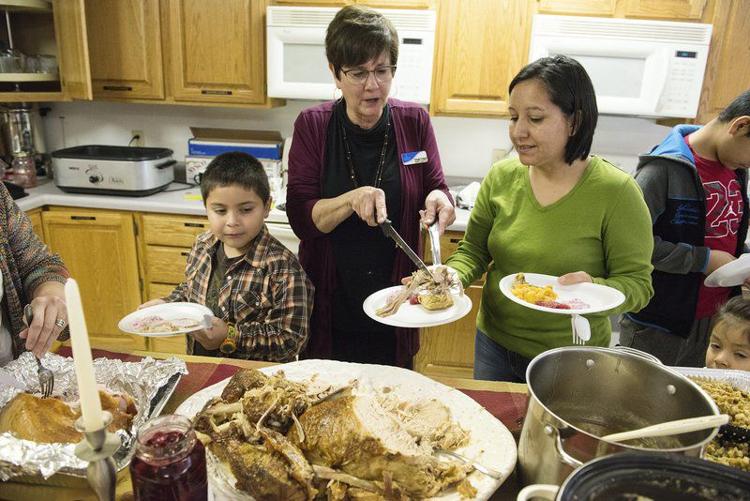 "We always try to expose international students to American culture, and holidays and traditions," said Udell, who has been working with international students for 15 years and has been an ESL instructor with Crowder for two years.
The ESL program started four years ago in Noel to primarily help immigrants with speaking, listening, writing and reading skills. They also teach them some social and life skills, including helping them applying for a job, studying for a driver's license exam and teaching basic financial concepts, Udell said.
There are about 70 students from different background and nationalities enrolled in the fall program, including Hispanics, Somalis, Sudanese, Karen people from Burma, Puerto Ricans, Central Americans and Micronesians. The program is free but students have to be older than 17 to enroll in classes.
"You're using food, community and eating together to also enhance their English skills," she said.
'Thank you for your service'
"It's delicious," Guillermina Mendoza said, sampling the sweet bread, cranberry and turkey.
Mendoza, 50, has been living in Southwest City for 15 years, and she has eaten Thanksgiving fare before. She and her two sons came here to join her husband, who had already been living in the United States. He came to the country looking for a job, she said, adding that he works for Tyson.
Mendoza became a U.S. citizen in 2013 and would like to go back to school and get a degree but said she would first like to improve her English so that she can become a Spanish translator for other newcomers.
Although she was glad to be reunited with her family after being apart for a long time, Mendoza, who is originally from Coahuila, Mexico, said she missed her relatives living in Mexico and also said she experienced culture shock when she first arrived.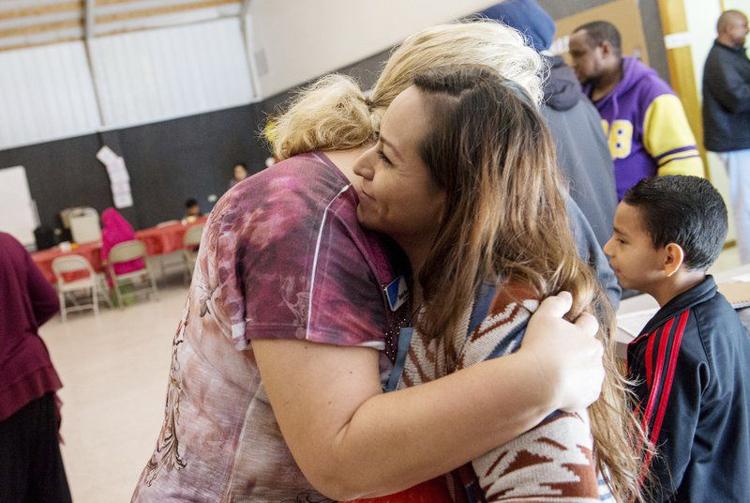 "It was hard and sad ... but I am happy living in the United States," she said.
Holidays such as Thanksgiving where people come together remind her why family and friends are important to her.
She said that both of her sons served in the U.S. military, with her oldest, 27-year-old Leonel, having served in Iraq, and her youngest, 24-year-old Alfonso, serving in the National Guard.
She said she witnessed the suffering the war caused her son, but said she also was proud that both had served their country.
She recounted that when she went to pick him up from the airport after his tour in Iraq, strangers who saw his uniform came up to him to shake his hands.
"I cried ... but I felt proud (of my son) when they said, 'Thank you for your service.'"