As part of the Thomas Jefferson Independent Day School's 25th anniversary celebration, its students on Wednesday got their first chance to handle a copy of Thomas Aquinas' "Summa Theologica" from 1475. Well, it was their first chance unless they'd previously found one of the other two copies known to exist.
Even as the private Joplin school celebrates a quarter century, the book that made its way there this week is more than 21 times older.
The book, along with numerous other original, hard-copy texts and documents from throughout American and world history, were presented Wednesday and put on display by Kris Bex, president of The Remnant Trust, an educational foundation based at Texas Tech University that preserves historic documents.
The 40 or so texts will be kept at Thomas Jefferson for the next three months for students and teachers to use for lectures and study as the school celebrates its anniversary.
"They get a little bit more depth rather than just the text and the words and meaning," said Robert Carlson, T.J.'s director of technology and development. "They get the feel of how it was presented and where it was presented and when. You'll see the Emancipation Proclamation in The New York Times' front page, where that was published, and the newspaper was only 2 cents. You don't get that if you just Google 'Emancipation Proclamation,' and get the text of it, you don't really get the feel for how it was presented, so it makes a huge difference being able to bring these here."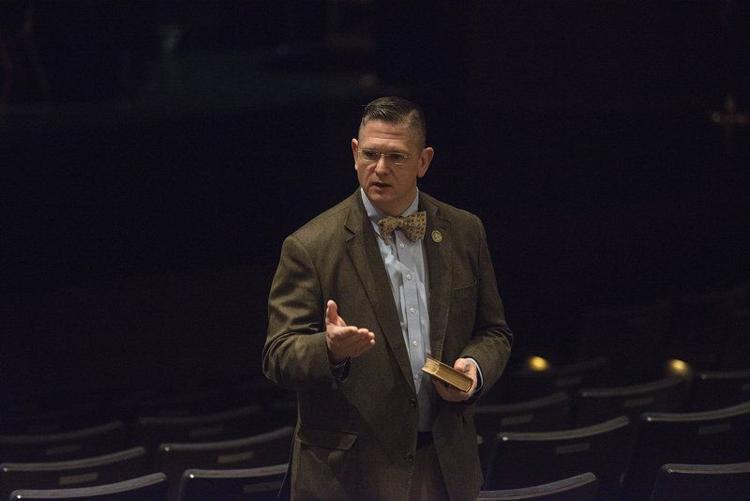 Bex said his organization hopes to inspire students and the public at large with its collection of some 1,500 works of some of history's first minds to ponder "liberty and dignity."
"We share it with people," he said. "We let people handle it, we let people use it. They can take it out of the display case, they can use it in a class. Like here at Thomas Jefferson, students will be able to come into the library and actually handle a 530-year-old Thomas Aquinas. And I wouldn't be overstating it if I said that this is probably a once-in-a-lifetime opportunity. As I understand it, there's nowhere else in the world that you can do this; The Remnant Trust is the only rare book-lending library."
Bex gave an early version of a Wednesday night presentation for the school's anniversary to a group of students in the afternoon, where he took questions and passed around copies of "Summa Theologica" and "The Federalist Papers."
In addition to Bex's presentation, Wednesday's night's anniversary event included the performance of a musical piece commissioned specifically for the Thomas Jefferson orchestra and choir to highlight its celebration.
"We have a really big high school choir, really big high school orchestra," Carlson said Wednesday afternoon. "It's going to be the world premier of that song, based on the Declaration of Independence. So people will hear that and know that it started here at Thomas Jefferson in 2018.