WEBB CITY, Mo.— A special-effects makeup artist, Meagan Pippin, of Webb City, uses her body as a canvas to create unworldly creatures, demons and monsters to conjure the perfect scare.
"It's kind of like a painter who's painting a picture— he feels calm and zones in to what he's doing," said Pippin, describing the process. "That's what this is like for me, but I'm painting a picture on my face. I'm the one creating the art, and it's just a bonus to scare people."
She's just one of the hundreds of area residents who go all out this time of year, volunteering or working in area spook houses.
Pippin has been practicing special effects for about six years, and during the month of October, she's in her natural element. She works as a scare actor at a nearby spook house, which really allows her to put her makeup skills to the test during the Halloween season.
"Every year, I do a different clown look because it's fun," Pippin said. "I paint my face and do a new prosthetic. For me, the weirder I feel — or if I don't feel like myself — that's actually the best way to do it. I have a signature laugh, and we all have little signature things that we do throughout the spook house."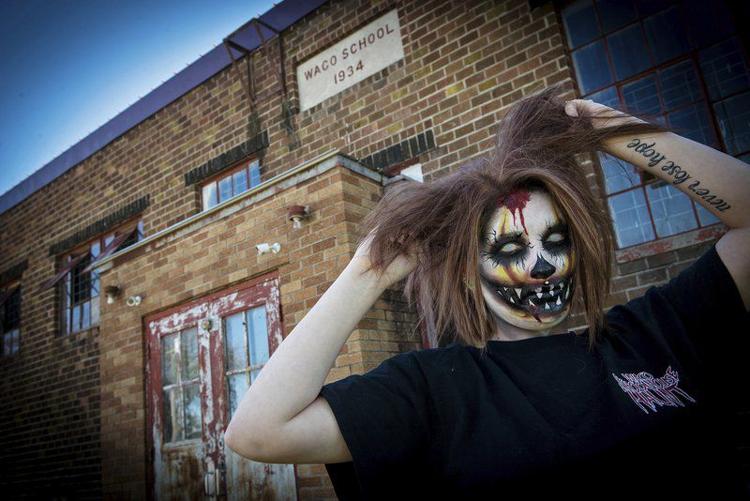 Throughout the month, Pippin spends every Friday and Saturday at the Waco Schoolhouse Haunt in Waco, Missouri. She prepares her signature look hours before the 1930's schoolhouse opens its doors to the public. Pippin even creates an alter ego to get into character.
"I usually don't get into character until after all of my makeup is done because you sit there in the mirror and play around with how you want to be, how you want to scare that night, and if you want to be a more funny or a silent character," she said. "It just kind of depends on the makeup look that you're doing."
Jason Renn has co-owned the Waco Schoolhouse Haunt with his brother, Brian, since 2013. He said that Pippin has been with them since the beginning and works outside to entertain the patrons waiting in line to enter.
"We have several of the actors that do their own makeup, but she (Meagan) is definitely one of the best," he said. "The reaction from visitors says it all. You know she's doing something right when people won't even look at her."
Jason Renn said every artist, no matter the industry, has his or her own vision.
"She (Meagan) is very creative, and we can always rely on her to come up with something original," he said. "Brian and I like to do things our own way and be unique with our haunt, and Meagan fits in perfectly with what we try to accomplish."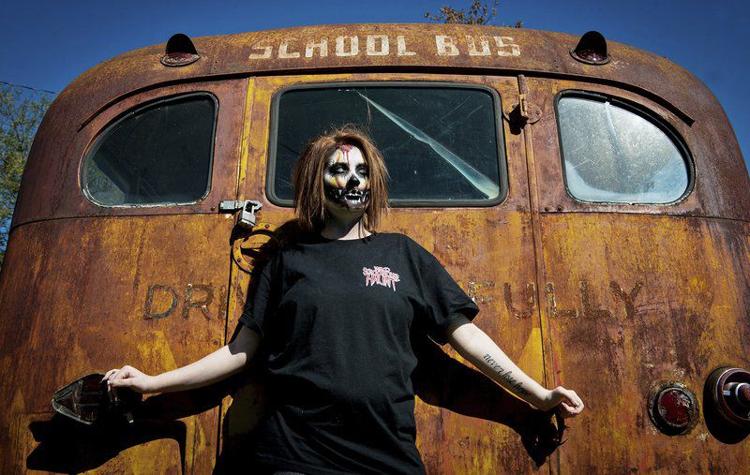 A small table in the corner of Pippin's apartment serves as her makeup studio where her special effects come to life. A white, styrofoam mannequin head sits surrounded by materials such as plastic modeling beads, liquid latex bottles and different shades of makeup. The prop is outfitted with antlers and a demon-like mouth baring sharp white teeth.
The idea stemmed from a sketch she drew inside of her notebook, and she began bringing it to life during the last week of September.
"It's like a woodland creature, wendigo demon," Pippin said, describing her latest creation. "I'm currently building another piece of skin to go on the horns. A lot of the materials I use are basic like a latex flour paste and aluminum foil. The plastic, I actually use and mold myself with polymorph plastic. You put in hot water and then you can mold it and shape it."
Pippin grew up watching horror movies, and her love for the genre grew deeper as she began dabbling in special effects makeup when she was in high school.
"My freshman year, I went out to a spook house at Waco Schoolhouse Haunt and saw some of the actors, and I was like, this is really cool. This would be really cool to make myself look scary," she said. "I bought my first pair of (colored) contacts and from there, I kind of sprung forward. Every year, I get better and better, and I do something different."
On average, her creations and masks can take anywhere from a few hours to over a week to complete, depending on the materials and the complexity of the subject.
"Taking the time and making it look realistic for someone to be so scared to run away, that to me, shows I did a good job," Pippin said. "It's really fun. I love it."
Every year, Pippin said, she pushes herself to make bigger and better things. She also watches herself on camera at the Waco Schoolhouse to learn from her movements or what really scares people.
"We have cameras in every single room, and it's really fun to go back and see yourself on those, especially if you scare a group really well," Pippin said. "If someone is physically having to run from you, it's the best part. It definitely gets your adrenaline pumping when you scare someone."
Overall, her long-term goal is to become a special effects artist for the entertainment industry.
"In the long run, I hope to make it into a career," she said. "It's one of those things where I have to start small and work my way up, doing different jobs. I hope to work for movie sets or make props. As of right now, I'm just continuing to strive forward and do it every October."