As Missouri slowly loosens restrictions, public libraries are executing phased reopening strategies and offering an array of services to help meet the needs of their patrons while most establishments remain closed amid the COVID-19 pandemic.
Libraries in Joplin, Webb City, Carthage and Neosho have implemented curbside pickup services or reopened their lobbies to limited capacity. A majority, if not all libraries, also provide online catalogs, e-editions and references.
Jeana Gockley, Joplin Public Library director, said it's imperative for libraries to stay open during the COVID-19 crisis because communities depend on them for information, materials and a temporary escape from reality.
"We get thousands of people in our doors a week, and without those services, people just don't know what to do," she said. "Getting materials to people is really important for people's mental health. If you're at home and don't have a lot to do, it affects you mentally. We still have a lot of online offerings like tools and databases that they can utilize even if the building isn't physically open."
The Joplin Public Library has been collaborating with the city health department and libraries statewide in order to develop a safe, multiphase reopening plan after closing its doors on March 18.
Last week, Joplin library staff began phase three of its reopening plan by providing curbside pickup service in which patrons can obtain materials they have had placed on hold without leaving their vehicles. Administrative staff returned to the building earlier this month for phase one and opened its exterior book drop on May 11 for phase two.
The new curbside service operates from 10 a.m. to 2 p.m. Monday through Saturday. Gockley said more people are using it, with the library seeing an average of 100 holds placed daily. Patrons can also check out their items through the 24/7 locker service at the front entrance.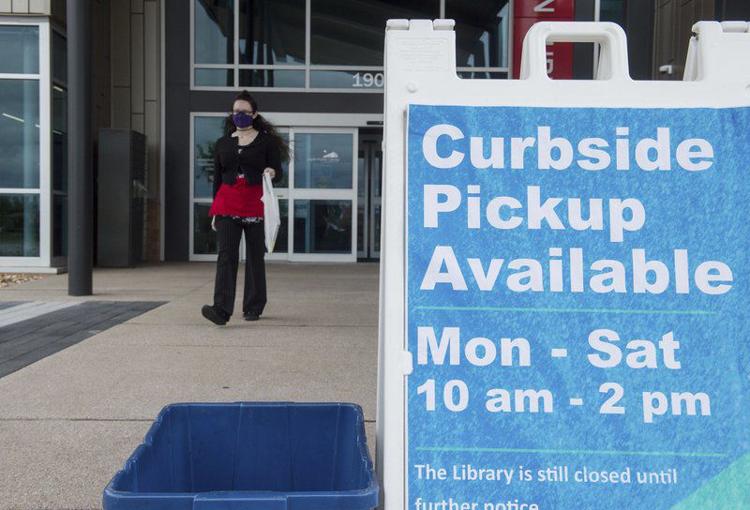 "It's working out well, and we started it last Thursday," Gockley said. "The way it works is we encourage people to go online and place their holds in advance. It can take us up to 24 hours to pull a hold. If you don't have access online, you can call us during those same curbside services. It keeps steadily increasing each day, but on Friday, we had 98 items check out, and Saturday, we had 135. Sunday, we had 172."
Danya Walker, of Joplin, is an avid reader and even has a free community library in her front yard that she kept open when the public library closed for the pandemic. She's used the curbside service twice recently and said it's convenient.
"It was wonderful," Walker said. "There wasn't a waiting line. I just pulled up and they have a staff person stationed outside who came up to the window wearing a mask. They asked my name, and the books were already checked out to me. They had them bagged for my protection and ran them out within three minutes. I didn't even have to get out of my car or anything."
Phase four will allow people into the library lobby and phase five will open the building entirely to the public while adhering to social distancing and limited capacity. The last phase will be when the library can resume normal operation. The tentative opening date for limited inside services is Monday, June 8, with different hours of operation, but the date is subject to change.
The 2020 Summer Reading Program kicks off May 26 for children, teens and adults. The program will operate through an online reading tracking platform called Beanstack to log reading, activities and to document prizes earned. Visit https://joplinpubliclibrary.beanstack.org to register.
"We have a new system where people can register online," Gockley said. We realize that some people don't have online access, but we do have printed game boards that people can pick up and track their reading and activities that way, as well."
Webb City
Curbside service, which began two weeks ago, is the first phase of the Webb City Public Library's reopening plan. Patrons can call the library at 417-673-4326 or order books on the website, www.webbcitylibrary.org, and an appointment will be made for pickup. The library's altered hours run from 8 a.m. to 4 p.m. Monday through Friday and from 10 a.m. to 2 p.m. Saturday.
Jake Johnson, library director, said especially for small towns like Webb City, the library may be the only form of entertainment for some community members, which is why they aimed to open earlier with certain safety precautions.
"There are still a lot of people who don't have internet access or computer access," he said. "If they don't have internet access, we've got our Wi-Fi extending out to the parking lot, so they can use their devices there, but if they don't have a computer, they can still come in here."
The public is now allowed inside of the building on a limited basis — the second phase of its reopening plan, which launched Monday. Only 30 people are allowed inside at a time to adhere to social distancing guidelines, and all employees are wearing masks.
"The computers are available (for essential business), but we only have five versus 12, and we're not letting anyone sit or stay in the building," Johnson said. "They have to get their items and leave. For the most part, people have been grabbing their books and leaving before someone else comes in. If they still don't feel comfortable coming into the building, they can still place their orders online or call us, and we'll take it out to them."
Johnson said the goal for phase three is to resume normal hours, hopefully in June. Phase four will focus on allowing patrons to use public spaces again and return the seating. The 2020 Summer Reading Program will also be available online, and there won't be any in-house programs until at least June or July, which depends on social distancing guidelines, according to Johnson.
Neosho
Carrie Cline, director of the Neosho-Newton County Library, said the first phase of the reopening plan there was curbside service, which began May 4. Over the past few days, patrons have been admitted into the lobby to request items, send faxes, make copies, use laptops or apply for a library card. The next phase is being discussed this week, according to Cline.
The library's currently open from 9 a.m. to 5 p.m. Monday through Thursday, from 9 a.m. to 1 p.m. Friday and from noon to 4 p.m. Saturday.
"We have a very large facility, and we'd like to go ahead and start letting up to 20 or 30 people in for like a 30-minute time period," Cline said. "We're going to get rid of all of the seating because I don't want people coming in and sitting. People can browse, do their thing, and come and go. This may be later this week, but it depends on what my board decides."
Every item that's been returned is being quarantined for at least three days before it's placed back on the shelves to prevent the spread of the illness.
The 2020 Summer Reading Program will be offered only online in June but via a more normal approach later in the summer, Cline said.
"If everything keeps progressing, then in July and August we'll have live meetings, and we're going to have a lot of fun," she said. "If we get yanked back again, we'll have to replan, but we're hoping for the best. Summer, by far, is our busiest time."