AFTON, Okla. — With the cut of a rotary tool and the stitch of a sewing machine, a small group of Northeast Oklahoma women gathered on Tuesday with one goal in mind: to make reusable cotton masks for area first responders.
The group spent the afternoon at Foundation Free Will Baptist Church in rural Ottawa County making fabric masks. They're among scores of people answering pleas from hospitals, doctors and nurses so desperate for personal protective equipment amid the viral pandemic that they've turned to the public, saying do-it-yourself face masks are better than nothing.
Federal officials had previously advised hospital workers to use surgical masks when treating patients who might be infected with coronavirus amid reports of dwindling supplies of fitted and more protective N95 masks.
Last week, the Centers for Disease Control and Prevention quietly updated its guidance, saying hospitals that run low on surgical masks should consider ways to reuse them or to use them through an entire shift. And if hospitals run out, the CDC said, scarfs or bandanas could be used "as a last resort," though some health officials warned cloth masks might not work.
'I helped'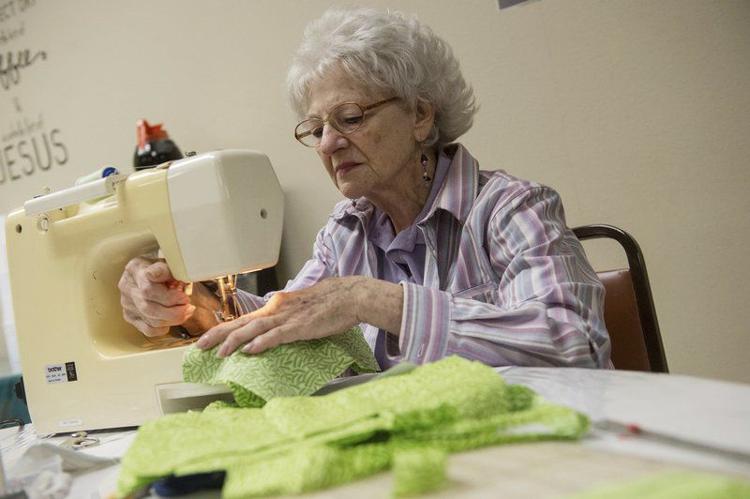 The Northeast Oklahoma event was organized by Concha Trippensee and Faye Taffner after a first responder in the church's congregation asked for assistance in securing masks for his deputies. The women worked together, each taking a specific task such as cutting or ironing fabric.
Several had raided their own fabric stashes at home to find swatches of superhero and camouflage prints to use.
"I thought it would be fun and cheer them up," Trippensee said as she cut out a Supergirl print. "In the sad times, you need to do things to cheer people up."
The women used a process adapted from a pattern found online at deaconess.com. They made the three-layered mask with two panels of cotton and one of interfacing fabric.
One of the volunteers, Donna Wittman, suggested the group try fabric ties instead of elastic based on firsthand experience from the October 2017 Tubbs Fire in California.
"For two weeks, we had to use masks," she said. "The elastic is OK if you are just wearing the mask to run to the store. But if you are a nurse or a first responder, and wearing it all day, it is much more comfortable to have the ties."
Wittman said she wanted to do her part in the coronavirus pandemic by volunteering.
"I'm very fortunate to have the time and resources to volunteer," she said.
Trippensee spent much of her time coaching 10-year-old Savannah Smith and 12-year-old Sherri Sparks in mask-making.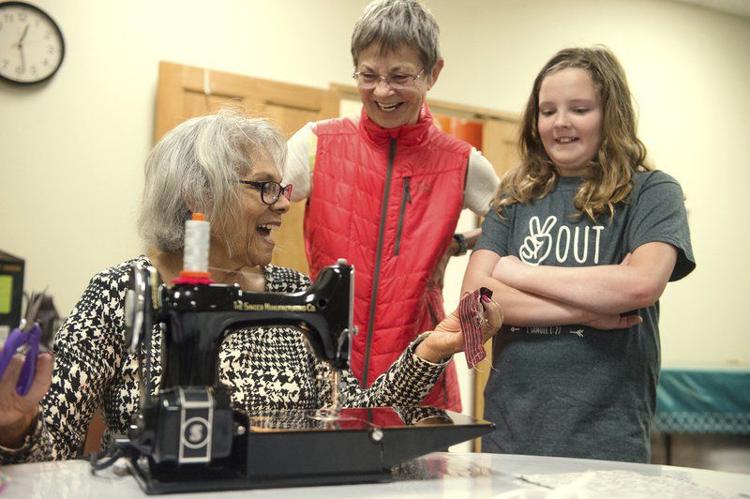 "It means a lot to learn this at a young age, to see the little stuff they do really helps," she said. "I hope they feel proud to sew their masks, then see them being used. I hope they say, 'I helped and did something.'"
Worldwide efforts
The efforts mirror those in other countries, including Spain, where mask-making volunteers include a group of nuns and members of the Spanish air force. In Belgium, what began as a one-woman operation about a week ago grew to a small army of home-sewing mask-makers within days. In Kosovo, inmates in a women's prison volunteered to make masks.
Businesses also are stepping up. Crafts chain Joann Stores is making all of its 800-plus stores available for up to 10 people at each location to sew masks and hospital gowns, offering sewing machines and supplies, spokeswoman Amanda Hayes said.
Hayes said the number of people allowed in the stores adheres to CDC guidelines, the sewing stations will be 6 feet apart and staff will continuously sanitize the work areas and materials. The company also has special kits for customers who want to make masks at home.
"We're enabling people to feel like they are contributing at a time when we don't have control," Hayes said.
The Associated Press contributed to this report.