In addition to the COVID-19 pandemic contributing to school closures and layoffs nationwide, officials fear it's also fueling a drop in the number of child abuse and neglect cases being reported.
Missouri has experienced a 50% decline in calls to its Child Abuse and Neglect Hotline since March 11, according to the state Department of Social Services. Officials in Kansas and many other states say they've noted similar trends since the public health crisis began.
Experts say those numbers may sound good on the surface, but they are actually an indicator that mandated reporters such as educators and child care providers, who are a majority of hotline callers, are no longer able to report potential child abuse because they're not currently in contact with children.
"This low number of calls is very abnormal for the hotline, and our worst fear is that children are unsafe while at home," said Jennifer Tidball, acting director of the Missouri Department of Social Services, in a statement. "Teachers and child care providers are mandated reporters of suspected child abuse and neglect and are often our state's best radar on a child's well-being because children are in school or at child care each day."
Those who work with vulnerable children locally say they are seeing the same trend.
One of the biggest challenges currently facing Children's Haven, 711 S. Picher Ave. in Joplin, is a lack of referrals to the agency, which serves as a safe home for children whose parents are experiencing a crisis situation, because children are no longer being monitored as closely, executive director Stephanie Theis said.
"It's concerning," she said. "There's just not as many of the regular support systems that are built around kids who are having contact with them right now. Those are teachers, doctors, after-school athletic programs or tutoring. There are a lot of different organizations that work with our kids on a daily basis that are not currently seeing and interacting with those kids to make sure they're in a safe environment."
'Now it's even worse'
That could be particularly problematic, Theis said, because isolation and magnified stress in families can increase the potential for child abuse and neglect. Children's Haven saw a sharp increase in children requiring its services after the May 2011 tornado because of the stressors that were placed on the community, she said.
"We anticipate this to be very similar," she said. "We have a lot of children right now, but we think that the stress placed on families will significantly impact our numbers. In the future, as they're lessening social restrictions, I think that our numbers are going to significantly increase."
Children's Center of Southwest Missouri, 1029 E. Seventh St. in Joplin, provides victim assistance services to sexually and/or physically abused children and their families in Jasper, Newton and McDonald counties. The center receives referrals from law enforcement and children's divisions, and officials there say its numbers are down as well.
Aryn Crawford, community outreach and development coordinator, said the pandemic puts children in a dangerous situation, and she expects to see an even bigger drop in reports now than during regular low periods, such as when school is out during the summer.
Whenever children are disconnected from the safety net built into the community, they're at risk, she said.
"In the summer, something similar happens where kids aren't around that safety net of mandated reporters — school teachers, staff, administrators — who make a lot of hotline calls," she said. "The numbers go down in the summer, and now I think it's even worse because a lot of kids are also not in day care or any kind of extracurricular programming, so they're in touch with very few mandated reporters."
For the past several years, the number of children the center sees for child abuse cases has increased — and Crawford said that's not necessarily bad.
"The rate of child abuse is probably pretty static, but the more kids that we're able to see, the better," she said. "We know that less than half of kids who experience sexual abuse ever report that it's happened, so when we see reports go up, we see it as a good sign. In the same way, when we see reports go down, that is nothing but a bad sign."
'Truly alarming'
Law enforcement officials also are sounding the alarm. Missouri Gov. Mike Parson, who served as a law enforcement officer for more than two decades, said in a statement that the decline in child abuse and neglect calls to the state's hotline is "truly alarming."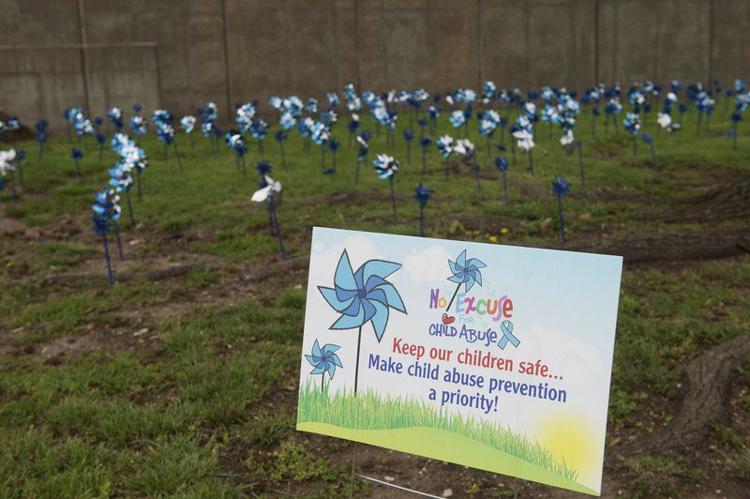 In recognition of National Child Abuse Prevention Month, which is honored each April, the Joplin Police Department has placed blue pinwheels on its front lawn to represent the 246 child abuse calls that detectives responded to last year. Officers often carry stuffed animals, blankets and other comfort items when responding to cases involving children.
Detective Wes Massey said there hasn't been a statistical difference in the amount of local child abuse calls from January to March, but he believes that not all cases are being reported.
"Even though you don't see it in the statistics, you know you're still missing some," he said. "Our numbers don't show it, but we're not hearing from (the Missouri Department of Social Services) in terms of hotlines coming from the schools. We do go to the schools to do follow-ups, and right now, we're not getting any of those."
Mandated reporters, under Missouri law, include people such as physicians, dentists, day care workers, teachers, principals and social workers. But people whose jobs are not classified as mandated reporters can still report suspected abuse, Massey said.
"A lot of people see stuff, and they don't want to say anything because they think it's none of their business. But if someone sees something that can be construed as child abuse, call us, and we'll look into it," he said. "... If there's something there, then we've caught it — and if not, no harm, no foul."