While concentrating on her shot, cue stick gripped in her hands, Peggy Slankard struggled to keep the grin from her face.
"I can't tell you how happy I am right now," she said, sinking a ball in a side pocket.
Asked how happy she was on a scale from 1 to 5, she said "a 10."
Slankard was one of a more than a dozen seniors scattered around the four pool tables Monday morning at the Joplin Senior Center, which opened its doors to the public for the first time since the outbreak of the COVID-19 pandemic.
"I played pool every day for five years here — and then it was gone," she said.
On March 17, 2020, Area Agency on Aging Region X officials decided to temporarily close senior centers in Joplin, Carl Junction, Webb City, Carthage, Neosho, Lamar and Noel.
For a majority of those centers, Monday served as the official soft opening.
For Slankard, it was a long time coming. She said breathing difficulties from lung disease prevented her from seeking out other pool venues because of the smoke found in such places.
"I just had to tough it out," she said. "Each morning I'd get up and think, 'Is today going to be the day?' and I'd call up here, and they'd say, 'Someday.'"
But on Monday and Friday mornings — at least through May — Slankard will be able to play the game she adores.
"I can breathe again," the Joplin resident said as she lined her stick for another shot. "I can finally breathe. Pool helps me move around … helps me breathe more deeply, helps flex my lungs. All of us here really needed this."
Standing nearby, leaning on his pool stick, Raymond Weeks nodded at Slankard's words.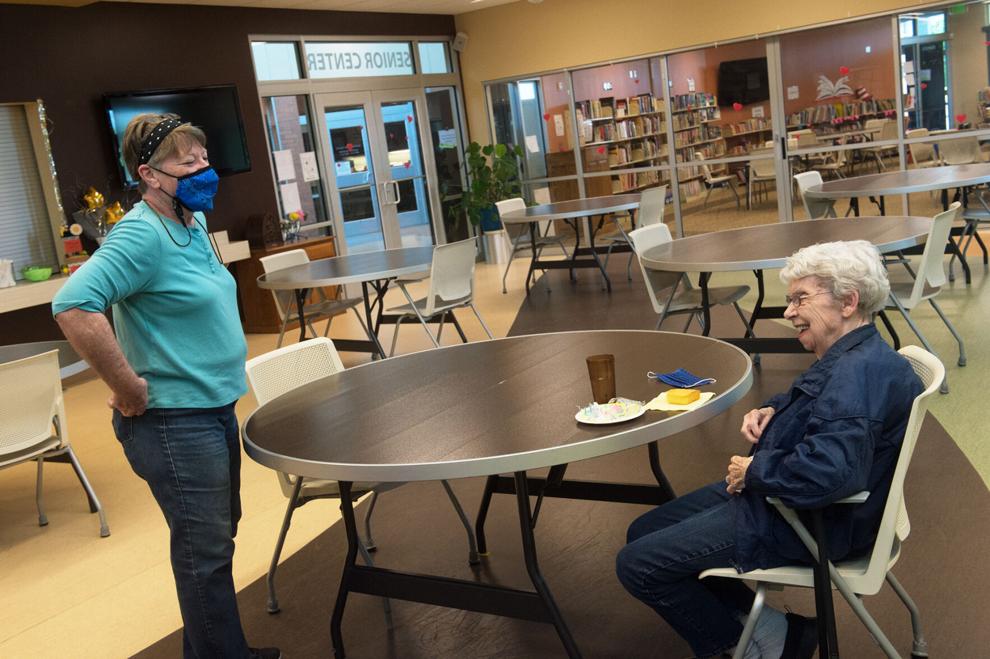 "This is the first step," he said of the center's soft opening, gesturing at the pool players gathered around him. "I hope everything goes well so we can get back to playing dominoes again" and serving hot meals five days a week. "We need to get (seniors) out of their secluded areas and socialize."
At a nearby table, Jim Moss said he and his buddies were able to stay sane by playing pool for free at Joplin's Fourth Street Bowl, but he admitted it was "extremely important" to be back inside their old stomping grounds.
"It's been a long time — too long," added Rod Dingess, from another table. "I'm just glad to be here."
The sounds of people playing pool were what Tammy Virgin, Joplin Senior Center director, had missed hearing this past year.
"It's music to my ears," she said. "I've been looking forward to hearing the clanking of the balls and the laughter and the (boisterous voices) for quite a while now. It's just so nice to hear."
Carl Junction
At the Carl Junction Senior Center, hot coffee and sugary treats were being handed out to those who ventured through the front doors.
Debbie Blystone and her husband, Fred, were the first couple to sit down at their favorite table to sip coffee from mugs. It's something neither have been able to do in more than a year's time.
"I didn't think it would last half as long as it did," Debbie Blystone said of the center's shutdown, which was done to protect the health of seniors, the age group hit hardest by the coronavirus. "I'm a retired nurse; I like to be around other people. (The pandemic) has been extremely tough, not having that socialization with others."
She called Monday morning a "reunion" where she could wave, embrace and speak with people she hadn't seen in more than 12 months.
"It's just the camaraderie of this place," she continued. "Being able to talk to people, being able to say hello, being able to see people that you know. All of us have missed that."
As she was talking, Maxine Miller — who's attended the Carl Junction Senior Center since 2006 — walked in, waving and smiling at Blystone before taking her seat at a nearby table.
Miller called the senior center her second home.
"So happy it's open," she said, adding that a limited opening "is better than no opening at all."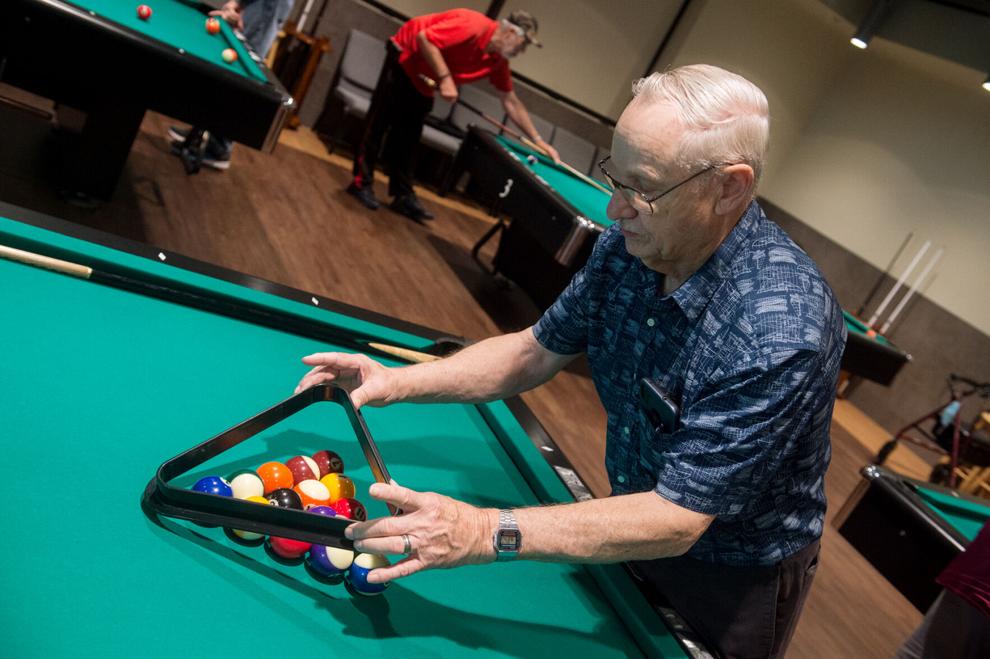 Specific activities will be held only on specific days of the week through May and possibly into the early summer. The features and their specific days of the week:
• Mondays and Fridays will cater to playing games of pool, though pool tournaments are still suspended for now.
• Tuesdays and Thursdays will cater to serving hot meals and playing bingo, which is one of the most popular forms of entertainment at the centers.
• Wednesdays will cater to cards, games and exercise classes.
"We've been waiting a long time for this," said Tammie Lynch, manager of the Carl Junction Senior Center. "We've missed them. It means just as much to us, the girls that work here, than it does to them — because we're all family. Getting them back in here, getting them back into a routine, is so important."
Carthage
To the east, the crack of billiard balls was once again filling the air in the Carthage Senior Center.
"I'm so excited I can't stand it," said Beth Brooks, director of the senior center. "It's a great Monday."
Nine players were at the center's two pool tables at 10:30 a.m., and there was plenty of good-natured ribbing among the players, such as "Why'd you go after that ball?" and "Hey, a good shot — I don't like it one bit — but a good shot."
"It's been (more than a year) since most of us have played a game of pool, so I think everybody's really excited," said Carthage resident Walker Webb.
Many of the pool players had May 3 circled on their calendars for a while.
"I'm just happy to be back here," Don Quade said. He added he hadn't picked up a cue stick in more than 12 months, then quipped he'd thought about hustling people during the worst of the pandemic because he had no one to play with.
At that moment, after missing what he thought should have been an easy shot, he was a bit sore with himself.
"I'm off today, but it'll come back to me," he said.