Sergio Rizo, of Joplin, said he relied on the kindness of strangers for things like his next meal while growing up in poverty in the inner city of Chicago, but now he hopes to provide that same generosity to others amid the COVID-19 pandemic.
"There were times the only reason we ate was because of the Catholic Church food pantry or friends," Rizo said.
Rizo overcame his hurdles over the years, attended two private colleges and is now the director of advancement for a faith-based nonprofit called Stadia. He and wife Jackie have four children who range in age from 9 to 15.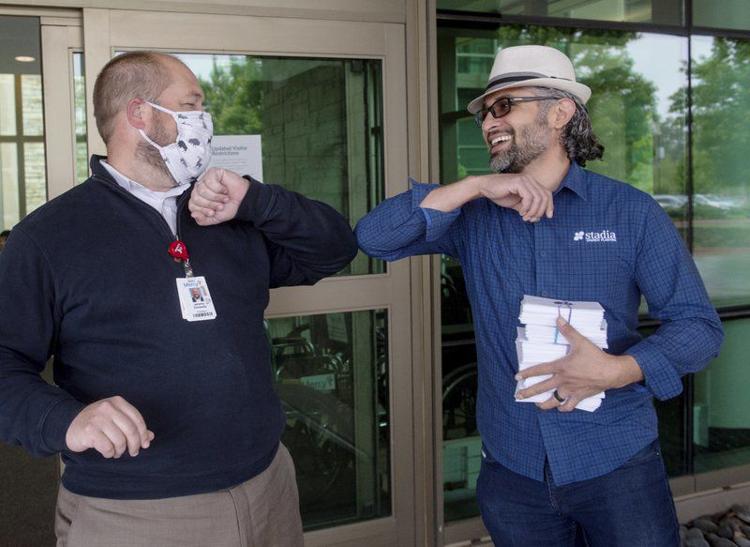 In an effort to spread all of the love he's been given throughout his life, Rizo contacted Mercy Hospital Joplin to see what he could do to serve the staff during the pandemic. He incorporated his children — Josiah, Lydia, Eliah and Clara — in the undertaking to allow them to learn the value of giving to others while not seeking anything in return.
"There's an old saying, 'It is more blessed to give than it is to receive,' and particularly when things are difficult," Rizo said. "I hope our kids understand the lesson that it is better to give than to receive. I also hope they recognize that there's always something you can do. I tell the students that I teach sometimes that barriers are opportunities to be more creative."
There are a total of 2,605 employees at Mercy Hospital Joplin, all of whom will receive handwritten thank-you cards. This includes not only health care workers but also people like janitors and food service staff.
"I reached out to Jeremy Drinkwitz (president of Mercy Hospital Joplin) to see how we could serve them, and he was super thoughtful," Rizo said. "He said, 'Our people are ready. They're tired, and some are scared. Let me think about it, and I'll get back to you.' This was at the end of March. He got back to me and said they could just use words of encouragement, to which I said, 'I think we could do that.'"
The Rizo family partnered with the congregation at College Heights Christian Church to launch the project and create mailboxes to help collect the cards. Rizo's children constructed the mailboxes to be placed at College Heights Christian Church and helped create the notes of hope.
College Heights provided the cards, envelopes and labeled them for delivery. Each card was personalized with notes and included the employee's name. Rizo described it as a huge community effort, and they were able to collect over 2,000 cards in as little as one week.
"I posted it on Facebook and connected with our community at College Heights, but immediately people started to jump in," he said. "It was super sweet. You can't quarantine hope. Hope is powerful."
Rachel Barnett, of Joplin, was inspired to help out and got her family involved. Her two children and 10-year-old niece printed out Bible verses and spent a couple hours throughout the week to send blessings to Mercy employees. In total, they created 100 cards.
"Since I have little kids who I'm trying to keep safe at home, I wanted to be able to give back in a way that would still keep us safe but bless others," Barnett said. "I knew that my kids could make cards. We all worked together and decorated cards. My son drew some cute pictures about germs. I want my kids to know it doesn't take a big act to show people you care about them."
The church also served as a drop-off site for the cards. Rizo picked up a bundle of 100 cards on Tuesday and delivered them to Mercy. Drinkwitz said it's an incredible gesture because people really need hope and encouragement to help them get through this difficult time.
"To get that from someone you don't know, someone you never met and the fact that they appreciate what you're doing is strengthening to the soul, and it's refreshing," Drinkwitz said. "It's caused a lot of smiles, which is what we need right now. We're really appreciative. Every single co-worker got them and even our physicians. They don't get personal thank-you cards anymore."
This is the first time Drinkwitz said he's seen handwritten cards distributed to each employee by the community. The cards were given to the directors who distributed them to their employees. Drinkwitz said even he received a card and that he reads it often.
"I know plenty of employees who have kept them, and mine's on my desk," he said. "It has a little picture, some abstract art. It's really cool, and it says a nice little prayer in it. There are moments in time where you need a little encouragement. Those words live forever."
The community support has been really special for Mercy workers over the past several weeks, Drinkwitz said.
"There's a lot of uncertainty out there, and a lot of unknowns," he said. "We're in the middle of it, on the front lines of it, and we appreciate all of the support for what we're doing."
Rizo said he would love to collect and send cards to Freeman Health System staff as well.