With the Joplin area at the top in the nation for increasing numbers of COVID-19 cases, the City Council may not agree to move to the next step in the city's recovery plan next week, Mayor Ryan Stanley said Monday.
He didn't rule out that discussions on masks could resurface when the council meets on Monday.
"I would say that everything is on the table, from revisiting the mask ordinance but also on the sixth of July we're going to be talking about whether we move forward with our steps on the reopening or do we stay where we are or go backward," Stanley said. "I would say all of that is on the table and capable of revisiting."
Asked if he had an idea what the council might do on the reopening plan, Stanley said: "I am confident in where we are today that the recommendation from our trusted and professional health department and from staff, that if we're talking about that on the sixth, we would not be encouraging opening further than we already are.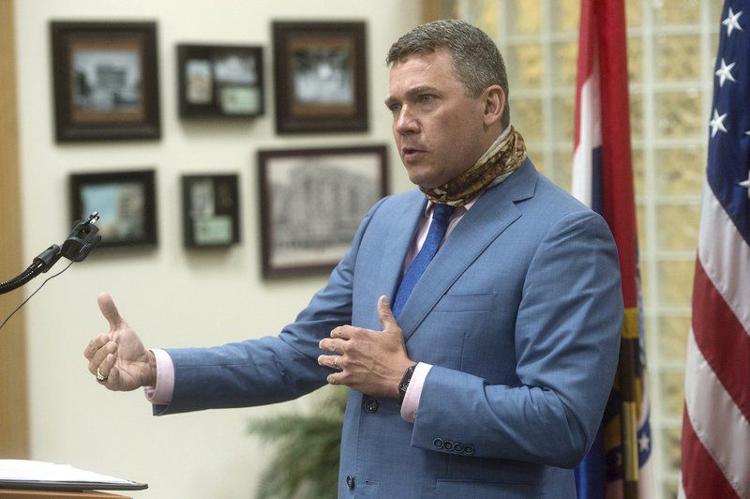 "I would be really surprised — Ryan Stanley speaking for Ryan Stanley (not the council) — to see us moving forward unless for some reason we see a complete reversal in our trend."
Two Joplin deaths attributed to the virus were announced by the city over the weekend. Both were residents of Spring River Christian Village retirement home, which has experienced 31 cases involving residents and staff.
On Monday, the city had 69 active cases of the virus, bringing the city's total since March 23 to 140. There were 69 cases the city has categorized as inactive. The city had 121 people in quarantine on Monday as contacts of those stricken with the virus.
The Missouri Department of Health and Senior Services last week sent teams to Southwest Missouri to implement the state's "box in" strategy to try to head off the spread after statewide data showed that 310 of the 413 new cases reported in the state over a 24-hour period from June 20 to 21 involved case numbers in Joplin and McDonald, Jasper and Newton counties.
The "box in" strategy involves bringing in comprehensive testing, isolating those infected, locating all contacts of the infected people and having those contacts self-quarantine for 14 days.
Testing took place over the weekend in Neosho and moved Monday to Carthage, where it continues today. The National Guard is overseeing the testing for the state. A spokesman for the National Guard said Monday there would not be a report on the number of tests done until testing in Carthage was finished.
The tests are free to any Missouri resident, symptomatic or asymptomatic, and no doctor's order is required. Registration is required at www.health.mo.gov/communitytest, or by calling 877-435-8411 to obtain a test today.
Cases in Southwest Missouri, Southeast Kansas and Northeast Oklahoma on Sunday had totaled 2,286 since the outbreak began with 25 deaths. Kansas governor Laura Kelly on Monday ordered that residents of that state wear masks when they go out in public.
The Joplin council last week rejected a mandatory mask ordinance by a vote of 5-4.
The mayor said Monday he was one of five council members who did not vote in favor of the ordinance. Speaking for himself, Stanley said, "I was really torn about my decision. I was about as on the fence as I could get.
"On the pro side of it, I do think that masks work. I do think we have a poor adoption rate in the community (for use of masks)," he said. "I'm worried about hospitalization and certainly worried about deaths. For all those reasons, I would have been in favor of a mask ordinance.
"What kept me from voting for it, we have a very significant voice in the community of people who are not inclined to wear masks and our enforcement was more on personal responsibility, not on business, and I was concerned about our enforcement of the policy. I don't want to approve an ordinance that we're not going to enforce with our full energy. So, at the time, our hospitalization rate was OK and our deaths OK at that time, and certainly this is something we can revisit."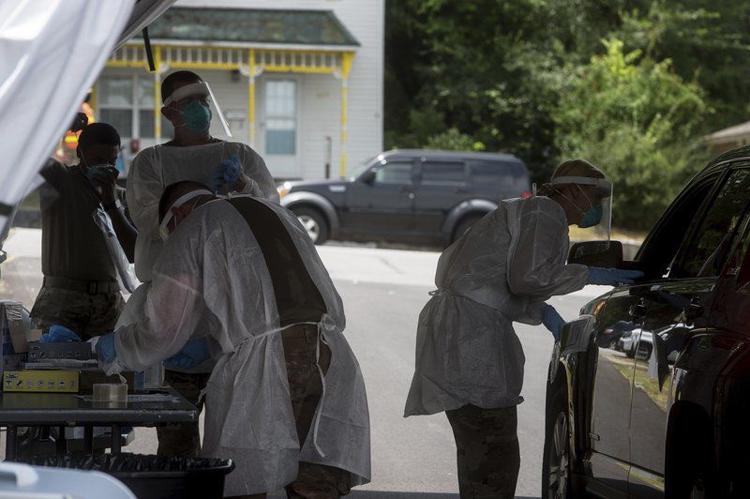 He thought an education campaign would be better than "legislating good behavior."
Asked if the city and the health department are planning an education campaign, the mayor said city administrators had been meeting about that since Wednesday. He said the city is looking at hiring a firm to create advertising and public relations messages. The Joplin Area Chamber of Commerce will reach out to businesses with the message to keep up precautions against transmission of the virus.
"And every time we talk, you will hear us talk about the importance of wearing masks," Stanley said. "I do think they work. I do think they are part of the solution. At the same time, if you are not going to wear one, how are you going to help us fight this virus if you are completely resistant?"
Council members at the special meeting last week tasked City Manager Nick Edwards with bringing forward a program to give masks to residents so that those who could not buy them or could not afford them, in particular, could have access to them.
Edwards said Monday city staff is preparing a budget amendment based on cost estimates to obtain a quantity of masks. The city will pay about 51 cents each for masks and are initially looking at providing two per resident unless the council instructs differently when the panel considers the expenditure at its next meeting on Monday.
Asked if the city had a distribution plan prepared yet, the city manager said, "We haven't put together all the details on that. We may make those available at City Hall, we may work with the business community to help share those. There is a thought that our police cars could make a friendly visit to distribute masks," but the details are still under discussion.
Dan Pekarek, director of the Joplin Health Department, continued Monday to encourage residents to wear masks in public as well as taking the other recommended precautions. Those include frequent hand-washing or use of sanitizer, covering coughs and sneezes, and staying 6 feet from other people if not masked.
He said that a portion of the increased cases in the area and in Joplin was due to people attending family events and not observing those precautions. He said that is important, particularly through the upcoming holiday weekend.