After 45 days of hospitalization due to COVID-19, Wallace Lea was reunited Wednesday with his family and discharged from Freeman Health System to finish his recovery at home.
"I'm high as a kite and ready to go," said Lea, surrounded by his family. "Freeman has been fantastic, but I don't want to be here."
Lea, 83, of Joplin, was the first COVID-19 patient to be admitted to Freeman, according to Dr. Rob McNab, director of the Freeman COVID-19 unit. McNab said one of the top reasons why Lea recovered was that he's in great physical shape.
"He went from being as sick as you can be and still be barely alive," he said. "The average length of stay here in the hospital is about three days. The vast majority of the patients, and we haven't had very many in the hospital, (stay) like six or seven. Most of them are here for two to three days, and they don't get that sick and go home. But Mr. Lea was the very first one to be on a ventilator, and he's gone the distance. The reason why he got to walk out of here was because he was in fantastic health."
While battling COVID-19, Lea was in a coma for about two weeks and was placed on a ventilator. Lea said it was unbelievable how much of his strength deteriorated during that time. Because of social distancing, his family couldn't visit him in person; they had to rely on phone calls and video chats to keep up.
"The doctors kept us so informed, and we knew how critical he was and that there was a possibility that he wouldn't make it," said Lea's wife, LaVetta. "... I'll tell you what, I've been like a new bride the last couple of days. When the ambulance picked him up six weeks ago, I didn't know if I'd ever see him again because I feared he was going to be on a respirator, and I know the percentages there, so to see him and see how good he looks and how well he's doing, I'm just thrilled to death."
Stefanie Stockam, their daughter, said Freeman staff have been excellent through the ordeal because they did everything they could to keep them informed of the ever-changing situation.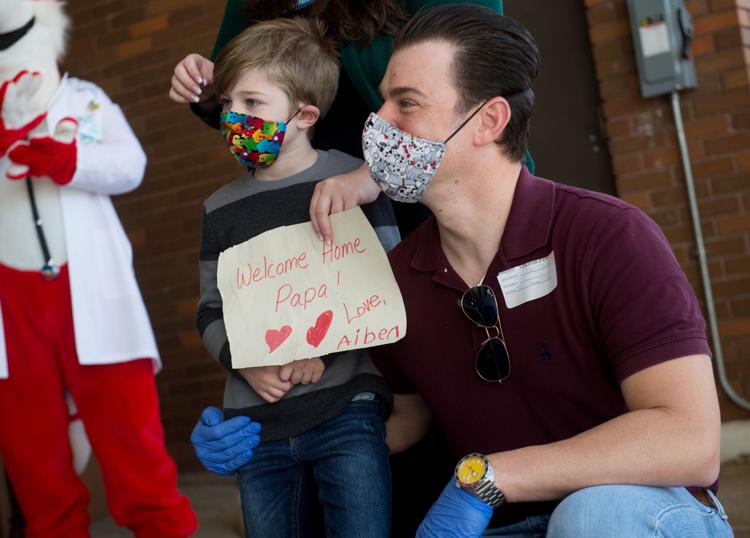 "One of the doctors, two different times, set up his computer so we could do a video conference call because we were isolated," she said. "That was a tremendous help. And then twice they let us into the hospital where we could see him through a window and at least wave. … It's really overwhelming to realize how far he has come and where we are now."
Lea thanked McNab and the crew of nurses and doctors who helped him regain his health. Even though he said he felt like he didn't deserve it, the employees at Freeman gave Lea a big send-off Wednesday afternoon, lining the halls in parade style and holding up signs and applauding as he walked by. The signs read, "Rollin' to my homie," "COVID Crusher" and "Straight Outta C-Zone."
"Dr. McNab treated me so well, but this entire staff of nurses; I've never seen anything like it," Lea said. "They had a big part emotionally in my recovery. I appreciate them very much."
McNab said it was special to see Lea walk out of the hospital on Wednesday after being in the hospital for so long.
"We're lucky that the vast majority of people that do get coronavirus, they don't get that ill," he said. "But we do know that when people do get ill, it can be fatal."
He added: "We've learned a lot from him, and he taught us what we need to know about people with really severe COVID virus."
Travel-related case
Before travel restrictions were implemented, the Leas had traveled to visit relatives in Brookhaven, Mississippi, where they believe they both picked up the coronavirus. Lea said the illness is nothing like the flu, and the two shouldn't be compared.
"I've had the flu, and the flu makes me feel lousy with achy joints, and I had none of that, so that's a big difference," he said. "But the flu, you shake off after three or four days, and this just hangs on. No pain at all whatsoever, but a slow rebuild of the energy and muscles you've lost."
Lea's sister, Betty Johnston, as well as his brother-in-law, Art Oestmann, developed the illness about the same time, and died while Lea was unconscious in the hospital. Stefanie Stockam said her dad is usually not a patient person, but he learned to be from this experience.
"I believe your patience was partly in prayer but also he realizes how serious this was — he lost his sister and his brother-in-law and that puts it into perspective when you realize how serious this disease is," she said.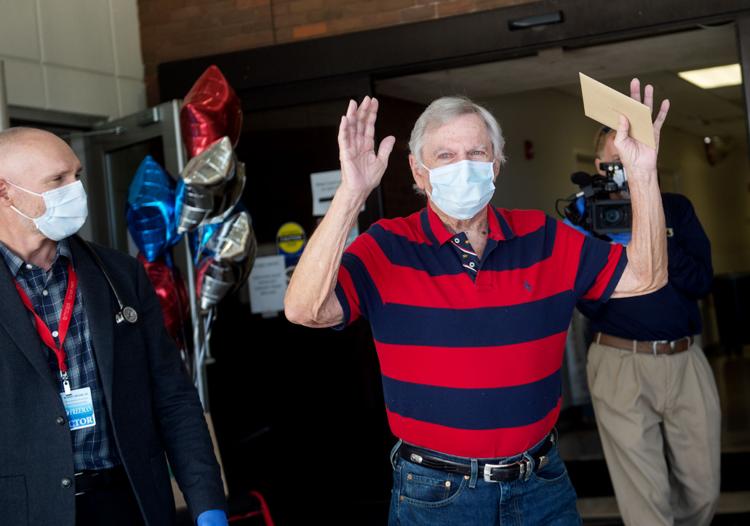 Lea said he first began to notice that he didn't feel like himself shortly before he was admitted to Freeman Hospital West. He initially visited an urgent care clinic for care but eventually felt worse.
"I remember driving back from Mississippi because I usually do all of the driving, and I began to feel kind of different, so I let LaVetta drive," he said. "She said, 'How do you feel?' and I said, 'I don't know. I just feel icky.' There was no pain, but I felt kind of wiped out, no energy and no desire for anything."
LaVetta Lea said he had a fever and wasn't feeling well when they returned home from their trip. A few days later, Wallace Lea told her he was having difficulty breathing. She believes she also came down with COVID-19 but experienced minor symptoms compared with her husband.
"I was never tested because I didn't meet the criteria for that but the attending physician and my own physician said I had it," LaVetta Lea said. "One of the reasons he can go home is because I do have the antibodies. I would say (it took) a good two weeks (to get over the illness)."
Carter Lea, their son, said even after hearing his father may not come out of this alive, he knew from day one that he would be OK. He credits his father's optimism and sheer determination in overcoming his battle with the disease.
"What we've learned, even with the two relatives that passed, was that each one of them had different things that they went through," Carter Lea said. "Although it's the same disease, it's got its own unique characteristics. I think as far as his recovery, he's a very determined person and not one to just sit down and take it. I knew he was going to make it through. We had the one scare and had to face reality on that, but the entire time, I knew he would make it. I'm looking forward to just being able to spend time with him face to face and have close contact with him."