More than 150 Mercy Hospital Joplin workers on the front lines battling the COVID-19 pandemic were treated Tuesday by a local restaurant owner to a free lunch as a form of gratitude for helping keep the community safe.
"It means a lot to them, just to know that they're not forgotten," said Tracey Spurgeon, executive director of the emergency department and critical care services at Mercy. "It's one less thing they have to think about in the course of their day."
Chef Damien Tiregol, owner of Crabby's Seafood Bar and Grill on West Seventh Street, said he was honored to donate about 160 meals to the hospital. The to-go meals included a pulled pork sandwich, five-cheese mac and cheese, coleslaw, and a homemade chocolate chip cookie.
"I just know what these front-line workers are going through right now, and something spoke to me that I needed to brighten their day just a little bit," he said. "There's a lot of people who are reluctant to do their part and wear masks, and we just felt like somebody needed to show that they cared for what these people are doing for us."
Tiregol said with COVID-19 cases rising in the region, he felt compelled to show his support for the medical community in the best way he knows how — by making delicious food.
"I like to show that I care through food, and this was the best way to show that I cared," he said. "I felt this was a very good opportunity for us to partner with people we know that are helping others in the community. I know people who have been sick and have come to the hospital and have come out of it because of the care that they give at this hospital and other surrounding hospitals."
And with nearly 300 days into fighting the pandemic, the employees said they were grateful to be remembered and recognized. The meals went to six departments — emergency, medical surgery, infection control, intensive care unit, environmental services and respiratory therapy.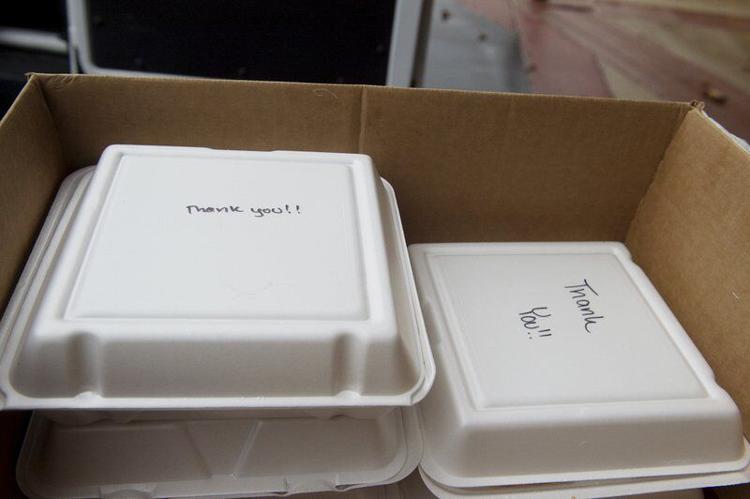 "They were so happy and appreciative," Spurgeon said. "The work that they're doing every day is tiresome. Just to have a warm meal, and with the community supporting them, means a lot to them."
The containers of food were dropped off at the entrance of Mercy and then wheeled away to their designated departments. On behalf of Tiregol, Spurgeon distributed 20 meals to employees working in the COVID-19 intensive care unit, and then an additional 20 for those working in the emergency room.
"To be honest with you, it's grueling," Spurgeon said in describing the pandemic fatigue. "The nurses, health care teams, the co-workers have been doing this full time for almost 300 days, and they're tired."
As far as keeping up morale, Spurgeon said they've done a lot of praying and depend on each other to help keep their spirits up.
"When you feel like you have something bigger than COVID-19 guiding what we're doing, it helps," she said. "We've also had other businesses bring in food, goody bags with hand sanitizer and face masks. Churches and schools wrote the co-workers thank-you notes, and we still have those posted up."
Lisa Lawrence, administrative director of Mercy's laboratory services, said she delivered 29 meals to her team members, who have been processing COVID-19 test results around the clock.
"I love it, and it's uplifting because the lab works behind the scenes," Lawrence said. "We're always working and never close. Last week, we ran 1,800 COVID tests in-house. It's a three-hour process to do, and it's very tedious."
Blackstone Gastropub
The meals were also donated on behalf of Tiregol's newest restaurant, Blackstone Gastropub at 1521 E. Langston Hughes-Broadway, which officially opens to the public at 11 a.m. Friday. The business moved into what formerly was Cat Johnson's Taste of the South.
Cat Johnson also owned and operated Cat Johnson's Auto Sales for over 18 years across the street from the restaurant location. It now houses a Simple Simon's Pizza. Johnson died in April 2019. A picture memorial honoring Cat is displayed in the new Blackstone.
Tiregol has owned Crabby's for six years and was motivated to open Blackstone to not only serve more clientele in the community but also bring something unique to Joplin.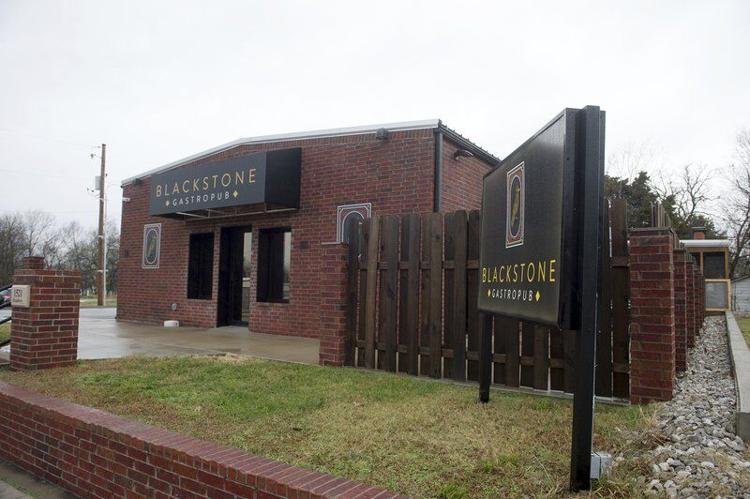 "Crabby's is very high-end, and I love that type of food, but we just really wanted to do something fun and different," Tiregol said. "I think Joplin had kind of a hole, as far as those types of restaurants, and we had the unique opportunity to purchase this property where Cat Johnson had built his restaurant. It had a big smoker attached to it. Once we found the property, the concept kind of fell into place."
The chef had been searching for a new space for Blackstone for the last three years. He explored locations on Main Street but wanted to go to an area that can be made more vibrant, which is why he chose the east side of Joplin.
"We recognized that the east side is going to be a big part of town," Tiregol said.
Tiregol said they're working with Jolly Fox Brewery in Pittsburg to develop beers. They have a system that has cooled lines that run from the front taps to the walk-in freezer in the back.
"We also have a blender for nitrogen and CO2, so it blends the two gases together, and it makes a really good mouthfeel for all of the beers," Tiregol said. "It's something different. There's only two restaurants, other than us in Joplin, that have this beer technology."
He described a gastropub as featuring "elevated bar foods" with endless possibilities.
"It will be more affordable, and most of the price points are under $20," he said. "We have a lot of really cool burgers, barbecue, sandwiches, appetizers and vegetarian items. It's not just beer and pretzels. It's really good food."
Blackstone will be open daily from 11 a.m. to 10 p.m., except for Tuesdays. The restaurant can be reached at 417-553-0665.