On the first day of the state's emergence from the coronavirus shutdown, Missouri Gov. Mike Parson on Monday visited businesses in Joplin, reminding the public to remain cautious to help curb the spread of COVID-19 as more places resume operations.
"Rightfully so, people were scared at first," Parson said. "I'll be honest with you, none of us knew exactly where that thing (coronavirus) was headed or who it was going to attack, but we know a lot more today, and we can make a lot better decisions. That's why we're reopening the state because we know a little bit now how to handle the situation, who to target and how to come in with what we call hot spots and test. But it's still going to be there. People are going to test positive for a while."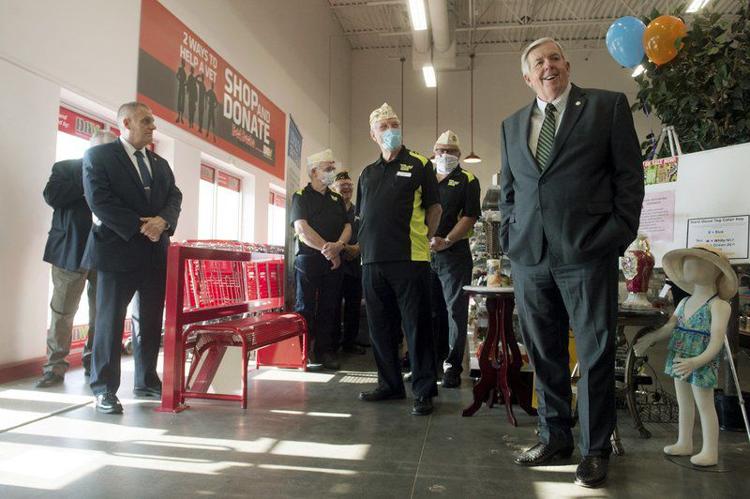 The stay-at-home orders for the state and the city of Joplin expired Sunday night. Joplin was the governor's first stop on his recovery plan tour in the Ozarks. Parson was joined by city leaders, health officials and county commissioners as he stopped by CDL Electric Co. on Michigan Avenue and Red Racks Thrift Store on South Range Line Road in Joplin.
CDL provides electrical services for residents and businesses in and around Joplin and Pittsburg, Kansas. One of its biggest services is to maintain railroad signals for companies like Watco.
Owner Larry Seward said the company had to keep going during the shutdown to keep essential services in full operation. Unfortunately, to stay open some employees were temporarily laid off. Others offered to work for free, he said.
"We've got to get this economy going, and if we don't, I think it's going to be as terrible as the Great Depression because the United States is a huge country," Seward said. "It's like a big ship. You have to put it back in the wind to get it to move, and if you don't, you're going to be dead in the water. If we don't start trying now, there's going to be a lot of people who don't have work. Companies like myself can't continue to hang on. We just can't."
A majority of the employees who were laid off from CDL have now gone back to work. Seward described the shutdown situation as like "having the rug pulled out from beneath us." He agrees with the governor's recovery plan, which acknowledges that work remains, including expanding testing capacity and coming up with more personal protective equipment.
"People were scared, and they didn't want you in their homes or houses," Seward said. "It made a big impact on us. I think the governor is right on the money with reopening the state. I think Missouri has a governor that's willing to step out and try to get us back to work. We, as I called the front-line troops, need to do our part as far as helping him be successful like washing our hands and wearing masks."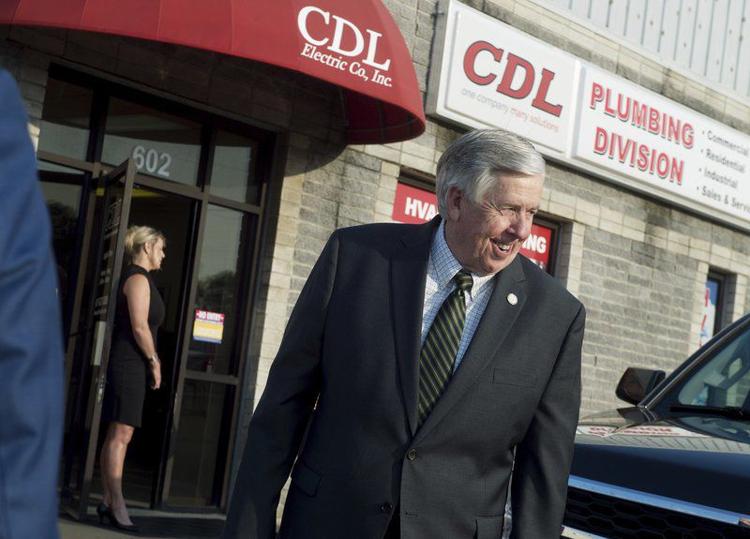 Parson said Joplin is fortunate compared with larger cities across the state, which have been hit hard by the COVID-19 disease. He said that there were a little over 1,000 positive cases in the state that were in the hospital and that most of them were in St. Louis.
"In St. Louis, you're a lot tighter, much more stacked in, and you have public transportation," Parson said. "… Southwest Missouri is strung out a bit more, and we're not quite as bunched up as they are in the big cities, and that helps us. But the only thing I will say is cautionary because I don't want everyone to go out there and think we're open and everything is fine. When you start putting big groups of people together, it only takes about one or two people to be in there to spread it."
Dan Pekarek, director of the Joplin Health Department, told Parson that the metro area in Jasper and Newton counties had seen 30-plus COVID-19 cases as of Monday morning.
"Overall, things have been pretty well," Pekarek said. "We're going to keep a close eye on things as it starts opening up."
Red Racks Thrift Store, which is owned and operated by Disabled American Veterans of Missouri, was Parson's second stop in Joplin before he traveled to Springfield. Dave McDonald, district manager, said the store temporarily laid off 92% of its workforce after the shutdown, but programs like the paycheck protection program helped the operation get back on its feet.
In lifting the statewide stay-at-home order, Parson placed no limit on the size of social gatherings if people maintain current 6-foot social distancing. But some businesses — such as retail stores — will be required to take extra steps, such as limiting occupancy.
Among the businesses that can resume operations are restaurants, manufacturing plants, gyms and hair salons, along with churches and sporting events. But nursing homes, long-term care facilities, retirement homes and assisted living homes must continue stronger guidance to reduce the risk of spreading COVID-19.
As of Monday afternoon, 8,754 COVID-19 cases and 358 deaths were reported in Missouri, an increase of 368 cases and six deaths from Sunday, according to data from the Missouri Department of Health and Senior Services. Parson said in a briefing that more than 92,000 people in the state have been tested.
"We are on the road to recovery, and we must continue to be proactive and maintain social distancing to protect ourselves and everyone around us," he said at the briefing.
The Associated Press contributed to this report.