Nursing home residents make up only a fraction of overall COVID-19 cases in Missouri but represent approximately half of all deaths from the disease, according to data from the Centers for Medicare and Medicaid Services.
Nursing homes also currently represent just over half of all deaths — 34 of 60 — in the two-county Joplin metro area as of Thursday. That's nearly 57%.
CMS data show that Missouri nursing homes reported a total of 3,893 cases among their residents through the week ending Aug. 23, representing the most recent data available. At the same time, the Missouri Department of Health and Senior Services was reporting a total of 74,257 cases — making nursing home residents just 5.2% of overall cases.
Total cases in Missouri have since increased to more than 88,600.
But roughly half of COVID-19 deaths in Missouri through Aug. 23 were of nursing home residents — 713 out of 1,425 — according to the CMS data.
The number of deaths in Missouri on Thursday had climbed to 1,545.
The CMS data is aggregated from what nursing homes submit through the Centers for Disease Control and Prevention's National Healthcare Safety Network system.
Local outbreaks
A pattern continues in Jasper County nursing homes where a majority of people are infected with the novel coronavirus but show no symptoms of illness, according to Joe Perkins, spokesperson for Northport Health Services. Northport owns homes in Carthage, Joplin and Webb City.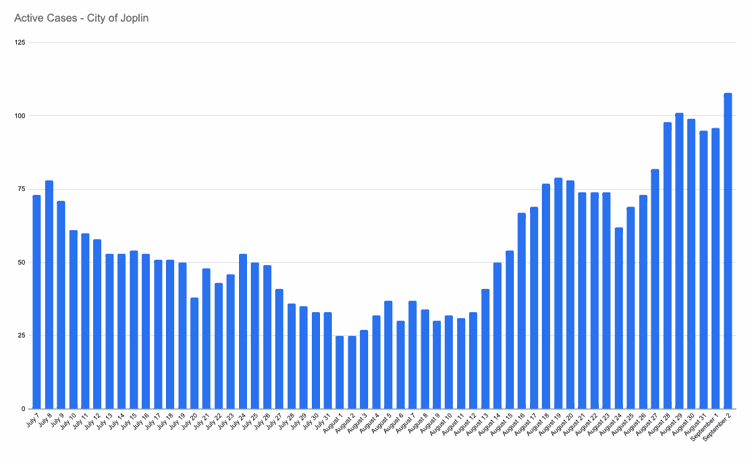 At Carthage Health and Rehabilitation, where cases started to show up in mid-July, one person is currently being treated in that center's COVID-19 isolation unit, and that person is showing no symptoms of illness, Perkins said. That individual was identified during a round of comprehensive testing that happened sometime after Aug. 25.
"We're doing comprehensive testing about every week to 10 days, and that's the only reason we find a lot of these cases," he said. "Over half the people we test are asymptomatic."
Since the outbreak at Carthage Health and Rehab began, 20 residents have tested positive and 12 have recovered. One additional person has died in the past week or so, bringing the total number of deaths from COVID-19 at Carthage to seven.
At Webb City Health and Rehab, the first patient resident with COVID-19 was identified on Aug. 10. Since then, a total of 69 residents have tested positive for the virus, including five additional cases since Aug. 25.
Perkins said 13 residents were in Webb City Health and Rehab's COVID-19 isolation unit as of Thursday, and only four of them were showing symptoms of illness. He said 50 residents there have recovered, and six residents have died.
Spring River Christian Village in Joplin also was hit particularly hard over the summer, reporting 73 COVID-19 cases and 21 deaths among residents. The first case was reported there on June 16; the last of the facility's positive residents was cleared from the COVID-19 recovery unit in early August. The 21 deaths make up the entirety of the Joplin Health Department's fatality count for COVID-19 so far in the Joplin city limits.
Deaths from just those three nursing homes make up more than half of the 60 total COVID-19 deaths from the Joplin metropolitan area, which includes the city of Joplin and Jasper and Newton counties.
That tracks with what the Jasper County Health Department, which reports cases and deaths of Jasper County residents outside Joplin city limits, has noticed. According to the department's data records as of Thursday, 12 of the county's 23 confirmed COVID-19 deaths so far have come from nursing homes, director Tony Moehr said.
"It's horrible," he added.
Larry Bergner, administrator of the Newton County Health Department, said he's unaware of any COVID-19-related deaths of nursing home residents in that county, which has reported 16 total deaths so far. He has been in regular contact with nursing homes about frequent testing of residents, he said.
"Certainly if we'd had a single death in a nursing home, we would have been on alert for that," he said.
Since the pandemic broke out in the U.S. in March, regional nursing home COVID-19 outbreaks have also occurred at the Grove Nursing Center in Grove, Oklahoma, which reported 50 cases and 15 deaths among residents in April and May; Quaker Hill in Baxter Springs, Kansas, which just last week reported that 16 of its residents had tested positive for the disease; and the Lacoba and Bentonview nursing homes in Monett, which had reported dozens of positive cases in July.
The Missouri Department of Health and Senior Services says that under state law it cannot provide the public with the names of nursing homes where there have been outbreaks.
National picture
Nationwide, long-term care facilities account for less than 1% of the U.S. population, but more than 40% of COVID-19 deaths, according to the COVID Tracking Project.
Researchers had warned that once a community anywhere experiences an outbreak, it's only a matter of time before the coronavirus enters its nursing homes. A leading theory is that staffers who don't yet know they're infected unwittingly bring the virus in. Inside, the coronavirus encounters an ideal environment in which to spread among frail older people living in close quarters.
The Trump administration says it's providing fast-test machines to nursing homes and making sure all facilities have the protective equipment they need.
"We are prepared to exert our full authority to make sure the most vulnerable are being tested," said Mia Heck, a spokesperson for the U.S. Department of Health and Human Services.
But Seema Verma, head of the Centers for Medicare and Medicaid Services, said states and nursing homes also have responsibility to safeguard residents. She called on nursing homes to step up their game.
"The reality is that (a) facility's infection control practices is the No. 1 factor leading to the spread of COVID within these facilities," Verma said in a statement. Inspectors "have seen staff forgetting to wash their hands, congregating in break rooms, and wearing (protective equipment) improperly. All the testing in the world is for naught if staff don't adhere to the basic, longstanding infection control practices that the federal government has had in place for years."
Mark Parkinson, head of the American Health Care Association, said the problem is bigger.
"The data indicate that this virus is spread by asymptomatic carriers and that even perfect infection control wouldn't have stopped it," he said. "The challenge with this virus is that because it is spread by asymptomatic carriers, the prior infection control procedures didn't work."
The Associated Press contributed to this report.