CHETOPA, Kan. — The three sisters fought back emotions as they talked to their father through a window, aided only by a cellphone.
Instead of playing dominoes, watching television or simply giving their dad a hug, Jeane Wynn, Becky Mount and Sadie Detherage have spent the last 14 weeks talking with Bill "Junior" Burgess through a plate glass window.
Burgess, 97, is a resident of a small nursing home in Chetopa. He was moved to the facility more than two years ago from his home in Welch, Oklahoma, after a fall.
Now his daughters, who live in Northeast Oklahoma, come once a week — typically on Thursdays — trying to stay connected with their dad despite the COVID-19 pandemic.
"We are losing very valuable time," Detherage said in describing the last few weeks.
Burgess, a former teacher with more than 30 years of experience, has congestive heart failure. In the past, he's stayed connected with people through visits.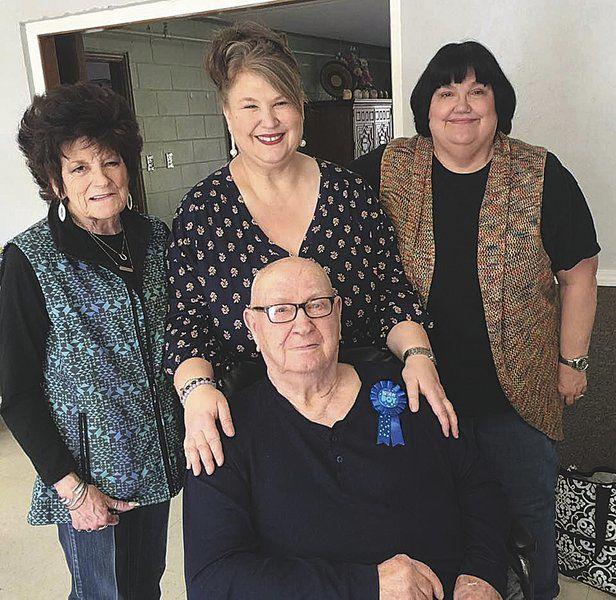 "In the last three weeks especially, he's not been as vibrant or as quick," Wynn said of her father's changing mental condition. "It's why the isolation worries me."
She compares her father's condition to a baby or toddler who goes weeks or months between visits.
"The elderly live for someone to come to their door," Wynn said. "His eyes light up, just seeing somebody walking through the door."
While the window visits are emotionally taxing, Wynn said she and her sisters wouldn't think of not making the effort to see him.
"We can't deny the window visit, and the power of seeing us, hearing us," she said. "We try to keep the conversation positive and light. If it's not positive, we'll switch gears."
Letters and cards — filled with good news, jokes and photographs — sent through the mail are now a way the sisters try to encourage their father. Wynn even organized friends and former students to send their own missives.
"We're trying to do the best we can, to keep connected," Wynn said, adding one friend organized her children to make cards for each resident of the facility.
For the most part, Burgess only sees people who live or work inside the nursing home. A hospice worker now does weekly telehealth visits, while the hospice chaplain makes phone visits.
"Dad likes it there. He likes people," Mount said. "I don't know what we would do if he didn't."
Wynn and her sisters say their dad's experience, being isolated inside a nursing home, is typical for many senior adults during the pandemic.
They hope people will find a way to encourage not only nursing home or long-term care residents as the pandemic continues but also the staffers.
Each week they take treats for their dad as well as his caregivers. During last week's visit they dropped off cases of soda, chips and other items for the staff break room.
"People need to check on their parents and be involved," Detherage said.