CARTHAGE, Mo. — Some were groggy after camping out during a windy thunderstorm that blew in around 2 a.m. Saturday, but reenactors who gathered from across the country to mark the anniversary of the Battle of Carthage said they wouldn't have missed this chance to recreate history.
"It was a little damp," said local historian and author Steve Cottrell, who slept Friday night and Saturday morning in a tent on the grounds of Civil War Arena north of Carthage. "But the interesting thing about it is, according to (the late historian) Marvin VanGilder's research, it all makes sense because Gen. Nathanial Lyon was delayed with the main Union Army and that's part of the reason he wasn't already down here by the time (Franz) Sigel got here, because of the weather. Lyon couldn't get across the Osage River," Cottrell said. "It had been raining a lot and VanGilder said it had been raining around here, too. It was quite muddy. It reminded me of that and I thought, well, those guys went through a lot rougher stuff than this."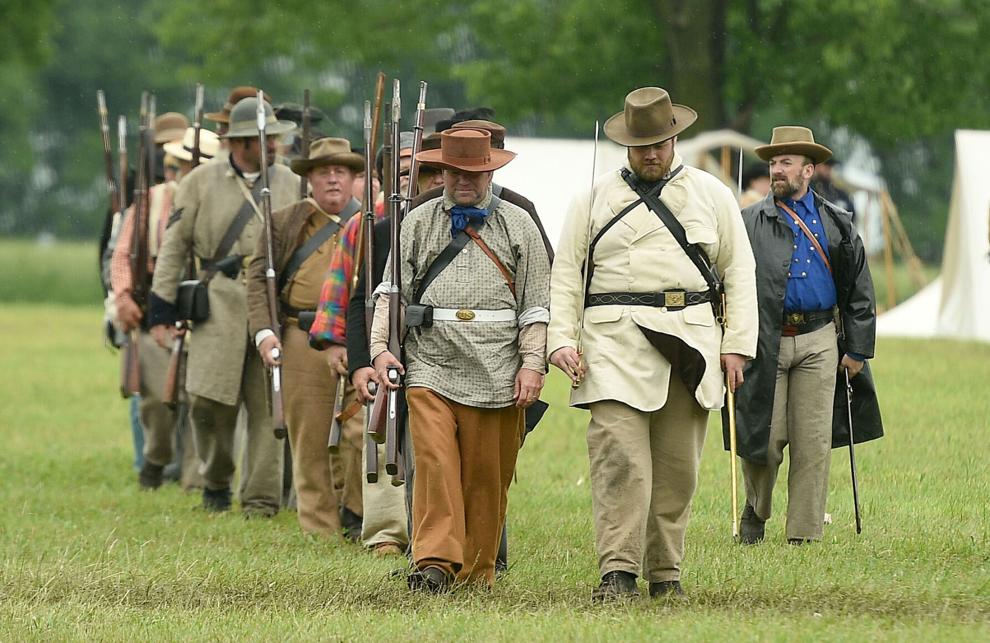 Despite the mud and the chill Saturday, about 400 reenactors staged a recreation of the July 5, 1861, battle, when 1,100 Union soldiers battled 6,000 members of the Missouri State Guard on the very ground where the reenactment took place.
Battlefield ground
The battle — the first real engagement between Union forces and the forces of Southern rebellion according to the New York Times — stretched out over about a dozen miles of hot and muddy prairie on that day.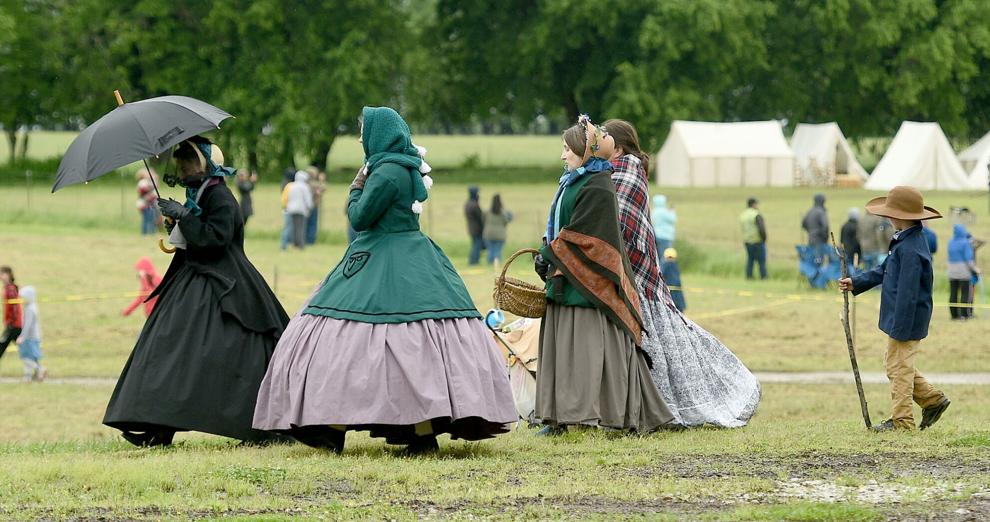 Union Soldiers under Sigel, who camped the night of July 4, 1861, just east of Carthage, marched across the ground to meet the Missouri State Guard that awaited him. When Sigel realized he was vastly outnumbered and stood little chance of reinforcement, the Union soldiers retreated, pursued by the Missouri State Guard under the command of Missouri Gov. Claiborne Fox Jackson.
Katie Bronson, who came to watch the reenactment with her husband, Jason, and children, Wyatt, 3, and Macy, 1, said she grew up in Carthage and her grandparents owned land along Civil War Road north of Carthage.
"My grandparents own a farm about a half a mile away from here," she said. Bucks Branch, one of the creeks the soldiers had to cross, ran through their property.
"My grandpa was born in the house he lives in now and when he was a little kid they used to find musket balls and cannon balls on the property," Bronson said.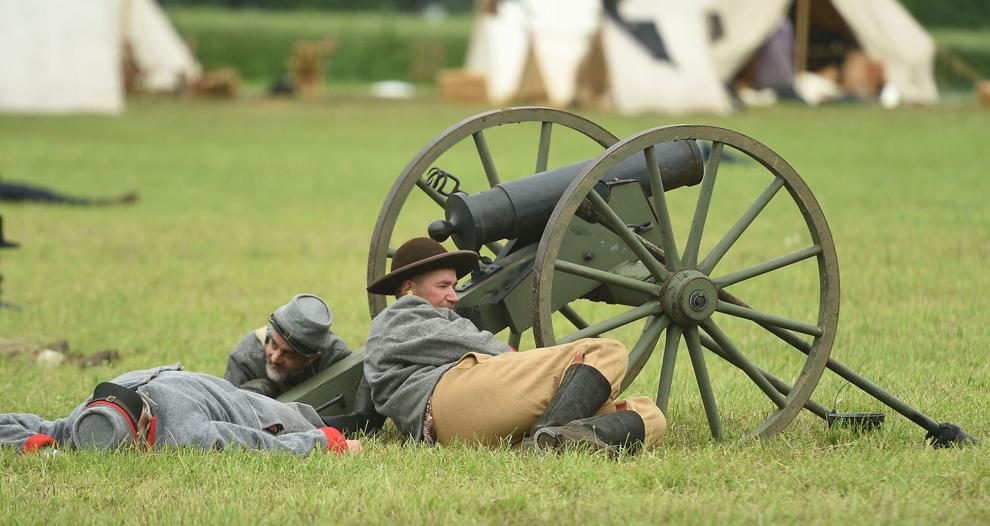 She also said she brought her kids out so they might have some memory of seeing history in action.
"When I was a little kid my grandparents brought me to one of the reenactments here," Bronson said. "I just thought it would be a cool event for them to see some history. It was definitely worth it despite the mud because I wanted my kids to be able to see this up close and personal. It makes it a whole lot more real to be here than just to read it in a book."
Cannons roaring
Garry Keene, president of the Battle of Carthage Inc., the non-profit group that hosted this weekend's reenactment, said people have one more chance to see the reenactment today.
Keene said some of the 400 or so reenactors brought 15 cannons with them, and the reenactment itself starts off with a loud cannonade.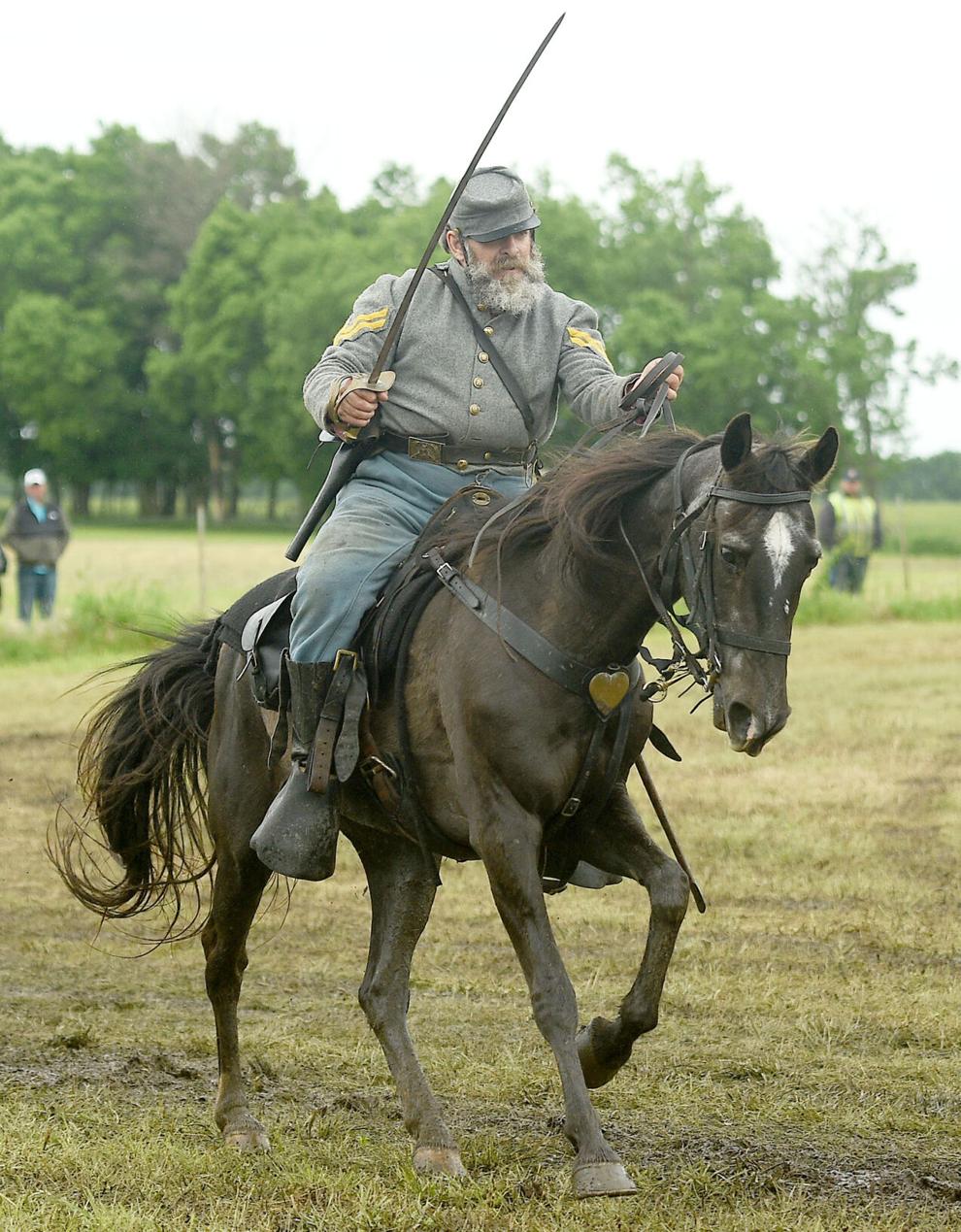 "Each one of these guns will be firing anywhere from 15 to 20 times each," Keene said. "Tomorrow (Sunday) will be a much better day. We're not expecting the rain, the camps will be open to viewing, I think the spectators will be able to see the camp life that the soldiers went through better tomorrow since it won't be raining. After that, they'll see the reenactors getting the guns ready for the battle."
Keene said the event was made possible by a $25,000 grant from the city of Carthage and help of hundreds of volunteers.
"I don't think anyone could possibly understand how many people it takes to do this," Keene said. "We've had the Carthage Convention and Visitors Bureau, Vision Carthage, and we couldn't have done this without the city of Carthage helping us out. The Sheriff's Posse is helping us with parking and everyone has really stepped up in the rain and all. It really went fairly smooth even though we suffered through this weather."
Gates open at 10 a.m. Sunday and cost is $5 to enter. Suttlers will be on hand to sell Civil War-era wares and food trucks will be on hand for food and drink.
The shooting starts at 1 p.m. and visitors are welcome to wander though the camp and ask the reenactors about how soldiers lived during one of the darkest times in American history.
For more information about the event, people can go online to https://battle ofcarthage.com