The Joplin Board of Education plans to move quickly on a recent recommendation to combine West Central and Columbia, its oldest elementary schools, into one building to be constructed at a new location.
Board members expect to hold an open work session on Monday, July 22, during which they will discuss that recommendation as well as public feedback that was given last week during six forums soliciting input on the old schools and the plan. A vote could be taken the following night during the board's regularly scheduled monthly meeting.
If action is taken at the July 23 meeting, it will have been less than one month since the school district's long-term facilities committee presented its recommendation to the school board, drawing some concerns from residents who seek to preserve their neighborhood schools.
Sharrock Dermott, board president, said he believes the quick sequence of events from recommendation to action is appropriate given the structural issues at Columbia, 610 W. F St.
Mining and poor soil conditions have contributed to cracks in the wall of the school's safe room and a pulling away of the walls from the floor in the original 1920s structure.
Additional crack monitors have been installed recently to watch the status of cracks in the walls of the safe room and the original school, which continue to grow and worsen, Superintendent Melinda Moss said this week.
"What might have been a sleeping giant now is accelerating," she said. "We feel like (students) are safe for now; we're just not sure how much longer that will be."
Columbia and West Central also are considered inadequate given current educational standards for elementary schools.
"I think we're on a real time crunch," Dermott said. "We have a need to take action at Columbia, and West Central gets pulled into that because the building, while structurally sound, has the exact same issues."
Considering options
The long-term facilities committee was organized to review Joplin schools and to provide possible solutions to a number of concerns, including modular units in use at several schools as well as safety issues and inequity among different campuses.
The committee said Columbia and West Central — both more than 90 years old — have inadequate classroom sizes, limited space for services such as special education, noncompliance with Americans with Disabilities Act standards and small property sizes that could prohibit future expansion.
Although older and limited, it costs more to educate children at them — about $1,000 to $2,000 more per pupil — because Columbia and West Central are smaller than some of the other Joplin elementary schools, including Soaring Heights and Irving.
Cost per pupil at Joplin schools
| School | Square footage | FY19 enrollment | FY18 cost per school | Average cost per pupil |
| --- | --- | --- | --- | --- |
| Jefferson | 29,300 | 203 | $1,386,256 | $6,828.85 |
| West Central | 31,560 | 206 | $1,366,432 | $6,633.17 |
| Columbia | 30,400 | 200 | $1,310,359 | $6,551.80 |
| McKinley | 55,684 | 332 | $1,934,219 | $5,825.96 |
| Royal Heights | 35,099 | 241 | $1,352,985 | $5,614.05 |
| Irving | 90,040 | 479 | $2,626,821 | $5,483.97 |
| Eastmorland | 48,160 | 234 | $1,282,249 | $5,479.70 |
| Kelsey Norman | 30,080 | 281 | $1,427,182 | $5,078.94 |
| Cecil Floyd | 71,340 | 554 | $2,745,865 | $4,956.44 |
| Stapleton | 51,400 | 421 | $1,938,545 | $4,604.62 |
| Soaring Heights | 66,528 | 421 | $1,879,467 | $4,464.29 |
Options considered to address concerns with the buildings, presented to the school board late last month, included:
• Combining the two schools at the current West Central location, 1001 W. Seventh St. This would serve 450 students and would cost an estimated $18.5 million.
• Renovating Columbia and building a new addition at its current site. This would serve 300 students, leaving about 100 West Central students to be rezoned elsewhere, and would cost an estimated $15.2 million.
• Razing Columbia and building a new school at its current site. This would serve 300 students, leaving about 100 West Central students to be rezoned elsewhere, and would cost an estimated $15.3 million.
• Combining the two schools at a new site. This would serve 450 students and would cost an estimated $19.6 million.
The committee has recommended the fourth option. It also has recommended the construction of an addition to create classroom and office space at Kelsey Norman Elementary School, 1323 E. 28th St., at an estimated cost of $2.875 million. Doing that would eliminate all modular units in use in the district.
Larger classrooms
Among the concerns identified at West Central and Columbia that drew questions from attendees of last week's public forums was the recommended size of classrooms. The old schools both average 651 square feet in classroom size.
Moss said classroom sizes of 900 to 1,000 square feet are desired according to today's construction standards for elementary schools, as well as a set of standards that a Joplin district committee developed in 2011. The larger square footage allows for student movement around the classroom, for teachers to have adequate space for individual work or group work with pupils, for today's technology, and for students to engage in the types of learning that is expected in the modern classroom.
"We've got so much information at our fingertips," she said. "But what concerns us more today is what can (students) do with that information? Can they think critically about it? Can they put that information into use through collaboration or a project?"
Moss said increasing the square footage of individual classrooms would not increase the number of students assigned per classroom. She said the district has lowered its student-teacher ratios over the past two to three years and wants to maintain those ratios.
"We're not adding students to the room, but they would have more room to do things" such as collaborative and project-based learning, she said.
As of May 1, classrooms at Columbia and West Central had as few as 12 students apiece and as high as 22 students, according to enrollment information provided to the school board earlier this summer. Even at the largest elementary school — Cecil Floyd, with a total student enrollment of 551 — classroom sizes ranged from 17 students to 26 students and averaged 20.3 students per classroom.
The average class size in 2011-12, the most recent year for which data was available, was 21.2 pupils for public elementary schools, according to the National Center for Education Statistics at the U.S. Department of Education.
Other solutions?
Attendees at all six public forums offered additional ideas for the two properties.
Eddie Thomas, who lived in the Columbia neighborhood for 38 years before moving to another part of Joplin, believes the school should be torn down because of the instability of the ground underneath.
"No matter where you try to build, it has been shown that it's not safe," he said. "Build a park here or something like that, something that will provide some good for the community."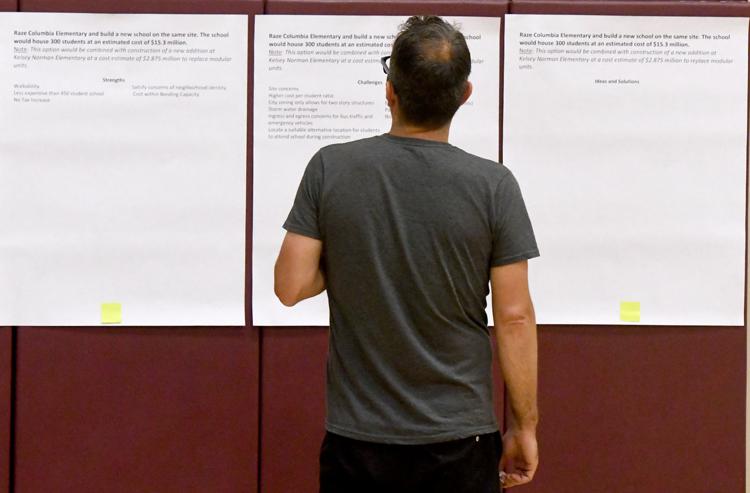 Written feedback left at the forums offered similar viewpoints: "Look at developing a community garden at the Columbia site; incorporate a butterfly house with classrooms to keep the educational feel of the area," wrote one resident, while another wrote: "Make the old Columbia building a great neighborhood center for activities for anyone in the community." A third resident, referencing the Lafayette House located in the old Lafayette School, suggested that the district "reach out to local nonprofits to use the buildings."
Several Columbia parents asked whether the district would consider building two new schools — a new Columbia and a new West Central in their current neighborhoods. Written feedback provided at the Columbia forums also supported that solution: "Not in favor of a merge, build two new schools!"
Dermott, the board president, said there is "precedent" in the district of consolidation. Following the May 2011 tornado, school officials combined Irving and Emerson into a new Irving Elementary School, as well as Duquesne and Duenweg schools into Soaring Heights Elementary School.
"The efficiencies demanded it," he said. "We have precedent here in our district for when two small schools need to be examined. ... There's nothing new here."
Residents also suggested building a new Columbia school at its current site for $15.3 million, leaving the remaining $5 million in bonding capacity for improvements to West Central instead of moving those pupils elsewhere; building a new Columbia not at its current site but elsewhere in the neighborhood; and constructing a combined West Central-Columbia school at the site of North Middle School.
Daniel Koucky, whose son will be a kindergartner at Columbia next month, said a "major concern" is that the building would be abandoned if a new school is built elsewhere.
"Repurposing the land where these historic buildings stand today would not compensate for the loss of a government-sponsored institution leaving the neighborhoods," he said. "This is seen as a worst-case scenario for neighborhoods, leaving them open to the perils that often befall a community when institutions pull out."
School district officials and school board members have said they do not want to see the Columbia and West Central buildings abandoned should they pursue new construction.
'The whole district'
School officials have said they sought input from all members of the Joplin public on the proposals because of how taxpayer dollars are spent within the system for each school.
"It's not just a Columbia issue or a West Central issue or a Kelsey Norman issue," Moss, the superintendent, said. "What we decide affects the entire district. ... We're a school system, and as a system, nothing happens in isolation."
Of particular concern to the district, Moss said, is the cost of operating the schools, which varies widely depending on each building's size, age and enrollment. The older, smaller schools cost more to operate — including instructional costs and utilities — than the larger schools, she said.
Data provided by the district show that West Central and Columbia, with 2019 enrollments of 206 and 200, respectively, cost the district an average of $6,633.17 and $6,551.80 per pupil to operate. By contrast, four of the biggest schools — Cecil Floyd, Irving, Stapleton and Soaring Heights, with enrollments of about 550, 479, 420 and 420 — averaged $4,956, $5,484, $4,604 and $4,464 per pupil.
(Jefferson Elementary, with a population of 203, is most expensive, with a per pupil cost of $6,829.)
"It matters to the whole district how we're allocating our resources to each classroom," Moss said.
Samuel Wimsett, whose family lives in the Cecil Floyd neighborhood, attended a forum at Irving because he expects that whatever path the district takes to address these schools will affect everyone.
"This (represents) all of our community. What's good for the city is good for me, and a good school is the anchor for any community," he said. "I'm definitely invested in Joplin being a developing city, not a declining city."
Globe intern Christopher Martucci contributed to this report.