GROVE, Okla. — An F-4 Phantom fighter jet that was accumulating dust at an Air Force hangar in New Mexico now has a purpose at its new home in Northeast Oklahoma.
Project coordinators Beverly and Dave Helms, of Grove, say they worked for the past year and a half to acquire the plane using the federal GSAXcess system for surplus property. 
Grove's F-4 flew for the first time on Oct. 10, 1972, as part of the 4th Tactical Fighter Wing unit at Seymour Johnson Air Force Base in North Carolina and remains in good shape.
Constructed by McDonnell Douglas, the F-4 Phantom is classified among the most significant military aircraft in U.S. history.
Approximately 5,000 Phantoms were constructed from 1958 to 1981 and were used by the Navy, Air Force and Marine Corps. Beverly Helms said that they brought the jet to the region to "honor the past and inspire the future."
A crowd of spectators gathered Monday night in Grove to witness the arrival of the 63-foot-long plane. The 25,000-pound empty vessel was transported on a super-wide-load trailer by Polar King International from its original location in Alamogordo, New Mexico. The hauling company donated an extra truck to transport its 38-foot-long wing attachment.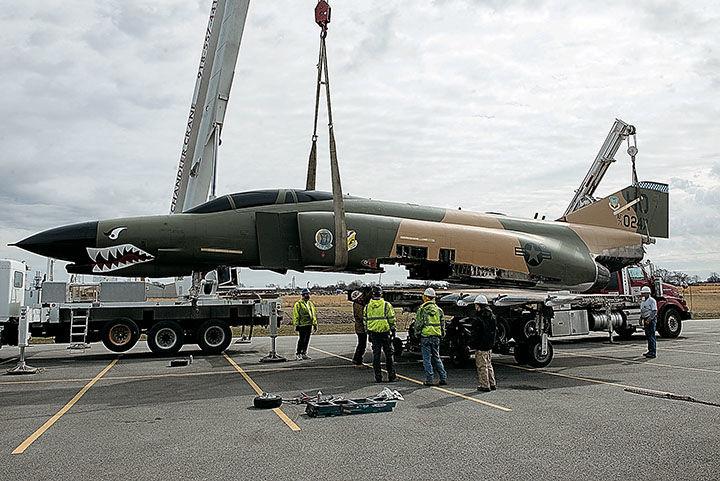 "It was at Holloman Air Force Base 24 hours earlier, and she arrived here right before sunset last night (Monday)," Beverly Helms said. "I had several people tell me that the streets were lined with more people than we would normally have for a parade. I'm so proud of our community."
The plane was assembled by large cranes on Tuesday in the parking lot of Ferra Aerospace, the plane's new home in Grove. Ferra Aerospace is an Australian-based company that manages numerous projects around the globe by gathering and processing raw materials in the states. Final assembly will be conducted at Ferra Aerospace, which has 19 employees. 
Ferra Aerospace site manager Mike Tackkett said that the Grove operation plans to expand to 100 employees by the year 2020.
"That's when the F-35 goes to full ramp-up, and that's one of our largest programs," Tackkett said. "We're currently working on several other contracts. It just takes a little while to get them ramped up, so 2020 has been our goal the whole time."
Former Air Force pilot Jim Finley, of Claremore, had flown the very F-4 plane that will be displayed, and he visited the site Tuesday to watch the jet be reassembled. He said that a majority of the F-4s have been destroyed or are being used as target drones.
"I thought they were all gone," Finley said. "I don't think there's any foreign Air Force in the world ... still flying these because you want to keep some aircraft in the desert for parts."
A dozen volunteer crew members pieced together the historic fighter jet that was primarily used during the Vietnam War and anticipate its completion by today. Once completed, the aircraft will be moved to a gravel pad adjacent to the aerospace operation where it will be mounted and secured for public display.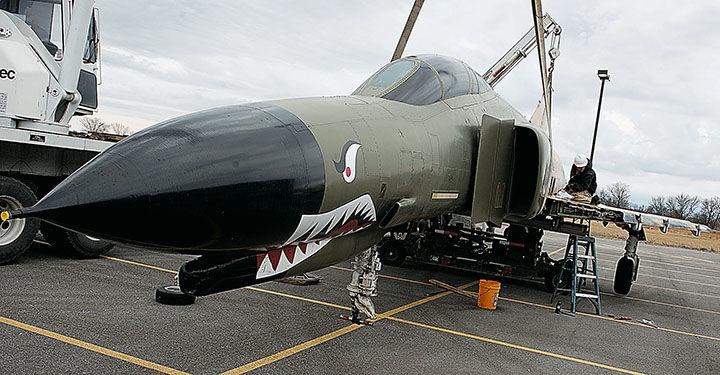 The total project cost is estimated at $100,000 and has been funded purely by donations through the Grove Rotary Foundation. The community and city have also been large supporters of the endeavor. Ferra Aerospace donated nearly an acre of land for its location and will maintain the site.
"We donated the land, and we're also putting cameras on the F-4," Tackkett said. "We'll also probably provide the electric and lighting for it as well. Plus, we'll do all of the landscaping for it, since it's already on our property. That way, the city won't have to worry about it."
Tackkett said the company is looking forward to the attention and visitors the aircraft brings to the area.
"It's a great addition to Grove, and it's really a great addition to Ferra," he said. "Now, when people are looking for us, we can tell them to turn at the big airplane."
The Grove Rotary Foundation currently has about $80,000 in donations, and groups hope to raise the remaining amount to complete the aircraft pad construction. The site will be outfitted with a memorial display, information panels, benches and a concrete sidewalk around the perimeter.
Dave Helms specialized in aircraft structural repair in the Air Force and that F-4s were among the planes he worked on.
"It's like working on a sports car," Dave said. "They're very, very hard to work on. Our job was to keep these things up and going constantly."
Peter Norwood, of Grove, said the F-4 was a large part of his young adulthood in the Air Force and that he flew them from his mid-20s to mid-40s.
"You don't really fly it, you just think it, and it goes there," Norwood said. "To be a good pilot, the airplane needs to be an extension of your body and your mind. The last time I flew this airplane was in the late '80s."
The official F-4 site dedication in Grove will be scheduled later this year.