Karen Woodward, 61, of Joplin, and her 1-year-old basset hound, Josie Renee, have been itching to get out of the house since the arrival of the COVID-19 pandemic and attended Joplin's Third Thursday as their first community activity in over a year.
"There were no fleas involved," Woodward joked.
It's been over 15 months since Joplin's last Third Thursday event, according to Lori Haun, executive director of Downtown Joplin Alliance, a not-for-profit organization dedicated to the revival of downtown.
Woodward, who wore a mask and observed social distancing, said she's been vaccinated and that this was her first public outing since last April. She said that aside from work, she only left her house only once in the past year. She ate out for the first time on Easter. This is her splurge month.
"It's been so nice to get out for once," she said. "It's amazing. We have a mother who is 85 years old, and we would not go out to do anything because we were so scared for her. I've known a couple of people who passed with it, so I take it seriously."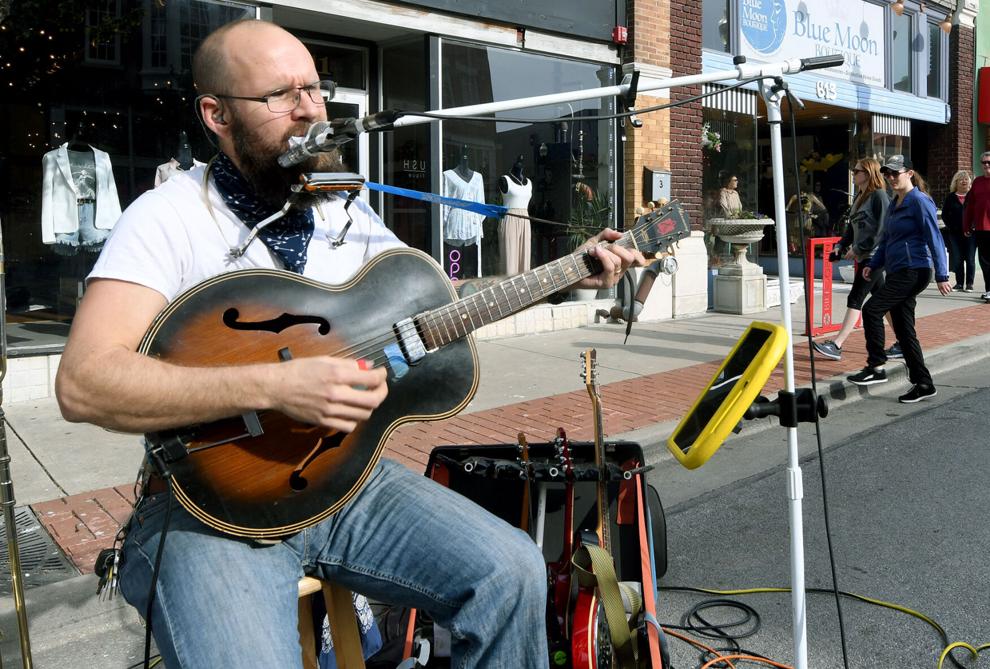 The event attracted hundreds of people to the streets of downtown. Woodward has been attending Third Thursday for the past five years and was ecstatic to see it brought back this year.
"This is freedom," she said with a smile.
The Downtown Joplin Alliance launched Third Thursday in 2007, which started as an indoor art walk and has transformed into one of the community's signature events. The free festival features an artisans market, live music, performers, outdoor cafes, food trucks, children's activities, car shows and more.
More than 60 vendors and 20 food trucks were in attendance for the first Third Thursday of the season, including a new crepe food truck and Hershey's Mobile Ice Cream Parlor. Live music was provided by Dance Monkey Dance, and a vintage car show was held in the 100 and 200 blocks of South Main Street.
The Children's Center, Rapha International and the alliance are April's Third Thursday sponsors as April is Child Abuse Prevention Month. Pinwheels are on display throughout downtown and the community to show support for child abuse prevention.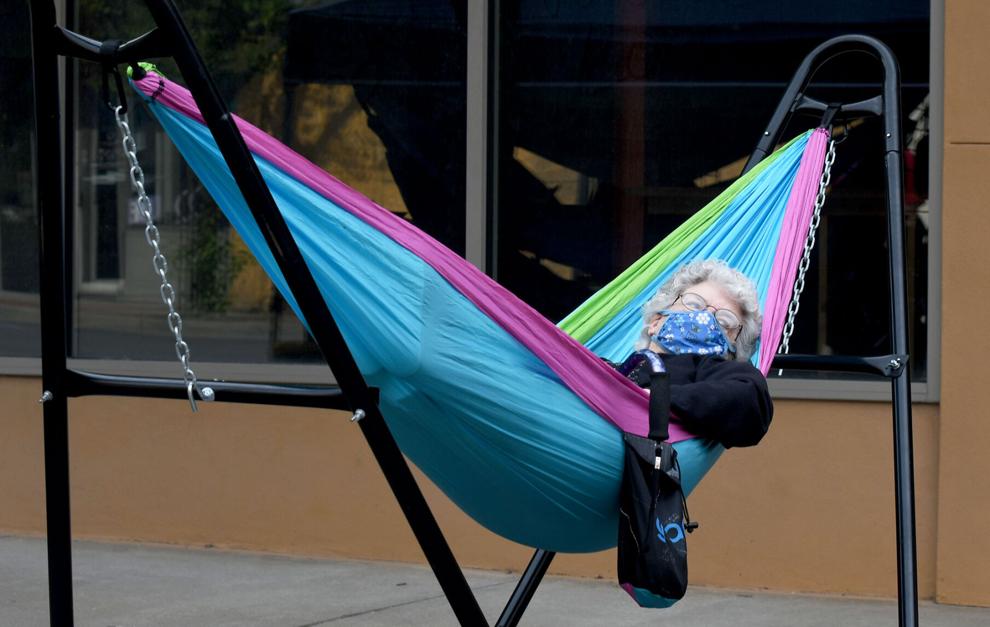 Carol Penny Miller, 79, had no problem channeling her inner child on Thursday when she helped advertise her grandson's business, Gnar, by being rolled around downtown on a hammock stand with wheels. Miller said she loves adventure and is looking forward to being out in the community again.
"I don't even feel close to my age," Miller said, laughing. "This is great because we have something to look forward to this year. I'm hoping a lot of people come out and see what is available and what the community is doing to help one another."
Curtis Miller, owner of Gnar, said the business helps people check off bucket list items and wants to build a culture for the outdoors.
Last year's Third Thursday was going to be Gnar's first appearance as a vendor. Miller said it's a great feeling to get back to the way things were before the days of isolation.
"It feels good to finally be able to give people hope again, and there's no better way than getting out and enjoying the outdoors," Curtis Miller said.
Haun said it's been the Downtown Joplin Alliance's goal to revive the event since the pandemic started, but it was just a matter of timing. Now, officials are moving forward with safety guidelines and social distancing as cases continue to decline.
"We feel that with cases going down and vaccines rolling out, people are getting more comfortable and wanting to be out more," Haun said. "We thought it was a good time to do it, and since it's an outdoor event, we can socially distance. We've spread things out quite a bit more and made sure there's more space between the vendors. We have food trucks over three blocks."
Last year, Third Thursday had to be canceled the week it was to start due to the onset of the COVID-19 pandemic. Haun said although Third Thursday was halted, that gave the Downtown Joplin Alliance more time to focus on other ventures, including Empire Market's transition to online and curbside pickup.
"It was a challenging year, but it also allowed us to grow and expand into other areas too," she said. "We launched our endangered properties program during the summer last year, which enabled us to have that foundation, and we were already working with the Olivia property owner when it caught fire. It allowed us to already be in a position to be part of that solution."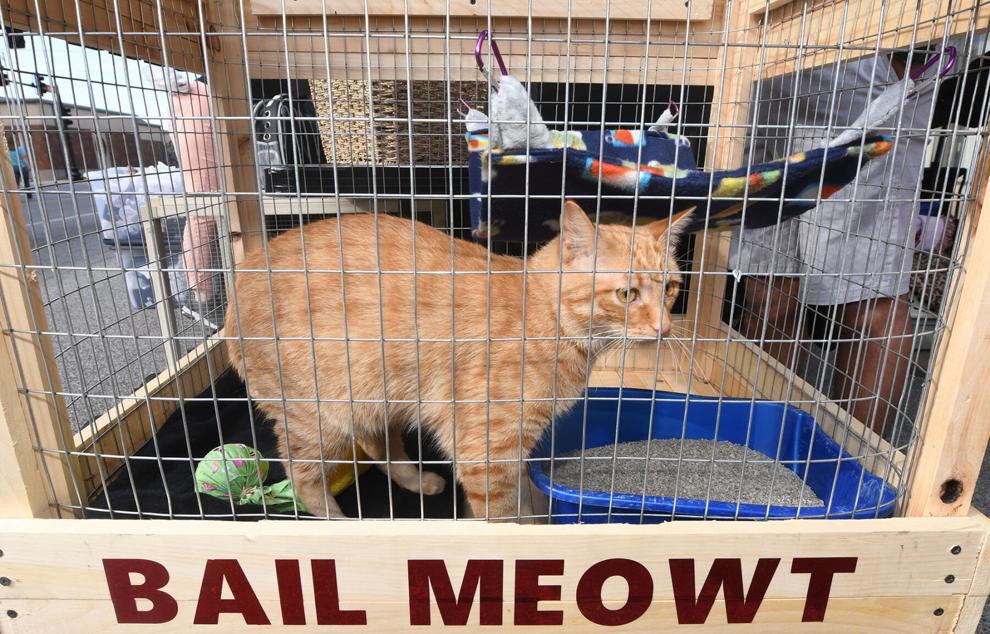 Jon Thomas Buck, the former owner of JB's Piano Bar, said this was his first Third Thursday event as the co-owner of Nine Lives Cat Lounge and Adoption Center. The center began adoptions March 14, and 22 cats now have homes.
"It's a form of therapy for some people and others can't have animals, so it's cool to see the mental health aspect, and we help people get their cat fix," Buck said. "It's a little different being out here because I'm used to hosting on that side. It's such a totally different experience, and we hope to bring something more positive to town."
Howard Burnison, owner of Kings Kettle Corn, had a long line of patrons buying bags of flavored popcorn. Burnison said the business has participated in every Third Thursday event.
"We're excited to see a lot of people that we haven't seen for a year," he said. "People just want people. I think we're going to see more and more people coming out. We've been super busy. It was horrible last year because every major event was canceled. But seeing people's smiling faces again is worth more than the money. It really is."
Haun said she hopes the revival of Third Thursday gives the community a sense of normalcy and of what's to come.
"We're happy to be part of getting the community together again to have a good time," she said. "It's been a stressful year and stressful month. A lot of people have been commenting on social media, 'I can't wait,' or 'I'm so glad,' so there's definitely a lot of excitement around it."