CARTHAGE, Mo. — With the ceremonial installation on a windy Monday afternoon, a mural celebrating historic figures who grew up in Carthage is beginning to take shape on the east side of the McBride building on the southeast corner of the Carthage square.
Artist and creator Andy Thomas, Vision Carthage Executive Director Abi Almandinger and building owner Keith McBride gingerly placed the first three 14-pound ceramic tiles on the stucco-covered brick wall on the east side of the building.
By the middle of the afternoon, the bottom row of 27 tiles was in place and the bottom sliver of the colorful mural, called "Big Dreams Grow in Carthage," could be seen.
"It is so exciting," Almandinger said. "It is so thrilling to be able to do this in roughly nine months, to go from concept, fundraising, all of it. The community has really come together. I think the idea of beautifying a space and doing it in a way that is public art, that the entire community and tourists can enjoy, it'll be a draw and a destination for people to come to for years to come. Hopefully it will draw more traffic and more folks to downtown, and see how beautiful our downtown is."
A place of honor
Carthage artist Andy Thomas, who created the mural after he was contacted by members of the Vision Carthage committee, said the mural honors seven residents who went on to create and achieve big things, and six artists who helped turn Carthage into the artist mecca it is today.
The seven residents honored are Hall of Fame baseball pitcher Carl Hubble, television host and zoologist Marlin Perkins, former Jasper County Clerk Annie Baxter, Hollywood leading man David Newell, ragtime composer James Scott, astronaut Janet Kavandi and NFL football great Felix Wright.
The artists are featured in the top left corner of the mural and appear to be standing on a scaffold putting the finishing touches on the mural. They are Bill Snow, Thomas, Jerry Ellis, Bob Tommey, Lowell Davis and Sam Butcher.
Thomas said he, his wife, Dina, and the Vision Carthage committee worked together to determine who would be featured on the mural and how they would be portrayed.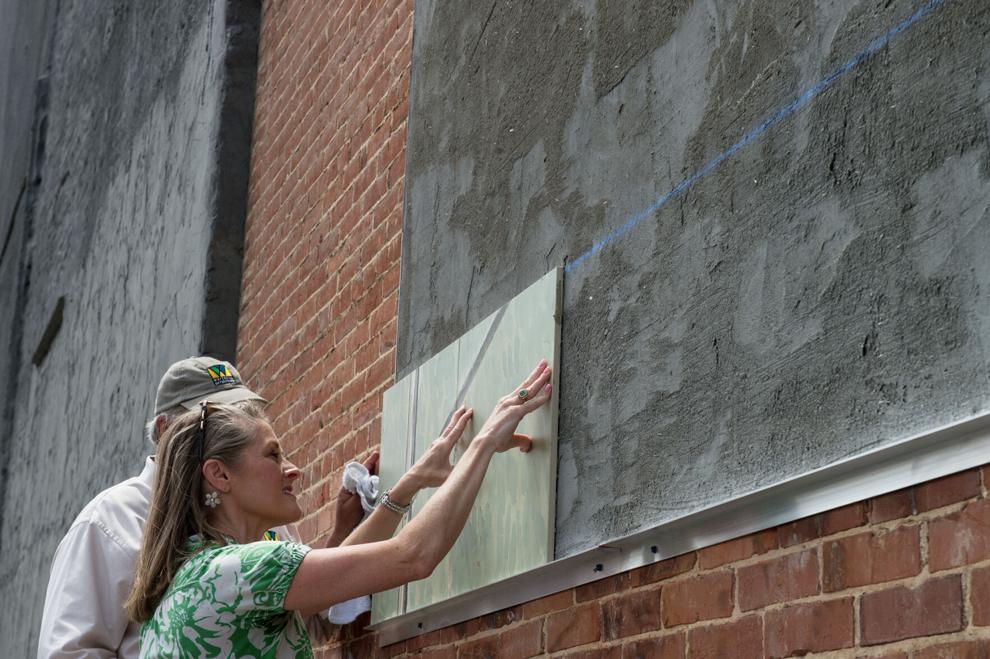 "I studied them all," Thomas said. "Marlin Perkins was known for wading the creeks and getting critters. I grew up with Felix and Janet, so I know them very well, two very very nice people all their lives. James Scott, I have some friend connections with that family and I read a lot on his life. Very interesting guy, one of the top ragtime composers in history, ragtime being a very sophisticated type of music. There was an anecdote that he would hook his ankles around the stool when he played, so I put that in there.
"David Newell, we didn't know much about him, but he was at one time a leading man in Hollywood in the 1930s and 1940s, and apparently had an accident and worked in Hollywood behind the scenes for 40 years after that."
Annie Baxter lived from 1864 to 1944 and was the first woman elected as a county clerk in the United States when she won election to the office in Jasper County in 1890.
Felix Wright was an accomplished NFL defensive back who played in the league for eight years, including from 1985-1990 for the Cleveland Browns.
Thomas said painting the artists became something of an emotional trial when two of them, Bob Tommey and Lowell Davis, both close friends with Thomas, died in 2020 as the mural was being finished.
Thomas said he got the chance to show the mural to Davis, who mentored Thomas at the start of his artistic career, before he died.
"It was kind of moving," Thomas said. "We were working on this, and we made plans for it, and in the process of me working on it, while I was doing the artwork, both Bob and Lowell died. I went to their funerals, and then it became very emotional, but we know all these people, and our poses kind of reflect our relationships. I threw in a chicken next to Lowell on the scaffold and made it a black hen because he had a restaurant by that name. I showed it to Lowell before he died, and he just chuckled. I had a great last visit with him with this mural."
Made to last
Paul Whitehill, owner of Whitehill Enterprises, which digitized the mural and had the tiles created in Spain, said this was one of the largest projects his company has worked on.
At 27 feet by 44 feet, Whitehill said, the mural has 459 tiles, each measuring 19 inches square and weighing 14 pounds.
That means the mural weighs a total of about 3 1/4 tons.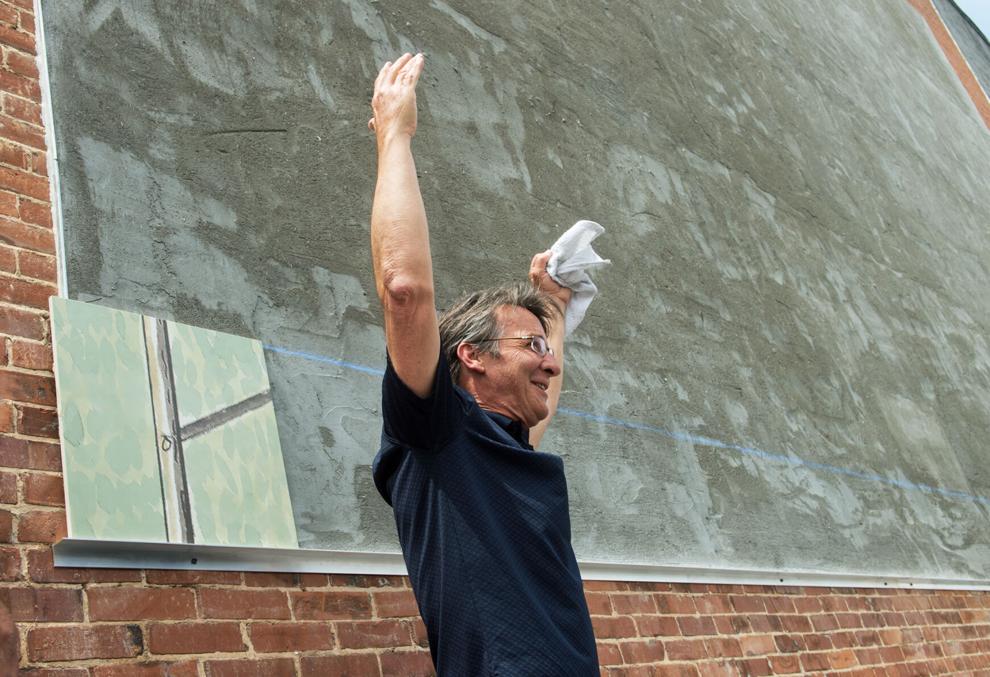 "We uploaded the digital file to Spain, and it was printed with ceramic toners directly on the porcelain tiles," Whitehill said. "These tiles then get fired in a kiln to about 2,000 degrees where they become the glaze of the tile. You can walk on them. They're color-fast. They won't fade in direct sunlight and should be here for generations to come."
McBride said he was concerned about the durability of the mural when the Vision Carthage committee first came to him with the idea of putting it up.
"I was kind of curious about the artwork, and when they explained that it was going to be on tile, I thought, 'Wow, that's going to be really permanent,' so I thought we needed to make sure it was really good," McBride said Monday. "But then I heard Andy Thomas was doing it. I was like, OK, I'm totally sold."
McBride said the mural makes something good out of the tragedy that created the space for it.
In June 2013, the building immediately east of his, which housed the Sassy Spoon restaurant at the time, was destroyed in a fire.
Firefighters stopped the fire before it spread to McBride's building, which had only minor damage.
In 2015, Jasper County officials acquired the land and turned it into a parking lot for county workers.
Almandinger, with Vision Carthage, called the McBride building wall a "perfect blank canvas for a project like this."
Almandinger said her group raised a little more than $110,000, some of which went to preparing the wall for the mural.
"We are so grateful to Keith McBride," Almandinger said. "It has an important location as the corridor from downtown to the historic homes on Grand Avenue, and it's also on the Maple Leaf Parade route."