Liberty on Tuesday joined nine other utilities in the Midwest that are building a network of charging stations and other infrastructure for electric vehicles.
It also has asked the Missouri Public Service Commission to approve several pilot programs for those who already own or want to own electric vehicles, and businesses that want to offer recharging, convert fleets and more.
The goal of the five-year pilot programs is to meet the needs of those customers who have already shifted to electric vehicles and encourage those who want to, said Robin McAlester, senior manager of innovation and sustainability for Liberty.
According to Liberty, more than 1.2 million electric vehicles are in use today in the United States, and that number is expected to grow to 18.7 million by the end of the decade. Companies including General Motors have said they will phase out cars powered by gasoline and diesel and be completely electric by 2035. GM, which adopted a corporate logo that includes an electric plug, recently unveiled a Chevrolet Bolt compact SUV that has a range per charge of 250 miles and a $34,000 starting price tag. It goes on sale as a 2022 model.
Ford also said it will convert its entire passenger vehicle lineup in Europe to electric power by 2030.
McAlester said that Liberty developed its pilot programs after it surveyed customers and found that one of the biggest barriers to the move to electric vehicles is a lack of understanding about the all-in costs, including the costs of the energy.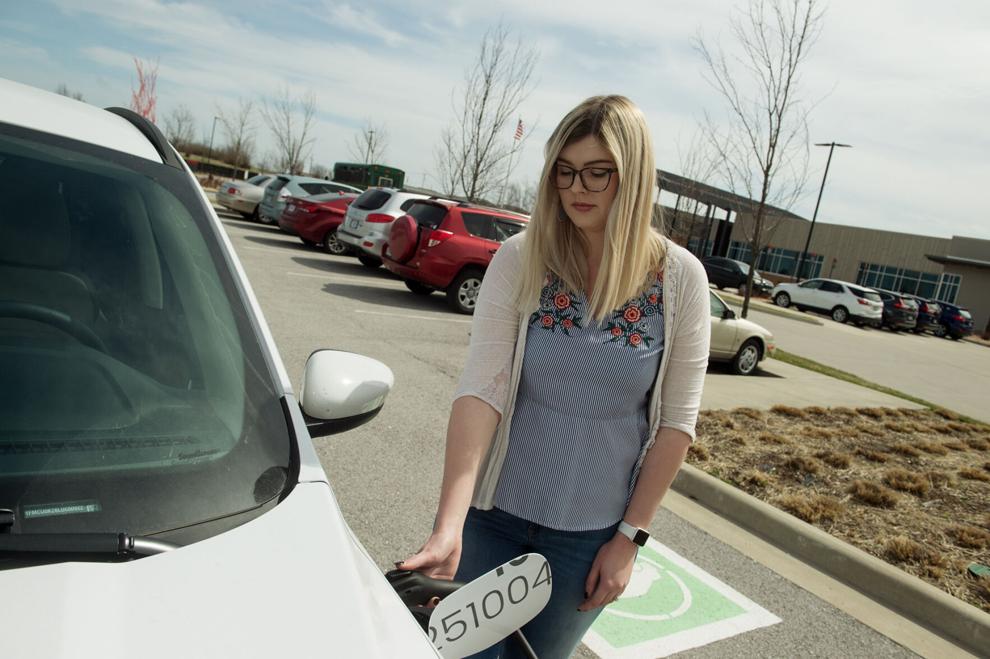 The pilot program would, for a $40 monthly charge, set homeowners up with a 240-volt charger and include all the electricity needed to charge vehicles between 9 p.m. and 6 a.m. Any electricity used for vehicle charging after 6 a.m. and before 9 p.m. at the house would be an additional charge.
Infrastructure
Another barrier to shifting to electric vehicles is the confidence of knowing public infrastructure is available, she said.
The Joplin-based utility plans to add 115 charging stations around the region in the next five years, on top of the 68 it has now, most of which are at Liberty offices and locations.
McAlester said 15 of those will be the "fast chargers," which could fully recharge a car in 20 to 40 minutes, and 50 will be "Level II" chargers offering 100 plugs at public sites around the region, such as shopping malls or colleges. Level II chargers can take several hours to fully recharge a car. They would be placed where people could plug in while they shop for an hour or two, for example.
"Levels IIs are more for that top-off," McAlester said.
She said that all electric cars can handle level II chargers, but not all electric cars can handle fast chargers.
"We are proposing these programs to really put in a foundation," McAlester said.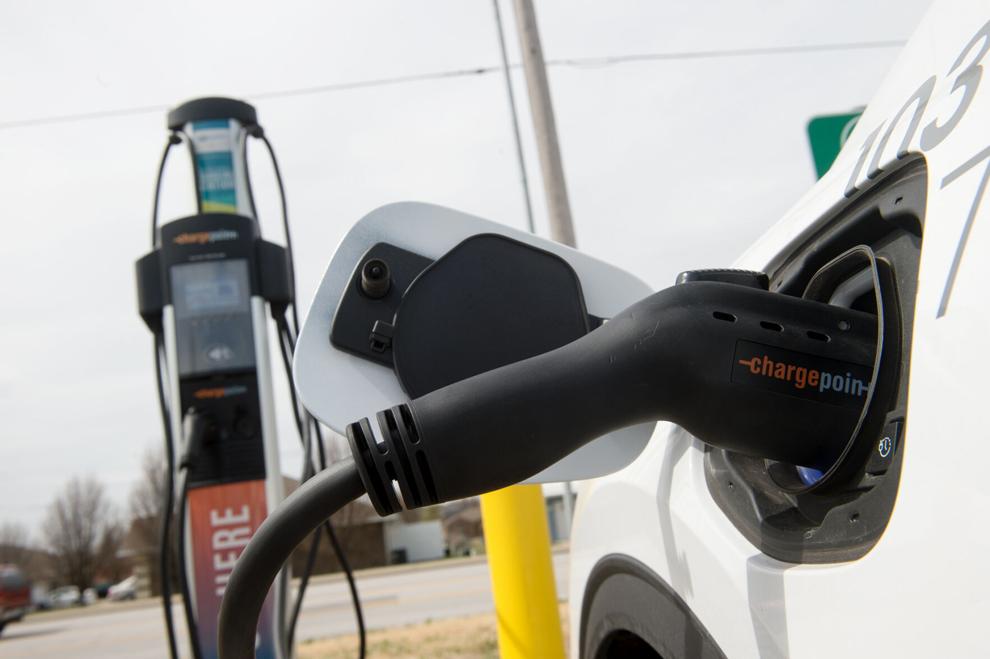 She said third parties, such as convenience store chains that now sell gas, also are expected to begin investing in more infrastructure for electric vehicles. Another goal of the pilot program is to set up a price structuring to help businesses that want to offer charging ports know what their costs will be, and to set up a proposed commercial rate so that both businesses offering charging and their customers know what the rates are going to be.
Other aspects of the pilot program:
• The deployment of an additional 50 Level II chargers for commercial customers that want to offer workplace charging for employees or to charge a fleet.
• A Fleet Advisory Service Program to help businesses analyze drive times, stop times, routes and more, and to help them determine what percentage of the fleet it makes senses to convert to electric vehicles.
• The placement of 20 additional chargers at area schools to encourage districts to shift to electric buses. "There are many schools out there that have made the jump," McAlester said.
• A nonroad program offering rebates for companies to convert vehicles such as forklifts to electric.
McAlester said approval of the five-year pilot programs is not expected until late this year at the earliest. The Missouri Public Service Commission has announced a public hearing on the issue for June.
Midwest network
On Tuesday, Liberty officials also signed what is called a memorandum of cooperation with other utilities from Oklahoma to Indiana, including Ameren, Evergy, and Oklahoma Gas and Electric, which also are building charging stations throughout their service territories.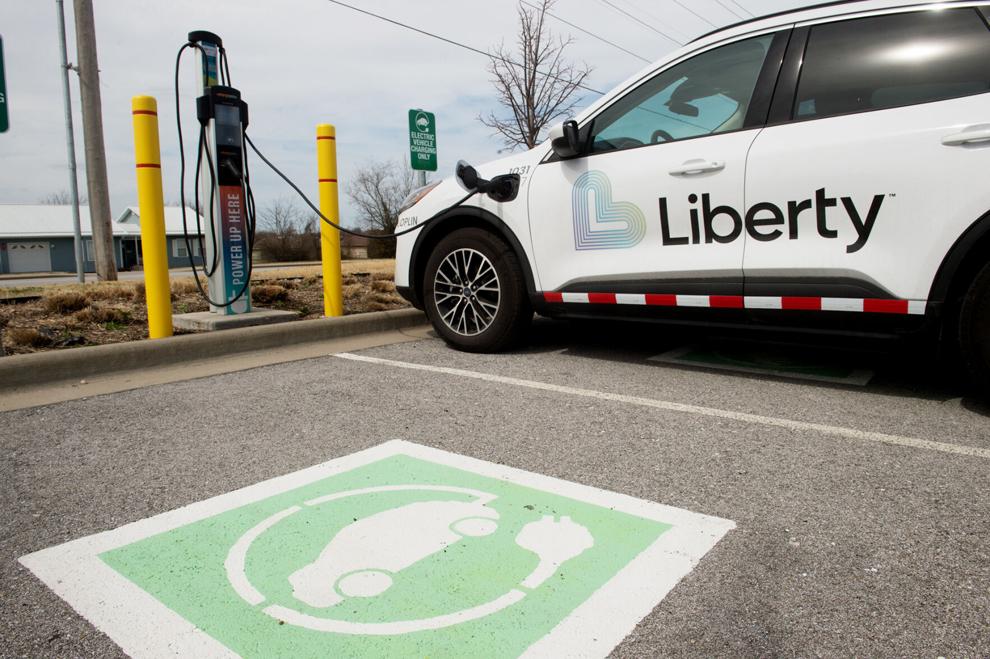 "Our goal in participating in the memorandum of cooperation is to provide support to those who have already chosen to drive EVs and to those who are interested in switching to EVs. By expanding the charging network across the Midwest and working on localized EV programs, we're meeting the needs of our customers now and supporting positive change for a lower carbon future," David Swaim, Liberty Central Region president, said in a statement released Tuesday.