ROGERS, Ark. — Numerous concert venues nationwide have sat silent during the COVID-19 pandemic, and the Walmart Arkansas Music Pavilion is no exception. It hasn't sat empty, however.
After seven months and $17.2 million in expansions and renovations to Arkansas' largest outdoor amphitheater, involving hundreds of workers, results were shared with the world last month.
"This is not how we had envisioned unveiling our expanded facility," said Peter B. Lane, president of the concert venue as well as the Fayetteville, Arkansas-based Walton Arts Center. He added that a much larger and public celebration will be held once the state's pandemic-related health and safety regulations ease.
The concert venue opened on June 7, 2014, to a sold-out performance by Blake Sheldon, and it has since held 150 events and concerts. It is 67 miles — about an hour's drive — south of Joplin, located off Interstate 49. It drew 200,000 people in 2018.
The Walmart AMP, ranked in the top 50 of Pollstar's Top 100 bestselling amphitheaters worldwide, "is unique in the region, and we pride ourselves on being able to provide a boutique concert experience while still bringing in some of the biggest names in the business," said Jennifer Wilson, AMP's public relations director. "We have great sight lines throughout the venue, and our video walls make every show here an intimate and exciting experience."
Construction efforts centered around creating a more comforting experience for both the artists on stage and the cheering crowds massed below, Wilson said.
Additions and renovations include:
• Overall venue capacity increased by 1,000 to 11,000, with 3,500 people beneath covers.
• The most noticeable change, Wilson said, is the 15,000-square-foot expansion to the top of the lawn, dominated by the Choctaw Plaza, a 12,300-square-foot covered plaza space home to an 80-foot bar and seating area for concert viewing.
• Two new uncovered plazas, each 1,350 square feet, flank the Choctaw Plaza, with Tyson Foods-sponsored concession stands and additional restrooms.
• Between the expanded main gate and Kraft Heinz-sponsored side entrance, the venue now operates 12 gates at once, which increases traffic flow into the facility.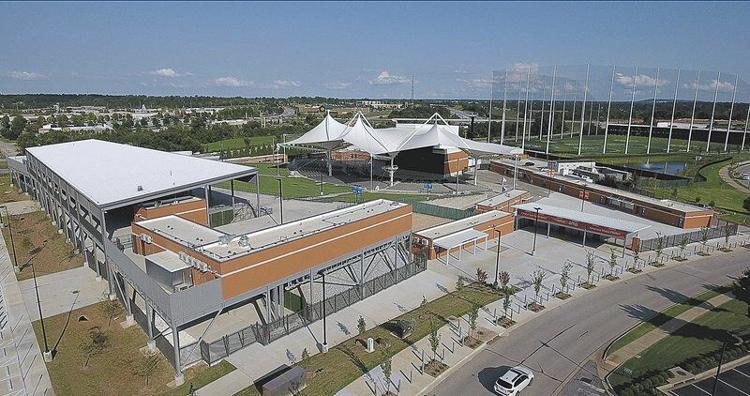 • Beyond the entrance gates, the entry plaza has doubled in size, nearly 20,000 square feet now, with 36 additional restrooms and a new Tyson concession stand.
• The Procter & Gamble Box Office was expanded from four service windows to seven, making it easier for people to purchase and pick up tickets.
• AMP Vision, a closed-circuit concert feed, will be displayed on 19 dedicated displays throughout the venue, including two video walls on stage so nothing on stage is missed by viewers below.
• Backstage, the artist wing now includes four new luxury dressing rooms and private bathrooms, bringing the venue's total number to eight. An artist's green room, shower room for tour crews, laundry facility and updated catering kitchen that now serves 80 were also added.
With contributions from regional companies such as Hunt Ventures, Walmart, General Mills, Tyson, Procter & Gamble, Visit Rogers, Live Nation and Choctaw Casinos & Resorts, AMP officials were able to plan and complete "this large-scale construction project despite the pandemic, which is truly amazing," Lane said. "Because of this project, the Walmart AMP will be able to remain competitive in the touring industry, which will benefit our entire region when tours resume."