ALBA, Mo. — Nate and Tiffany Artinger are working to bring a unique twist to the quiet streets of Alba by creating a steampunk-themed brewery in the Old Miner's Inn building at 208 Main St.
Outfitted with one-of-a-kind decorations, a vintage brass bar and antique-style décor, patrons at the Beard Engine Brewing Co. will see through the lens of a science-fiction reality where the Victorian era is redefined with historic machinery rather than advanced technology. This type of style is commonly referred to as steampunk and often features things such as steam-powered gadgets.
"I like steampunk just because what it's about," said Nate Artinger, co-owner and head brewer. "Steampunk is basically like a future that never happened, and that's kind of how we are here."
The brewery will be an unplugged getaway with no large televisions in sight. The name comes from the "beer engine," a type of manual device used to siphon beer from a cask. The brewery will feature two beer engines at the bar.
"That's where we got our name, and a beer engine is still widely used over in Europe," said Artinger. "They don't really believe in CO2 to pump the beer. It's basically unpasteurized, unfiltered beer. It's basically what our entire set up is based on. It has a little sparkler tip on it that pushes all of the residual CO2 out and develops a creamy, frothy head. You'll be able to taste the difference."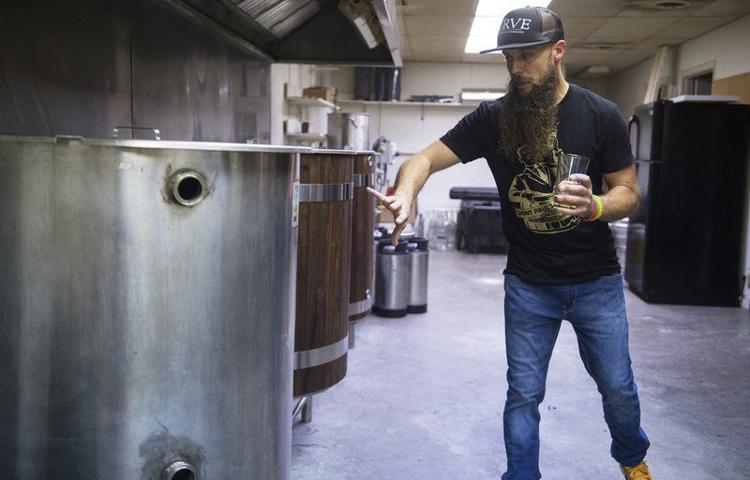 The Artingers, a husband and wife team, crafted or repurposed the items in the brewery including a rustic umbrella with vintage light bulbs hanging over the entry way. Nate and Tiffany said they had a blast working on the project with their 13-year-old daughter, Bailey.
"Basically, everything that's been made has been made by me or a member of our family," said Artinger. "All of this stuff, we've worked on together, so it's like a big art project."
The Old Miner's Inn had once been a five-star restaurant owned by French chef, Max Givone, who ran the business from 1979 to 2001. His daughter, Shanen, took over the business upon his retirement in 2001 and put the building up for auction in the spring of 2007. The Artingers moved to Alba and purchased the vacant building in November 2018. The family lives in the adjoining building.
"To make it work, we needed a space that was dual purpose because we were putting everything we owned in this," said Tiffany Artinger. "We had been looking for months in Joplin, Baxter Springs and Galena. We came out here and looked at the building, and the minute we got in the car, Nate said this is the one."
They kept some of the elements used in the Old Miner's Inn. The restaurant was known for its French continental cuisine and out-of-the-way location. Large pillars and arches decorate the walls throughout the building, which the owners believe was built in the 1920s.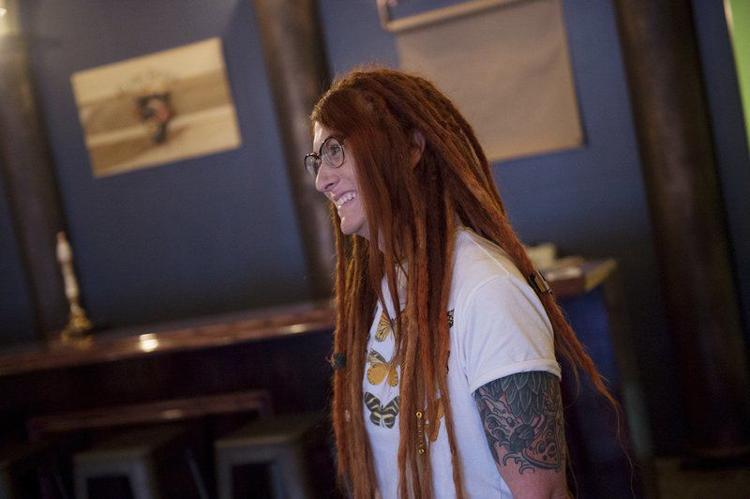 "This place ran for almost three decades and people had drove from all over, so we want to bring that experience out here," said Nate Artinger. "It will have a higher end, Victorian presence. We want to be a destination brewery."
Nate Artinger said the idea to open up his own brewery had been a dream of his for several years and that Tiffany pushed him to pursue it. He had been brewing his own beer for a few years and had collected old brewing equipment from all over the United States.
"Most people do the beer kits, and he skipped that," said Tiffany Artinger. "He started making his own recipes from the beginning, and he used equipment that most people have stopped using."
After growing tired of the bar scene, the couple started going on what they call "beercations" where they checked out different breweries around the country. Nate Artinger began cultivating relationships and recipes with the brewers that he met.
"I've kept every name of the beer that I've tried from these places, and I have a good relationship with a lot of brewers, so it's nice that I have these guys to essentially help me," he said.
All of the equipment that will be used originates from other brewing companies. The brewing will take place in the kitchen area toward the back of the building. There's a four-vessel traditional system where the kettles can hold up to 109 gallons each. Artinger said he designed his own system, and it will be very hands-on.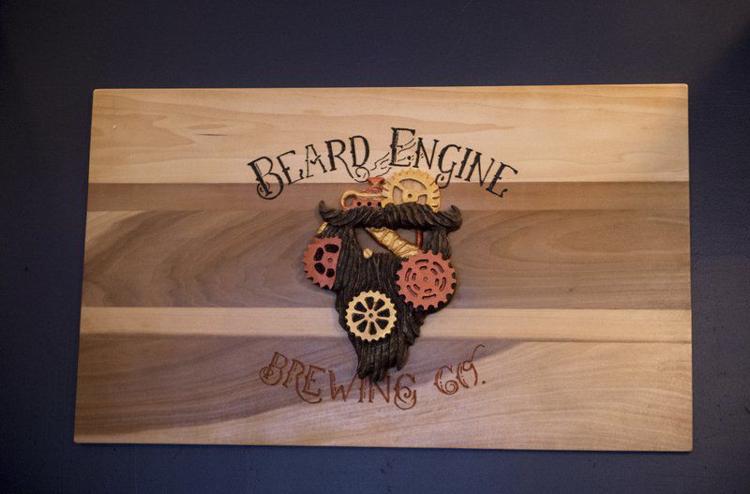 "Everything is already in place besides moving some things around," he said. "It's a four-vessel traditional system, which means you'll have a lauter tun, a mash tun and two-boil kettles. That's where I get my five-barrel yield."
From start to finish, it takes about five hours to create a batch of beer, he said. The signature beers he likes to make are milk stouts, brown ales, sours and European and English styles. There will also be brown ales, porters and farm house ales available, as well as barrel-aged brews.
"There may be one style of beer where he'll add several different flavors to," said Tiffany Artinger. "He's getting ready to do a chai coffee milk stout, and he's done a pistachio milk stout, so we can make that base recipe and then add different things to the keg."
All of their spent grains will be donated to the local farmers to be used for feed.
Renovation of the Old Miner's Inn is about 85% complete. The remaining work involves furnishing the brewery, setting up equipment and working on the outside space. The outdoor area will feature an additional 2,000-square-foot of space where the Artingers plan to incorporate a beer garden. The goal is to have the brewery open by December.