BENTONVILLE, Ark. — More than 100 works of Ansel Adams, the renowned landscape photographer and environmentalist who captured black and white snapshots of the American West, are on display at Crystal Bridges Museum of American Art.
"Ansel Adams in Our Time," the newest exhibit at Crystal Bridges, will be open to the public until Jan. 3. Tickets can be purchased for $12. Admission is free for museum members, veterans and children 18 and younger.
Born in San Francisco in 1902, Adams pushed the boundaries of fine art photography by employing abstraction, direct exposure and innovative printing techniques to create vibrant, detailed and highly contrasting images. He died at age 82 in 1984.
His photographs, particularly those of sites such as Yosemite and Grand Teton national parks, the Sierra Nevada and the Southwest, are iconic. Adams visited Yosemite National Park when he was 14, and it would serve as his chief source of inspiration for most of his life.
The American Southwest also captured Adams' interest. He visited the area on an assignment and was quickly taken aback by the landscape and the Indigenous people who lived there, according to Alejo Benedetti, associate curator of contemporary art at Crystal Bridges.
"Though Adams' career spanned much of the 20th century, this exhibition looks at his work through a contemporary lens," Benedetti said in a statement. "Here, Adams' seemingly timeless images are considered as both a product of their time, but also as objects with continued relevance today. This exhibition helps us understand Adams' legacy, the artists who preceded and followed him, and how his concerns and advocacy continue to resonate in the face of an ever-changing American landscape."
Other photographers
In the exhibit, visitors will see behind the lens of Adams and other contemporary photographers. Adams' works are displayed alongside works by 19th-century photographers, such as Eadweard Muybridge and Carleton Watkins, and roughly 80 works by 24 of Adams' contemporary successors, including Mark Klett and Trevor Paglen.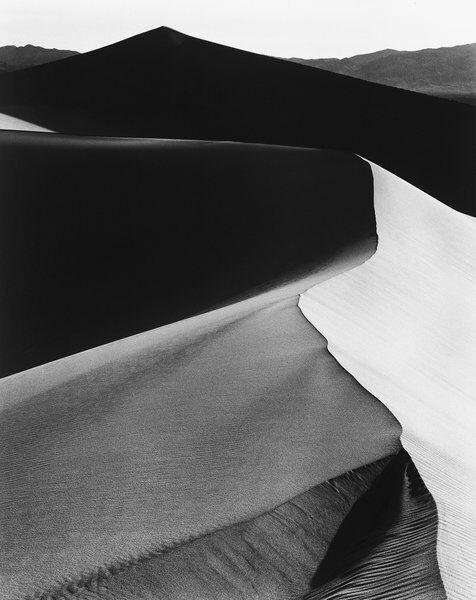 Adams remains the backbone of the exhibit, with the inclusion of his predecessors and successors to help set his work into perspective, curators said.
For many Americans, national parks still embody a retreat from everyday life. However, the artwork also shines a light on social issues and encourages questions about who feels comfortable escaping to national parks and the responsibility of protecting the land, curators said.
"Ansel Adams in Our Time" was organized by the Museum of Fine Arts in Boston and is divided into seven sections based on the places and themes Adams shot throughout his career, paired with photographs by other artists.
The sections are called "Western Beginnings," "Marketing the View," "Becoming a Modernist," "Picturing the National Parks," "In the American Southwest," "The Other Side of the Mountains" and "The Changing Landscape."
"It's not a strict, chronological march through his career," Benedetti said during a virtual media preview last week. "We were able to sort of bend the chronology and were able to understand the fact that he returns to different subjects and to different places multiple times over five decades of working."
The final section, "The Changing Landscape," highlights photographs of human impact on the natural world. This subject can be seen throughout Adams' career and continues to be a source of inspiration for contemporary photographers.
"These are not conversations that have gone away, and I think this is the way to tie up the show by saying that Ansel Adams worked for a number of decades," Benedetti said. "It has been many years since we had a new Ansel Adams work. But all of the work continues to be incredibly relevant and the conversations are still happening."
More features
In addition, the museum offers touch-free engagements to provide access to more art experiences:
• Objects in a special case reflect a few of the technical tools photographers used in the field and in the darkroom before the digital era.
• An expanded panel, "The National Park Service in Our Time," reflects on the racial legacy of the National Park Service.
• A wooden field camera mounted on a tripod, similar to one used by Adams during his career, is on display.
• A photo contest invites visitors to post their own nature-related photography on Instagram with the hashtag #ChannelYourInnerAnsel. The top three photographs will be printed and displayed in the gallery in December.