CARTHAGE, Mo. — A quilter for decades, Mary Riley has found a new passion: barn quilts for outdoor displays.
But instead of using needle and thread, she uses paint brushes.
Barn quilts got their start initially as quilts painted and hung on barns as a form of folk art, primarily in rural or agricultural communities. In 2000, a resurgence in interest caused barn quilts to begin appearing around the country, with the first quilt trail forming in Ohio, according to Riley.
The trails, which now exist in multiple states, are designed to encourage residents and tourists alike to travel a path looking for the quilted artwork on the exterior walls of barns and homes as well as fences.
Locally, Riley has developed a Facebook group, Show Me The Barn Quilts of Southwest Missouri, as a way to track quilts in the southern corner of the state.
"It's the thrill of the hunt," she said. "It makes you want to know what pattern the barn quilt is based on."
How it began
Riley, a native of Carthage, first learned about barn quilts while living in Nicholasville, Kentucky. At that time, a local art group worked together to create 8-by-8 quilts for outdoor display.
"They are fun for people who like to quilt but don't want to spend (the time) using fabric," Riley said. "This is a quilty way to express your artistic ability."
When she returned to Southwest Missouri in the late 2000s, Riley knew she wanted to introduce barn quilts as a new artistic expression. In 2009, she made a quilt for her father, the late Jim Babcock. She jokes it's one of her only quilts to actually hang on a barn.
"They are usually a pretty big size, and you have to figure out how to get it up there," Riley said. "Dad had to lift me up in his tractor's (bucket) to get it hung on the barn."
The 4-by-4-foot quilt featured a patriotic color scheme of red, white and blue woven into the Missouri Star pattern. While she chose the 4-by-4 size for that quilt because she could fit it in her car for easy transport, Riley said the 8-by-8-foot quilts show up the best from the road for those following the trail.
Since the first quilt, Riley has created or helped create numerous barn quilts for friends and family members. She usually turns down payment, instead asking the person to make a donation to a local nonprofit such as the Carthage Humane Society.
Riley also creates barn quilts for nonprofits or those raising funds for specific causes. She's even traded a barn quilt for upcoming stud-fee services for her new donkey, Tali.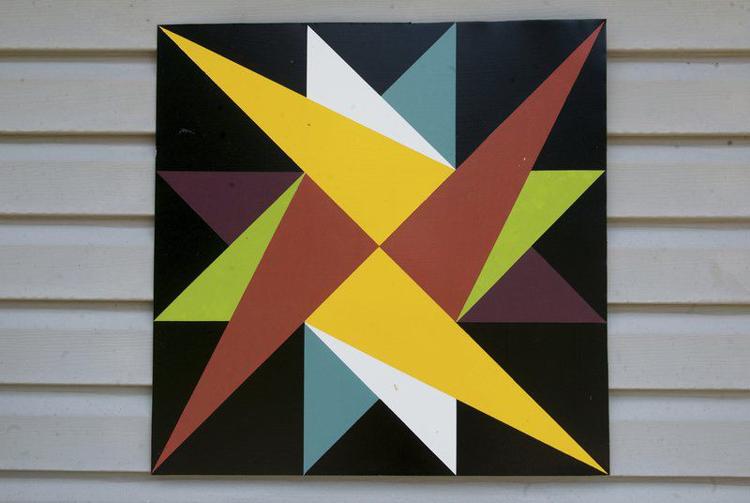 Why barn quilts?
Riley said she likes making barn quilts for several reasons, including the speed and versatility of making a nonfabric quilt.
"Part of the fun is designing the quilt," Riley said, "and figuring it out on your own and then watching it come (to life)."
Riley uses either a high-grade exterior plywood, such as a half-inch medium density overlay panel, or an aluminum composite sign, which is often used to make election signs. She likes the aluminum sign material because it is lightweight and has a smooth texture. Sometimes she uses graph paper, but for the most part, Riley simply sketches out her ideas on plain paper and gets to work.
"There's too many patterns and not enough time to paint," Riley said with a laugh. "Each pattern usually has a story behind it."
She recommends covering the board with three coats of primer. She then uses three light coats of high-quality exterior paint to create the various blocks. She suggests looking at paint stores for mismatched colors or asking friends for remnant cans of paint which might be in their garage. She also encourages painters to experiment and mix their own colors.
Craft acrylics, which are often sold in smaller qualities, may be used if the quilt will be displayed in a weather-sheltered setting. Painters' tape and patience are also needed, she said. The tape helps block off different color segments throughout the process.
"Remember, you'll be seeing the quilt from at least 3 feet away or more," Riley said. "So it doesn't have to be perfect."
Riley said her favorite base, the aluminum composite signs, can be pricey — a small 3-by-3 square can run up to $50. The ease of painting on the material, as well as its portability, help make the price more palatable, she said.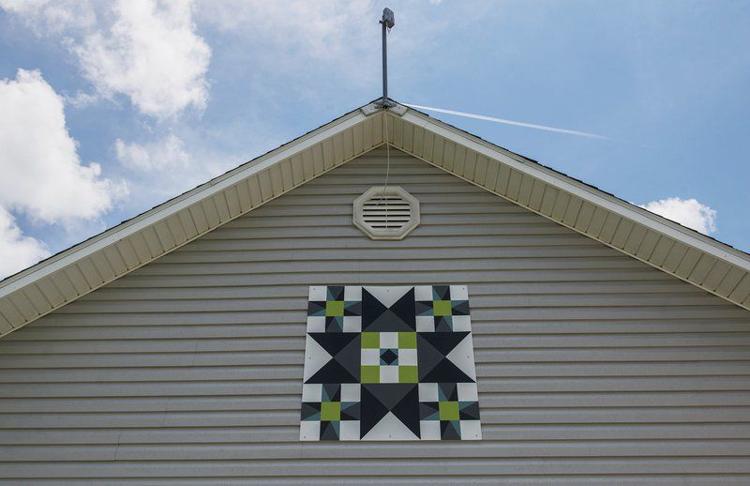 Upcoming
Riley and another artist, Sue Stark, have been asked to develop a barn quilt workshop for the Powers Museum in Carthage. If all goes as planned, Riley said the pair will teach the class in early fall, most likely September. She plans to give attendees a small quilt square to design as desired.
Riley will also demonstrate how to make barn quilts during the two-day Ozarks Homesteading Expo set for Sept. 6-7 at Neosho.
Ultimately, she hopes to spur awareness for this form of art in Southwest Missouri and beyond. She dreams of developing a map that barn quilters and visitors could use to meander around the area looking at quilts.
She would also like to see a mural of barn quilts developed somewhere in Carthage, somewhere visible to help attract additional tourists to the area.
"If you can color in a coloring book, you can make a barn quilt," Riley said.
Riley may be reached through her Facebook group or by calling 417-674-0516. She also recommends Facebook groups such as Barn Quilt Enthusiasts, KY Barn Quilts and Barn Quilt Addicts as resources to help fledgling barn quilters.