If you visit Carthage's Central Park, you'll find a statue of a man squatting with binoculars in his hand. For many people, one glance is all it takes to recognize the iconic figure of world-famous zoologist and naturalist R. Marlin Perkins. Perkins, born in Carthage in 1905, became the face of wildlife preservation to many baby boomers by hosting "Mutual of Omaha's Wild Kingdom."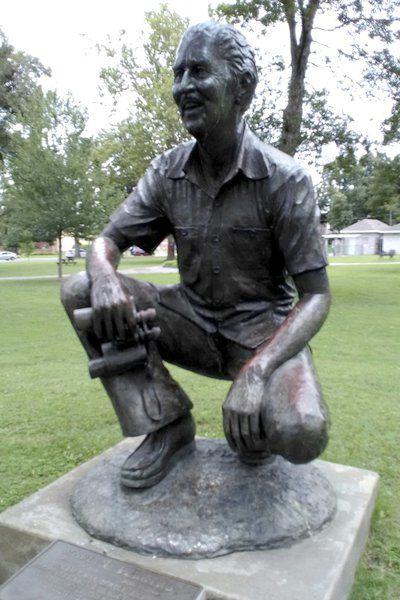 Perkins was the son of Jasper County Circuit Court Judge Joseph and Mynta Perkins. His mother died of pneumonia when he was 7 after nursing him through the same disease. His father sent him to live with his aunt on her farm near Pittsburg, Kansas. There, he indulged his interest in small creatures by collecting mice, beetles and toads. At 14, his father sent him to the Wentworth Military Academy in Liberty, Missouri. Ever fascinated by reptiles, he kept two blue racers in his closet but had to get rid of the snakes once they were discovered by administrators. His father remarried two years later, reopened the family home and enrolled the son in Carthage High School, from which he graduated in 1923.
Marlin Perkins studied agriculture at the University of Missouri but changed majors to zoology. In 1926, he quit school and took a job as an $18-per-week laborer at the St Louis Zoo. George Vierheller, the zoo's director, took Perkins under his wing and within two years advanced him at age 21 to curator of reptiles. Vierheller described himself as "theatrical director, a casting director and a talent scout, an advertising man, a newshound, a businessman, a merchandising consultant, a personnel manager and a public relations expert." He became the model for Perkins' later career.
A zoo career
As curator of reptiles, Perkins started out with six reptiles, which increased to 500 within the "11 glorious years" he worked in St. Louis. In 1938, he was hired to direct the new zoo in Buffalo, New York. He was named director of the Lincoln Park Zoo in Chicago in 1944. It was there that the influence of Vierheller began to be seen. He started a program on Chicago's experimental television station WBKB in 1945, "Visit the Lincoln Park Zoo." Even though there were perhaps 300 TV sets in Chicago when it started, it quickly became a success. It became "Zoo Parade," which NBC broadcast via cable to New York in 1949. Perkins said, "I'd talk until I ran out of steam or the animals got tired. Then a woman would come on and play the piano. Or maybe she wouldn't." The network broadcast it nationally until 1957, with Mutual of Omaha among its sponsors the last two years.
After "Zoo Parade" concluded, he gained international recognition when Sir Edmund Hillary selected him in 1960 to head the zoological section of Hillary's expedition to investigate the abominable snowman in the Himalayas. Perkins examined a reputed yeti scalp kept in a monastery. He deduced it came from a Himalayan serow, a goat antelope. Foot tracks found in the mountain snow were shown to be from other animals. The ape-like tracks were caused by the process of ablation, whereby the sun melted them into grotesque shapes.
Perkins and producer Don Meier came up with the concept for a new program, also sponsored by the insurance giant, with its name in the title: "Mutual of Omaha's Wild Kingdom." The two men worked from a list of 300 potential topics. The show ran on NBC from 1963 to 1971, then with reruns and new programs in syndication until 1988. Perkins taped more than 300 half-hour shows until he retired after battling cancer in 1985. His associate, Jim Fowler, took over the show until 1988. The program was revived in 2002 and currently airs on Animal Planet.
Perkins left Chicago for St. Louis in 1962 to become director of the city's zoo after Vierheller retired. He filmed "Wild Kingdom" episodes in a studio in the zoo throughout his tenure. His program gave the St. Louis Zoo international exposure, as it was carried by more than 200 stations in the U.S. and in more than 40 countries worldwide. He retired from the zoo in 1970 at age 65 but kept working on television, giving lectures, doing research and writing. He and his second wife, Carol, established the Endangered Wolf Center in Eureka, Missouri, in 1971.
Life with animals
Life with Perkins was never dull. His wife recalled a trip to the Belgian Congo that exhausted her. One evening, she was so tired she skipped dinner and went straight to bed. "So I undressed, reached for my pillow, and out from underneath crawled an enormous lizard that ran up my chest and down my arm. I started to scream and couldn't stop. I was so tired of being brave. Marlin came running, and after he saw I wasn't really injured he put his arm around me and said, 'Honey, think how lucky you were to see him up close!'"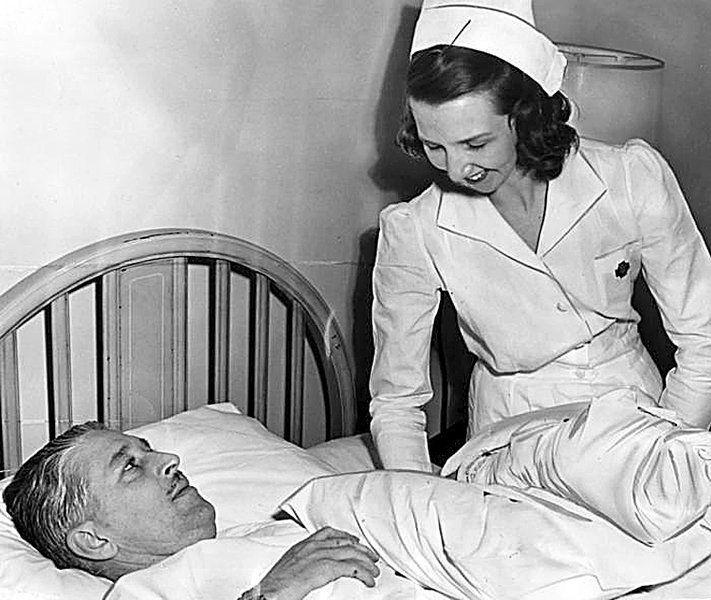 Many viewers "recall" seeing him bit by a snake on one of the programs. However, although he was bitten several times, it was never on camera. The first was nearly fatal in 1928 when he was bitten on his left index finger by a deadly Gaboon viper. No serum was available. His associate sucked out the venom as best he could, and with a combination of blood transfusions, antitoxins and medications, Perkins survived, although his left arm was swollen from shoulder to hand. He was one of very few to survive the viper's venom. His recovery took six months. Then again in 1951, he broke his own rule against hurrying, and as he hurried through a rehearsal of "Zoo Parade," he was bitten by a rattlesnake.
Another incident involved an Asian elephant in a cramped space. The animal was instructed to lie down, but Perkins didn't realize that elephants extend their front legs to do so. He was standing too close, and the elephant brushed him aside with its tusk to make room for its feet. He awoke 10 feet away with a broken nose, fractured cheekbones and three broken ribs. Typically, he didn't blame the animal.
Carthage honored him and his wife as grand marshals for the Maple Leaf Parade in 1984. He had been battling cancer but was still working on "Wild Kingdom" episodes. He retired in 1985. He continued to make "Nature Newsbreak," a series of 60-second public service radio spots. He died on June 14, 1986, at age 81.
Perkins summed up his philosophy in a 1982 interview with People magazine: "The golden rule, as I live it, is tolerance, kindness and respect for your fellow man and for the animals that live in nature. These things are part of my life."
Bill Caldwell is the retired librarian at The Joplin Globe. If you have a question you'd like him to research, send an email to wcaldwell@joplinglobe.com or leave a message at 417-627-7261.