Histories of mining and railroads in early Joplin are filled with names such as Moffet and Sergeant, among others. But seldom do they mention the Kansas connection for Moffet and Sergeant's first railroad. In doing so, they lose sight of the third member of the trio, Franklin Playter, who brought a railroad to Joplin and promoted industrial development in Southeast Kansas and Southwest Missouri.
Playter was Canadian. He was born at Whitechurch, Ontario, in 1841. His grew up on his father's farm, worked the farm in the summer and attended school in the winter, striving for a teacher certificate. He taught school for four years and studied law at Toronto University. He left Canada in 1868 to settle in Fort Scott, Kansas. There, he continued to study law and was admitted to the bar in 1869.
He moved to Girard to form a real estate business but soon bought out his partners and transformed the office into a private bank known as "Playter's Bank" — officially, the Crawford County Savings Bank — in 1871. Over the next two years, he constructed a two-story brick bank building on the square in Girard, the first brick business building in the county. It was just the first of many "firsts" associated with Playter.
Joplin-Girard Railroad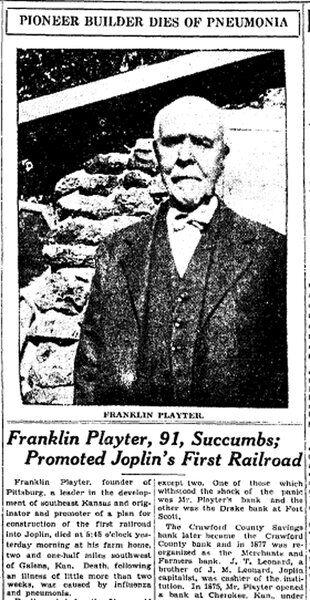 Four years later, E.R. Moffet and John Sergeant, two newly wealthy miners from Joplin, wanted a cheaper way to ship their lead ore to a rail terminal. The two men had already set up a smelter in East Joplin but needed cheap transport. Ore was hauled by freight wagons to the closest railheads, which were the Atlantic & Pacific line from Carthage through Oronogo to Smithfield; and the Kansas City, Fort Scott & Gulf through Girard to Baxter Springs.
The Joplin men sought a northwest route from Joplin to the Gulf road. Playter, 24, was already a banker, lawyer and real estate agent when they met. They asked him about financing a 38-mile route. He arranged financing with a group of Boston capitalists.
Meanwhile, the Gulf road managers planned to make Cherokee, Kansas, their principal junction. Playter preempted them by financing the Joplin-Girard Railroad bypassing Cherokee, hoping to promote Girard instead. Playter, Moffet and Sergeant all purchased large tracts of land from the Gulf line in eastern Crawford County.
Playter's bank had reorganized several times as directors changed. However, it is significant that in the 1879 reorganization, E.R. Moffet was president; Playter, vice president; J.L. Moffet, cashier; and J.H. Playter, his brother, assistant cashier. The bank lasted for three years until Moffet closed it, paying off all creditors in 30 days.
New Pittsburg
Meanwhile, Playter left banking for land development. The Joplin-Girard Railroad had purchased 1,200 acres on which Playter platted a new town he called New Pittsburg in honor of Pittsburgh, Pennsylvania, in 1876. He couldn't name it Pittsburg, as the name was already taken by a town in north-central Kansas. Not to be thwarted, he negotiated with that town's founder and for the right price purchased naming rights. In 1881, the town became Pittsburg.
Coal mining in Pittsburg was not his only interest. From 1879 to 1885, he lived in Leadville, Colorado, exploring mining and ranching opportunities. His ranch was successful, gaining him "a considerable fortune in cattle and grain trading." He sold out in 1885 and moved back to Pittsburg.
Always the promoter, he handled real estate in Pittsburg with the Lanyon Mortgage Co. He negotiated a deal with railroad tycoon Jay Gould to bring a branch of the Missouri Pacific into Pittsburg from Nevada through Bronaugh. Gould's preferential freight rates let Southeast Kansas coal be marketed around St. Louis at lower prices than local Illinois mines could sell. Playter's other projects included promoting construction of the Stilwell Hotel and a local opera house and attracting more industries to Pittsburg.
But even his versatility could not protect him from the larger economy. The Panic of 1890 wiped out $250,000 of his holdings. At 53, he went back to practice law in Kansas City for a couple of years before becoming secretary to Congressman E.R. Ridgley, of Girard.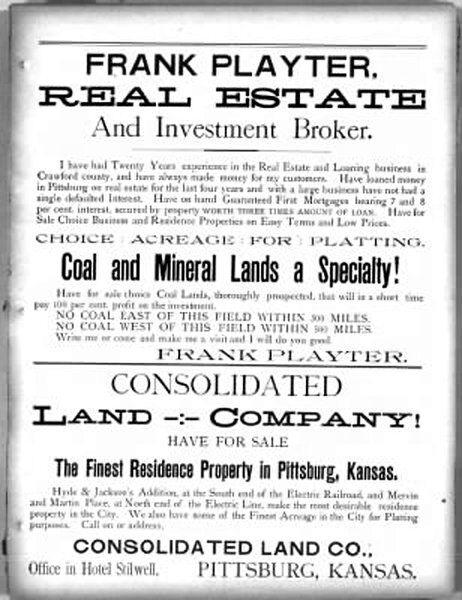 By 1899, he had returned to the area to invest in mines around Chitwood and Galena. The Chitwood property created the United Zinc Co., which over the years paid out more than $250,000 in royalties to its owners. For the next decade, his name was prominently mentioned on the mining pages of the Globe, News Herald and Morning Tribune for multiple mining operations. While a number were successful, the Panic of 1907 hit him hard.
Once more, he sprang back, opening the Playter Land Co. with offices in Joplin's Miners Bank building from 1912 to 1926. By this time, his status as an elder statesman in the district led him to be consulted on finances and on mining prospects for coal, lead and zinc. His unique position having arranged rail, coal, lead, zinc and industrial developments made his advice valuable.
He retired to his farm southwest of Galena when he finally left the business world at age 86 because of ill health in 1926. He lived in retirement for six years until his death at age 91 on Jan. 11,1933.
Playter's ability to see opportunity, take risks where others might hesitate, be confident in his own opinions, and start over again when smacked down by financial panics gave him the aura of a real-life Horatio Alger character. Yet each of his enterprises were not one-man shows but characterized by hard work and cooperation with others. Through his efforts, the first ties binding Southeast Kansas and Southwest Missouri together were forged.
Bill Caldwell is the retired librarian at The Joplin Globe. If you have a question you'd like him to research, send an email towcaldwell@joplinglobe.com or leave a message at 417-627-7261.