Mention comic strips and all the old reliables come to mind: "Prince Valiant," "Peanuts," "Blondie" and many more.
But there is another category of comics that syndicates provide separate from the multicell strips. The newspaper panel is a single-frame, standalone comic designed to run anywhere in the paper. For decades, a regular in The Joplin Globe was George Clark's "Side Glances."
George Rife Clark had roots in the Four-State Area. He was born to Arthur and Georgia Clark in Bridgeport, in Oklahoma Territory, in 1902. He was the second of three children. The family moved between Oklahoma Territory and Bentonville, Arkansas. His father worked for a vinegar distillery until his death in 1911.
At the age of 10, in order to help his family, the young Clark got a job as a painter with a 15-year-old friend in Bentonville. They painted "mostly signs, but they would paint anything, from a building to farm wagon."
His mother remarried, and the family moved to Osage, Arkansas. However, Clark moved to Oklahoma City to live with an aunt to attend high school. He kept painting signs on the side.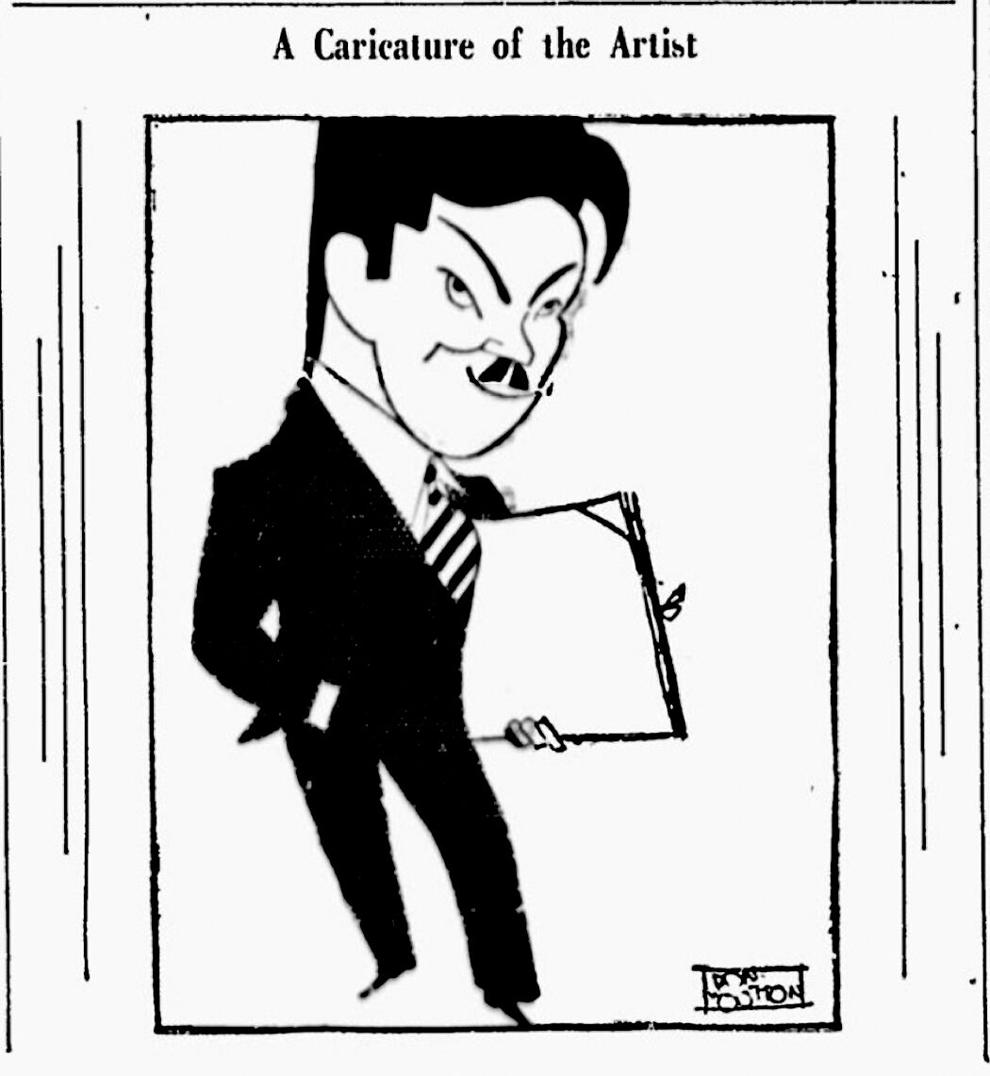 In 1918, Clark found an art correspondence course from the Landon School in Cleveland, Ohio. The school advertised in magazines such as Boys' Life. It claimed "picture charts make drawing easy to learn." He was a sophomore in high school.
Newspaper cartoonist
His flare for drawing, spurred on by the correspondence course, led him to submit cartoons to the Oklahoma City Times and the Daily Oklahoman. Photographs had not yet replaced cartoons in many smaller papers. He was 16 when his first cartoons were accepted by the Times. He drew political as well as sports cartoons. Each one earned him $5. His success as a high school sophomore was touted by Landon School ads as an example of a successful graduate.
He sought out various art schools, including the Chicago Art Institute, after three years of high school. In the meantime, he tried various other jobs, even as a shoe salesman. Those only made him more determined to be an artist.
In Chicago, he attracted the eye of the Scripps-Howard newspaper chain, which hired and sent him to its Oklahoma News. In 1923, he moved to the Cleveland Press, another Scripps-Howard paper, as its lead artist for four years. He married Mary Conine, his girlfriend from Bentonville, in 1924.
Three years later, they headed to New York City. It wasn't easy; he described it as "hungry freelancing." He freelanced for magazines such as Collier's, McCall's, Judge and Country Gentleman. But he found steady work at the Newspaper Enterprise Association, a syndicate affiliated with Scripps-Howard.
Coincidentally, he was hired by Charles Landon, founder of the cartooning course and NEA's art director, in 1927 for general assignments. For example, he sketched the Jack Dempsey-Jack Sharkey fight. Portrait drawings accompanied stories when photographs were unavailable. The Globe ran those as early as 1927. It also ran a couple of briefs noting that he, a local man, had become a staff artist for NEA.
'Side Glances' debuts
Clark worked hard to improve his technical skills. He had taken lunch hours to sketch landscapes along the shore of Lake Erie while in Cleveland. His wife spent many night hours as his model as he practiced brush, pen and pencil skills. With an economy of strokes, he could set a scene.
He also was a studious observer of people. This combination of skills and a sympathetic eye led him to enter a contest with 72 other artists for a poster for the annual Community Chest drive, a forerunner of the United Way.
The poster would be used by campaigns in many cities. His poster was selected, earning him $500. His submissions in later years would be published in the Globe for Joplin Community Chest campaigns in 1931 and 1935.
While working for NEA, he came up with an idea for a daily comic panel. He called it "Side Glances." He would create a scene and sum it up with a one-sentence caption, usually humorous, sometimes nostalgic but never harsh. NEA adopted his idea, and on Jan. 11, 1928, "Side Glances" was born. It was put into syndication the next year.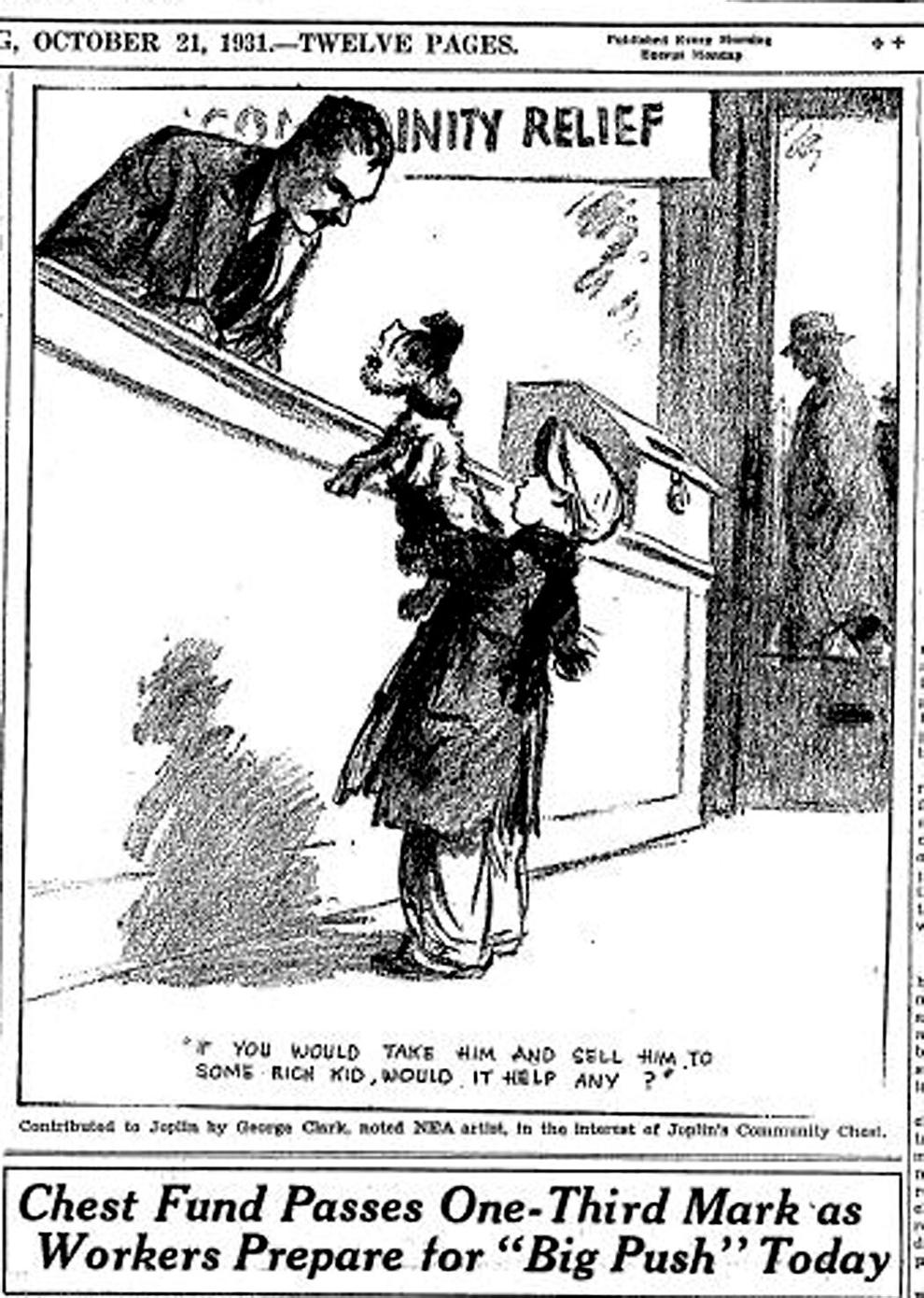 It was very popular, published in the U.S. and Canada. Clark's characters lived in the present day. College students, society women in the 1920s and unemployed men warming up in the public library in the 1930s all could be found in it. The Globe began running it in July 1933.
In the 1930s, George Jean Nathan's American Spectator observed Clark "deserves unqualified recognition for a penetrating picture of our middle class." In 10 years, he drew more than 3,000 panels.
However, in 1939, the Chicago Tribune-New York Daily News syndicate made him an offer he couldn't refuse. He left NEA, which kept "Side Glances." The panel was passed to William Galbraith Crawford, and later Gill Fox, until it was retired in 1985. Its final appearance in the Globe was in August 1974.
By this time, comics belonged to the syndicates, not the artists. That didn't stop Clark. He came up with "The Neighbors," which was very similar in style and tone to "Side Glances." It ran from 1939 to 1976.
In an interview in 1954 with the Meriden Record, he described his work. He said getting started was torture: "The first one takes forever. Then it's easy. I do six at a time, one week's supply."
"There is a certain idealization in my work," he said. "I present what everybody wishes our civilization were like. My work ends before I get to the objectionable qualities in people. ... I have to draw genuine people, doing things within the realm of reason. On my word, I can't draw a figure that satisfies me unless I know a situation. For instance, if I just sit down here and draw a boy — it doesn't ring true. But if I see this boy as a kid who's in a jam with his old man — now there's something I can handle. A drawing is feeling rather than conscious thought."
The article continued, "That the daily portrayals of the foibles of homo Americanus and his wife, children and friends do not spring without travail from the brow of their creator may surprise some of his millions of readers. Clark is one of America's most popular cartoonists because he seems to point up gently, but unerringly, the humorous, pathetic, whimsical human weaknesses that everyone recognizes in himself and his friends."
Clark received the National Cartoonists Society's Newspaper Panel Cartoon Award for his work in 1961. He died in 1981 at age 78 in New York City.
The Ottawa Citizen's Allan Keejer wrote, "George Clark is a sincere humorist. He expresses truth and stimulates sympathy. The smiles he inspires are thoughtful, reminiscent smiles, rather than guffaws. His 'Side Glances' are much more than just illustrated jokes."