Two sports heroes captured the imagination of the public in the 1920s: Babe Ruth and Jack Dempsey. While Ruth could only be seen on newsreels, Dempsey appeared in Joplin as a boxer and referee over three decades.
William Harrison "Jack" Dempsey was born to Hyrum and Celia Dempsey in Manassa, Colorado, in 1895. His father was a miner who moved his family to Colorado and Utah mining camps. Dempsey dropped out of school to work as a farmhand, cowboy and with his brothers as a miner.
His older brother, Bernie, earned money as a prize fighter. Bernie taught Jack boxing skills and how to toughen up his face by soaking it in brine and chewing pine tar to strengthen his jaw. At 17, Jack developed his own boxing style.
For five years, he traveled around Salt Lake City, Utah, to mining camps looking for fights. He found boxing paid better than mining. He would enter saloons, declaring, "I can't sing and I can't dance, but I can lick any S.O.B. in the house." After the bets were made, he cleaned up. His punches made his reputation.
In 1914, he subbed for Bernie and took his brother's pseudonym, Jack "Nonpareil" Dempsey, after a famous 19th century boxer. He never gave it back. He became Jack Dempsey. In San Francisco, he met manager Jack Kearns in 1917 at age 22. Kearns became his promoter and arranged regular matches for the "Manassa Mauler," eyeing a championship title.
Title contender in Joplin
At this time, prize fighting was unregulated and illegal in many states. It was conducted through private clubs that sold tickets to "members." Joplin's Southwest Athletic Club was a premier club. Its president and promoter, Jimmie Bronson, brought national talent from both coasts to Joplin.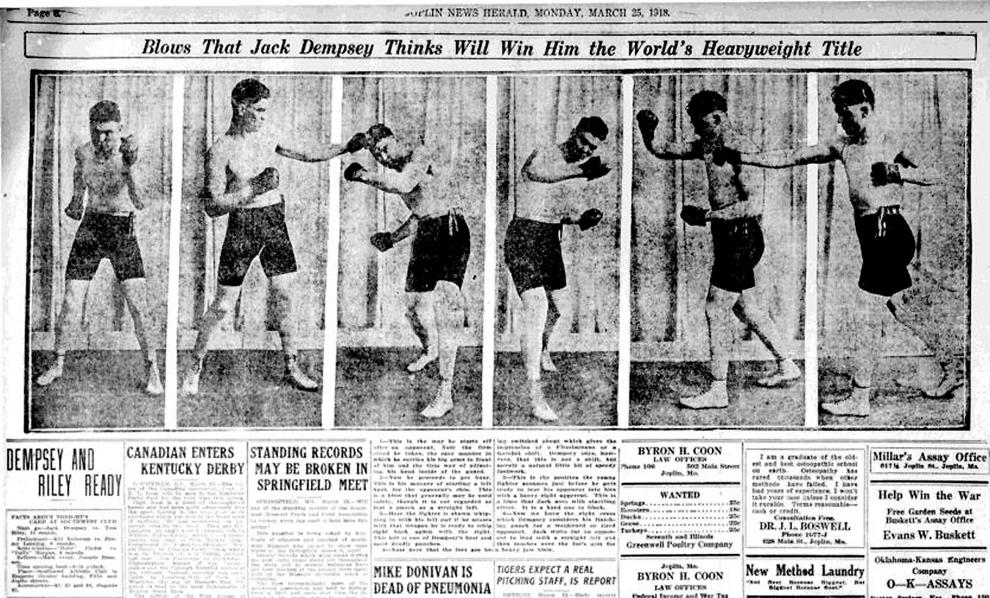 Bronson arranged a match between Dempsey and the Canadian Tom Riley in March 1918. Riley was touted as an unofficial Canadian heavyweight champion. Dempsey had a reputation as a knockout champ. The News Herald's sporting editor, Mal McGilvery, ran photos of Dempsey training and of Riley's giant fists.
McGilvery's account began, "Tom Riley, 'champion' of Canada, lasted little longer than the time it takes to tell it in a scheduled 15-round bout before members of the Southwest Athletic Club last night with Jack Dempsey, the sensational Pacific coast heavyweight." Riley took a straight right to the jaw, and eight short "jolts" put Riley prone on the mat. Ten minutes after the match, he had still not recovered.
Kearns was busy looking for more matches, and Bronson saw good money in Dempsey. So he arranged a Fourth of July match against Bob Devere, of Kansas City.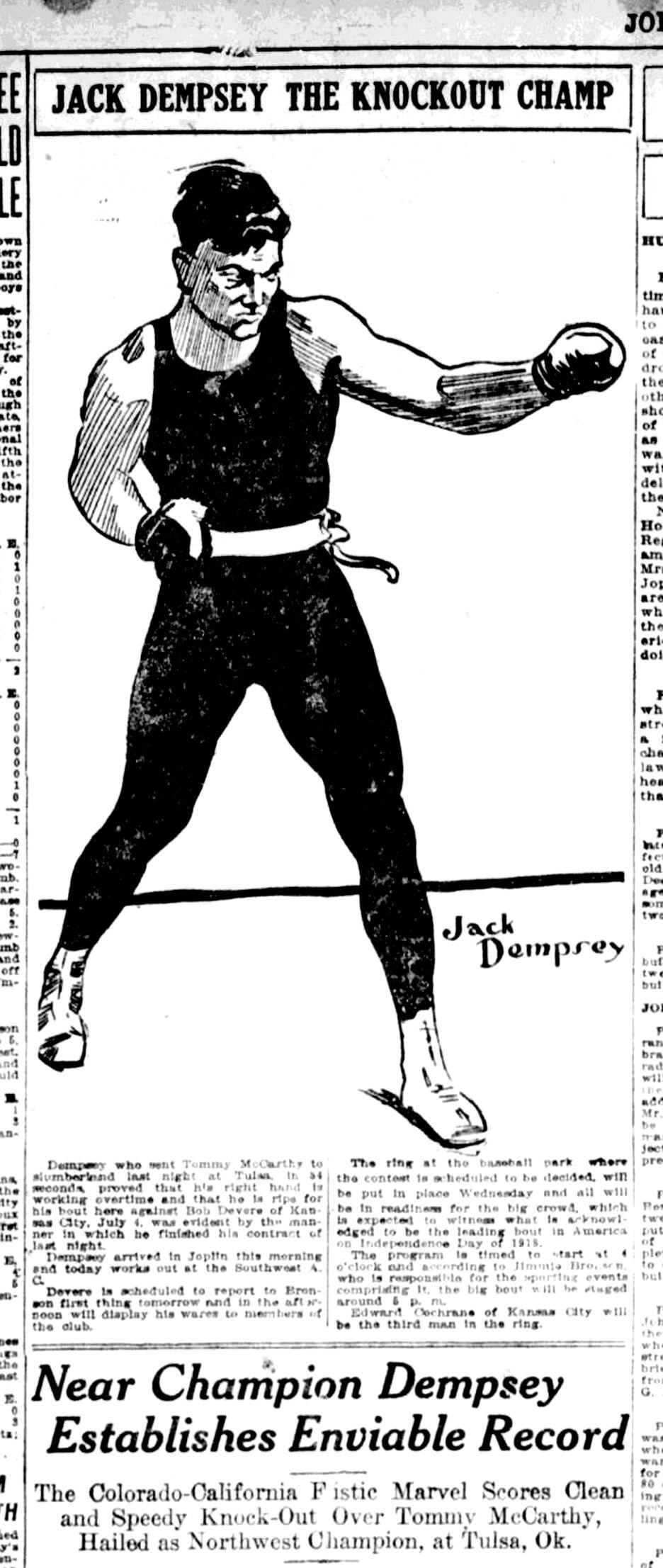 July was a busy month for Dempsey, with four matches scheduled beginning with Tulsa, Oklahoma, on July 1, Joplin on July 4, Atlanta on July 6 and Newark, New Jersey, on July 27. Each of his opponents were big names. Tulsa's match paired him with Tommy McCarthy, a Northwest champ. McGilvery and Bronson watched that match. Said the editor, "McCarthy, the representative of the Northwest which has given America such rugged and stalwart men, managed to maintain the perpendicular for 84 seconds clocked by four watches at the ringside at Convention Hall here last night."
The Independence Day match was held at Miners Park on Maiden Lane. Because of competing holiday activities, the crowd was smaller than expected.
McGilvery wrote, "Where lives the man who can hope to stay with Jack Dempsey over a scheduled course? After watching him soak Tommy McCarthy, the Northwest champion in Tulsa Monday night, the writer had hopes that Bob Devere would be big enough and strong enough to stay, well, a short time against the Californian Submarine.
"He stayed a short time with him yesterday afternoon at the ballpark here; as a matter of fact, the duration of the stay was 75 seconds; short enough in all conscience. ... The sureness with which he delivers his blows, his timing and judge of distance sets him down as the greatest piece of fighting machinery ever developed, and the annals of the noble art of self-defense may be searched without success for one who occupied the calcium to such an extent as Jack Dempsey, the Colorado-Californian."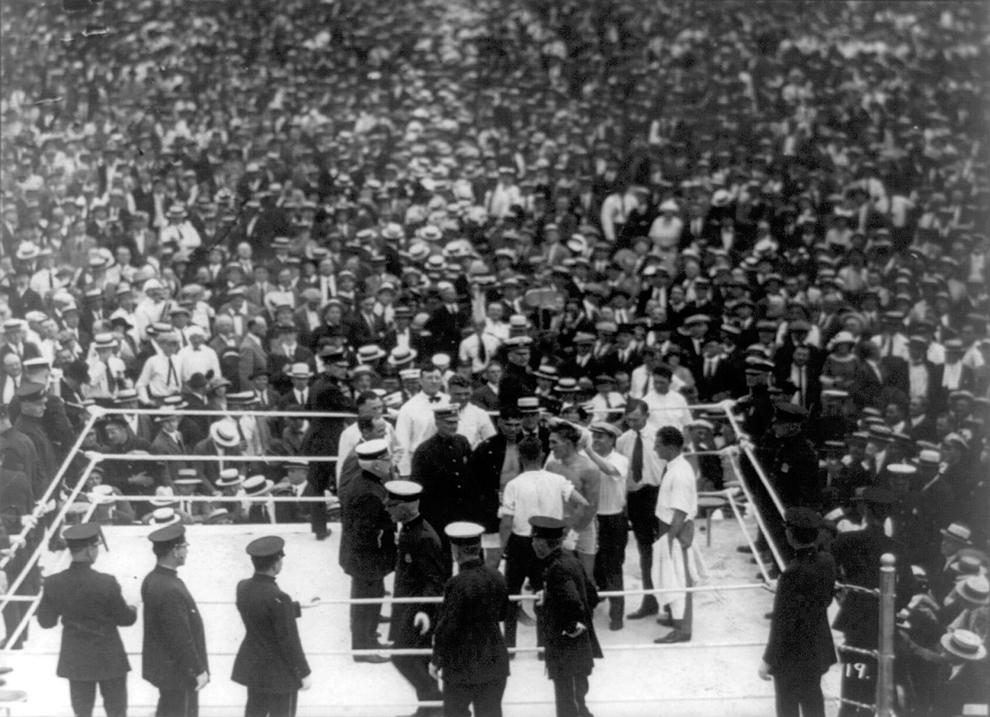 Sports writers began bringing their stopwatches to his matches. Porky Flynn in Atlanta lasted 90 seconds, and Fred Fulton in Newark crashed to the mat in 23 seconds. Dempsey was a sensation. Bronson angled for more matches with him but didn't have the financial clout to land them.
Dempsey returns to Joplin
His career through the 1920s had its ups and downs. He actually became more famous after losing the championship to Gene Tunney in 1926. A 1927 rematch ended with Tunney retaining the championship. Dempsey retired.
His name was still worth money. He did exhibitions across the country and refereed boxing and wrestling matches. Dempsey was not a figurehead as referee. In a 1933 California match between two heavyweight wrestlers, one took a swing at Dempsey, who blocked the wrestler with his left and crossed with his right. The wrestler hit the canvas out cold.
Refereeing brought him back to Joplin in February 1930. He overshadowed the match, as fans followed him around town after he arrived by private rail car. A luncheon, tour of the city, a WMBH interview and a visit to children in both city hospitals were packed into the day.
But what endeared him to many was his visit to the Joplin Children's Home. He drove up with his car packed with boxes of candy to give away. However, some of the boys weren't with the rest.
Matron Etta Carlin approached Dempsey: "There are some boys in the (Children's Home) hospital who would love to see you — but they have scarlet fever and if you're afraid ..."
His press agent C.H. Baldzell retorted, "Jack Dempsey's not afraid of anything." They strode into the boys' room.
Afterward, Dempsey told the Globe the visit to the Children's Home was his most enjoyable experience in Joplin.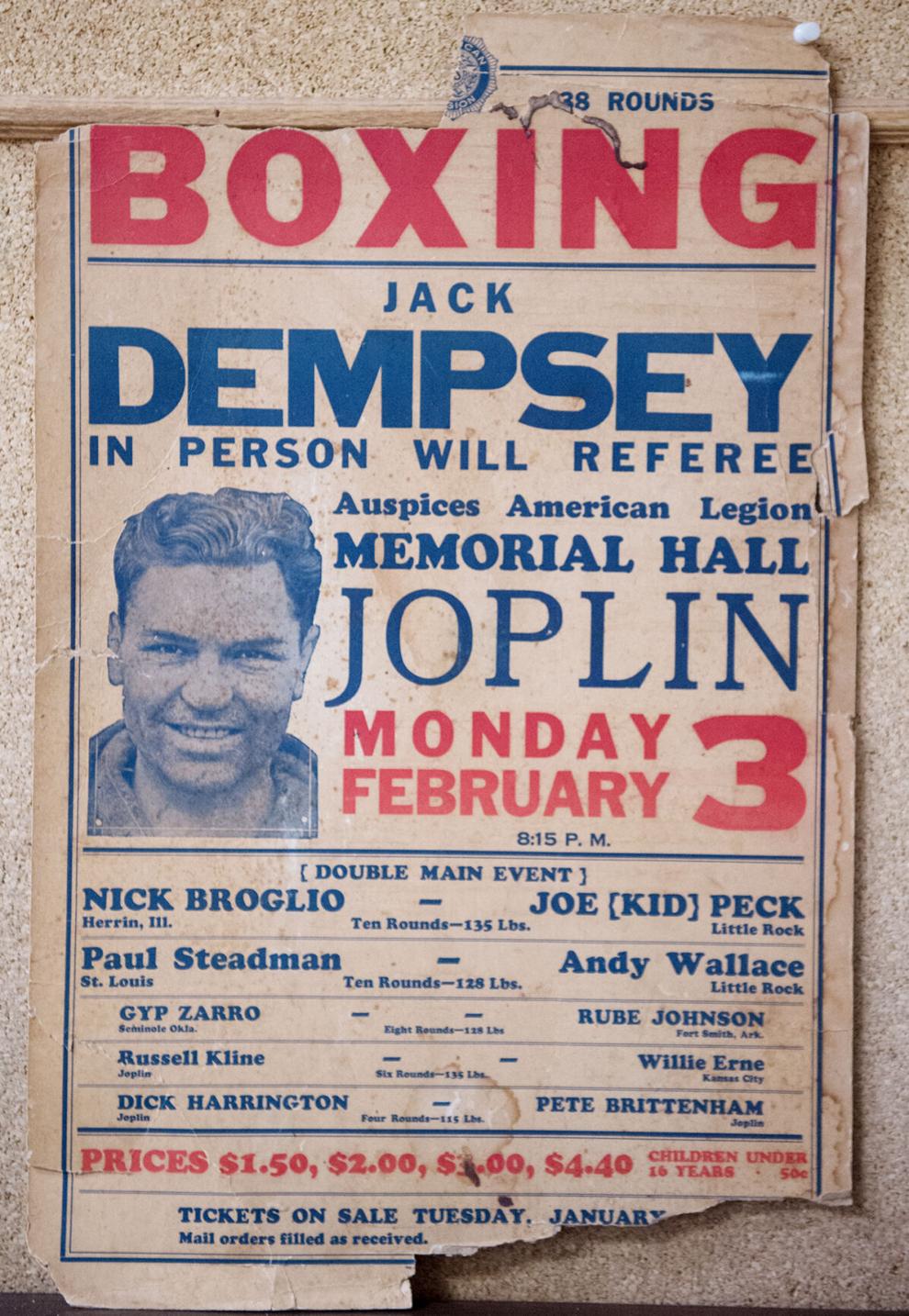 He appeared twice in 1934 to referee wrestling cards at Memorial Hall. January's match attracted an overflow crowd. The March card featured rivals Wild Red Berry and Cliff Maupin. Globe sports editor Porter Wittich recalled, "While the eyes of the crowd rested on Dempsey, the Pittsburg Panther walked over to him and remarked, 'Say, I pack 'em in, don't I?' Dempsey grinned and agreed that he did."
Berry had a reputation as a trickster. He attempted tricks a couple times, and Dempsey would have none of it. The reporter noted Dempsey drew back his fist to emphasize his point, and Berry quickly backed down.
Then in April 1937, Dempsey appeared to referee an all-star wrestling card as part of Joplin's Fiesta. There was bad blood between the two heavyweight wrestlers Dempsey was to referee. He squared off twice with one of them but didn't come to blows.
By this time, his services as referee were in great demand. Joplin manager Karl Applegate said he was lucky to sign the champ, as Joplin was the smallest city on Dempsey's schedule. It was his last visit to Joplin.
Looking back on his career, he told the Globe in 1937 he appreciated the city's Golden Gloves tournaments: "One of my greatest regrets was the fact that I never had a chance to climb the ladder by way of the Golden Gloves or some other amateur tournament. I went up the hard way, you know, and lots of times the pay was soft and the going hard."