Three sports dominated the pages of the Globe and News Herald through the first decades of the 20th century: baseball, wrestling and boxing.
After World War I, baseball had policed itself with a commissioner. Wrestling became ever more rough-and-tumble theater with good guys and bad guys. And boxing began to be regulated by state associations so that private clubs such as Joplin's Southwest Athletic Club were slowly relegated to the sidelines.
The lives of sportsmen became fodder for columns as important as game and match statistics. The time was ripe for a sports comic to catch the public eye.
Boxing was the backdrop for a new comic character who appeared in 1930 — Joe Palooka.
Hammond "Ham" Fisher was born in 1900. At 16, he dropped out of school to sell brushes, then drove a truck. He had always liked to draw and spent nights drawing pictures and practicing drafting.
Before newspapers had staff photographers, cartoonists often drew cartoons for the front page in the place of photos. When Fisher sold a cartoon to his hometown paper, it led to a job as a combination cartoonist, special writer, reporter and ad salesman for the Wilkes-Barre Record in Wilkes-Barre, Pennsylvania, in 1920.
Real-life Palooka
Fisher kept up his drawing while looking for a new angle for a comic strip. In 1921, he met Peter Latzo. In a Collier's article in 1948, he recalled, "One day while passing (did you get that — passing?) a poolroom, a local fighter stopped me. 'Hi'ya, Ham?' said he. 'How about I an' you havin' a game of golluf?'"
Here was his inspiration.
"Here, made to order, was the comic-strip character I had been looking for — a big, good-natured prize fighter who didn't like to fight; a defender of little guys; a gentle knight. I ran back to the office, drew a set of strips and rushed to the newspaper syndicates."
But it fell flat. No one was interested in Joe the Dumbbell. At the time, comics were focused on gags, not continuing character stories.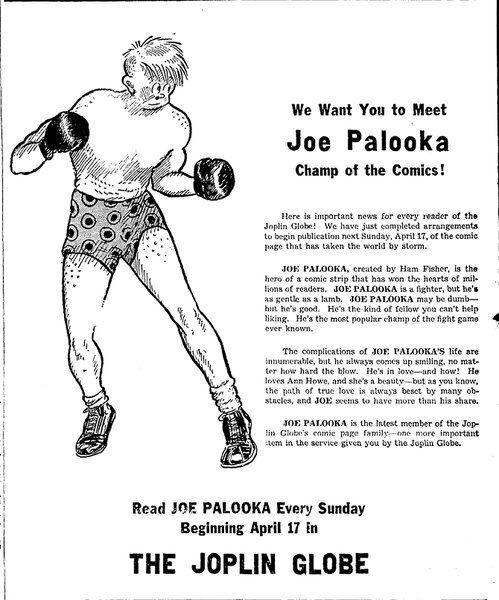 Fisher stayed at the paper, becoming half-owner until the paper folded. He moved to New York City, getting a job as an ad salesman for the New York Daily News, then for the McNaught Syndicate as a traveling strip salesman in 1927. While he traveled, promoting the syndicate's comics, he also touted his own. In a year, he had convinced more than 20 papers to take up his comic strip. When he offered his strip to his syndicate complete with subscribers, McNaught accepted it.
By this time, Fisher changed the character's name to Joe Palooka, a heavyweight champion who was earnest and mild-mannered even as he knocked out his competition in the ring. Palooka had a girlfriend, the beautiful heiress Ann Howe. His manager, Knobby Walsh, a mercurial Irishman, kept getting himself into schemes that would explode in his face. When Palooka would learn of the latest failure, he would simply reply, "Tch, tch." It became his trademark expression.
Success
Introduced in April 1930, the strip took off. It wasn't long before Fisher sold rights for a 15-minute radio show carried nationally by CBS. National radio schedules in the Globe and News Herald showed it in prime time at 6:45 p.m., just after the dinner hour.
Fisher took the success in stride, becoming a celebrity in his own right. He was a big spender, which made him stand out in the midst of the Great Depression. In 1937, he signed a $1 million, 10-year contract with the syndicate. Said columnist O.O. McIntyre in the Globe: "Fisher is in his 30s and is known about the cafes for his fabulous display of clothes."
The Globe responded to Palooka's popularity by taking up the strip as a Sunday feature starting April 17, 1938. It was later added to the Globe's daily comics, running until April 2, 1960, when it was replaced by "Steve Canyon."
Palooka joined the French Foreign Legion before World War II. He fought Nazis and promoted war bonds during the war and emphasized American ideals. He and Ann wed in 1949. Stories about their children were soon included. At its peak in 1948, 900 newspapers around the world subscribed.
Fisher-Capp feud
Fisher had farmed out drawing to other artists while he did the faces. The characters had been established with occasional recurring characters. One was Big Leviticus, an uncouth hillbilly boxer, drawn by assistant Alfred G. Caplin — better known as Al Capp. In 1935, Capp left to start his own "Li'l Abner" comic.
Fisher took umbrage at Capp's use of hillbilly characters he believed were derivative of his comic's Big Leviticus. It sparked a 20-year war of words between the two men. Fisher went so far as to hire three of Capp's assistants away from him. The feelings were mutual, and Capp never lost an opportunity for a snide comment about Fisher. As "Li'l Abner" grew in popularity, it was salt in Fisher's wounded dignity.
The worst came in 1954 when Capp applied for a Boston television license. An anonymous package of pornographic "Li'l Abner" comics was left with the Federal Communications Commission. The ruse fell apart when originals were examined, though Capp's application was denied. Fisher was expelled from the National Cartoonists' Society for "conduct unbecoming a cartoonist."
Over the next year, his vision deteriorated from diabetes, and his family's mansion in Wisconsin was destroyed by a storm. On Dec. 27, 1955, he died by suicide with an overdose of medication.
His assistant Moe Leff, whom he had hired away from Capp 20 years prior, continued the cartoon. He handed it off to Tony DiPreta in 1959, who stayed with it until the strip ended in 1984.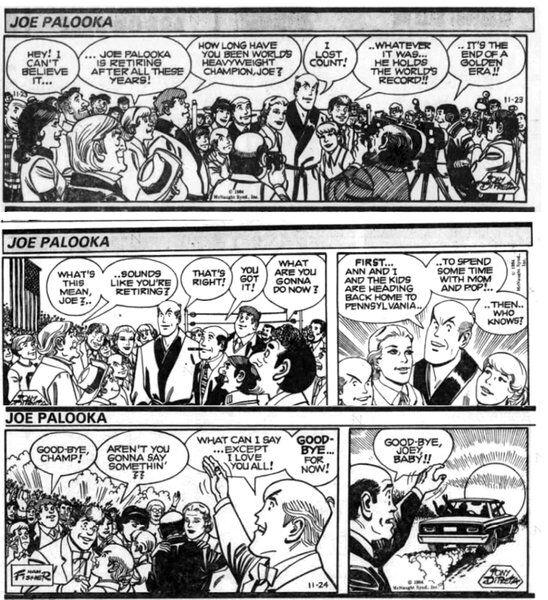 Joe Palooka inspired 12 movies, nine short films and scores of original comic books. A monument to him is located at the base of Joe Palooka Mountain outside of Wilkes-Barre, Pennsylvania. The gentle giant was an uncomplicated man who loved boxing, used his strength to stand up for the little guy and was always ready to do a good deed — a real champ.
Bill Caldwell is the retired librarian at The Joplin Globe. If you have a question you'd like him to research, send an email to wcaldwell@joplinglobe.com or leave a message at 417-627-7261.