Many essential services are taken for granted until need arises. Joplin made history with the first motorized fire engine in 1907. But thirty years later the fire department was in need of a major refit. The year 1939 proved to be pivotal for the department.
Joplin's fire department has a long history. It began as a volunteer department in 1872. It was reorganized after a disastrous fire in October 1877 when a fire destroyed a whole city block between Third and Fourth streets on the east side of Main Street. The loss was estimated at $50,000. Joel Livingston in his "History of Jasper County" noted, "The fire department responded, but the only good that was accomplished was the saving of other buildings on the opposite side of the street. This fire impressed the city with the necessity for an improvement in the fire service and the department was increased and reorganized; that is, more men were enlisted in the volunteer companies."
Evem after being adopted by the city in 1882, the department continued to be staffed by volunteers. Hose carts with 2,500 feet of hose were provided. Four companies, one for each ward, were set up. As an incentive, a prize of $10 was awarded to the first company to arrive and throw water on a fire. Firefighters received $1.50 for attendance. Eleven years later, a paid department was established with horse-drawn fire wagons and a ladder truck.
Joplin gets 'the Goat'
It was in 1907 that auto mechanic A.C. Webb came up with an idea to motorize a fire wagon. His auto garage was across the street from the fire station at City Hall at Second Street and Joplin Avenue. Webb told a 1913 New Jersey Fire Chief's Association meeting that one day the chief complained one of his horses was lame and he could not respond to a fire call. Webb offered to drive him to fire calls. After several drives to which they always arrived first, the chief offered some spare equipment to Webb to see if he could incorporate a chemical tank and hose on a car chassis.
Webb went to work on a Buick Model F on which he mounted a 60-gallon chemical tank with hose and two 3-gallon hand fire extinguishers. In June 1907, he offered it to the city on a three-month trial basis, complete with chauffeur. By October the city was convinced and purchased the vehicle for $1,750. For an unknown reason it was nicknamed "the Goat." It stayed in service until 1914. Webb made two more motorized vehicles for the department.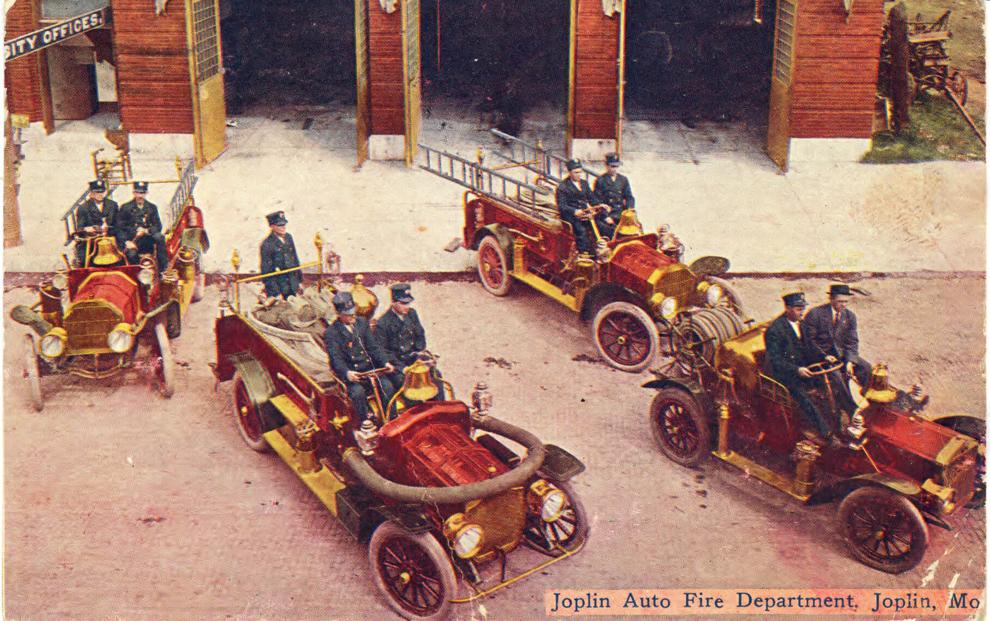 By 1910 the department was completely motorized except for the ladder truck which was powered, as the Globe put it, "by two 1,500-pound horses." With warning bells to clear the street of vehicles, motorized fire wagons could "race at mile-a-minute speed, arriving at the scene of trouble, before the fire has gained much headway." Of 250 fires in the years 1909 and 1910, 200 were extinguished without the use of water. Most of the buildings lost to fire were mine mills outside of city limits and too far from existing water connections to be saved. The city was divided into three stations, Central at Second and Joplin, East at Broadway and Division, and South at 1827 Wall.
Financial drought
The mining boom fueled by World War I burst, which led to a postwar depression that lasted until 1921. Joplin was hurt financially. Trimming the city budget was a major topic. In 1921 commissioners discussed cutting the fire department's four-man team on the aerial ladder truck and suggested they work on an as-needed basis. Mayor Jesse Osborne did not like the idea, but the city had to live within its income and not go into debt.
Two years later, Mayor Taylor Snapp proposed an $80,000 bond election for June 1923 for a new service truck to replace the ladder truck and hoses, a new city fire alarm system and a new East Joplin fire station. The alarm system, costing an estimated $56,000, was the largest expense. A service truck was estimated to cost $10,000 and a new fire station estimated at $6,000.
At the same time the American Legion campaign for a bond election to build Memorial Hall was gaining momentum. The Legion proposed a bond election for July 1923. Some grumbling was made about "all these drives." Mayor Snapp withdrew his proposal May 31, stating that the public was not yet informed about the new fire alarm system. It was postponed indefinitely.
Two bright spots in the 1920s developed when Keystone Drilling Co. rebuilt the main aerial ladder and two additional ladders at cost as a service to the city in 1925. Next was the purchase in 1928 of an American-LaFrance firetruck for $12,500. It replaced an old truck broken down beyond repair after many years of service. This vehicle was a triple-combination of pumper, an emergency tank with 80 gallons of water, and carried 1,200 feet of hose. It was housed at the central station.
Modernized at last
The Great Depression put any city improvements on hold save those financed by federal assistance. In 1934 the LaFrance truck was wrecked en route to a call. Driver Frank Krudwig died, crushed as the truck overturned while making a corner. The newest firetruck was out of service for almost a month.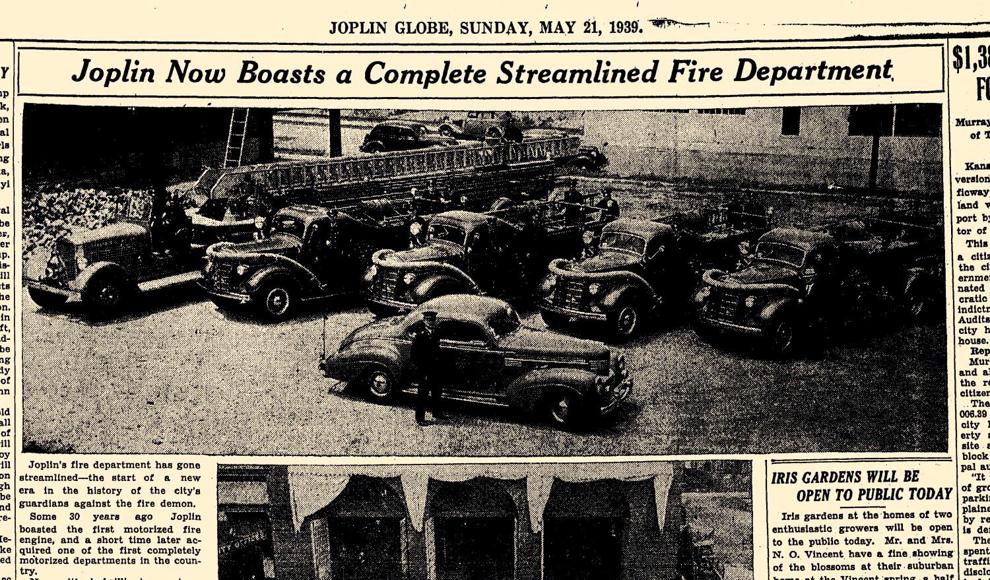 The City Council applied for matching federal money to purchase fire apparatus and called for a $35,000 bond election in November 1938. Of three bond issues on the ballot, the fire department project passed handily. One dark cloud threatened the project. Matching money was contingent upon hiring personnel for construction. Equipment was not covered, though officials appealed to U.S. Sen. Harry Truman for help. Two weeks after the election, Truman reported the grant had been rejected as they had feared.
The council appointed a residents' advisory committee to survey its options. In December, the council announced a special bond election for the fire department. The advisory committee examined equipment costs with an engineer for fire underwriters for a city of Joplin's size. They proposed $73,000 would cover the cost of vehicles and a new fire station in East Joplin. To underscore the need, fire Chief John Jones noted the Central station's booster truck broke down for the third time within a month.
With widespread support from civic leaders, the vote on Jan. 5 was overwhelming, 2,325 in favor to 489 opposed. The advisory committee recommended the purchase of five new firetrucks, a new fire chief's car as well as a large quantity of hose and other accessories. The bonds included $9,000 to match WPA funds and labor to build the new East Joplin station at Broadway and St. Louis. The south station was already a funded WPA project.
The Pirsch all-metal aerial truck arrived first on April 13 on the Kansas City Southern Railway train. It replaced the 30-year-old aerial truck in service since horse-drawn days. Costing $16,500 and one of only 19 such trucks sold, a demonstration was held for 75 fire departments from St. Louis to Wichita. Four Mack-International pumper trucks arrived in May. They cost $33,000. There were three 750-gallon pumpers and a 500-gallon pumper. Upon completing their tests, the vehicles were paraded down Main Street on May 18 as they entered into service. M.I. Parker, an engineer of the Missouri Inspection Bureau, took motion pictures of the parade and photos to be sent to departments around the state.
After 1908, only one new firetruck was purchased until 1939. It had been a long dry spell. In the interim, firemen had designed and built their own booster truck, which was still in service. Engineer Parker was duly impressed by the new fleet. He said, "When you people do things down here, you really go to town in a big way ... (the equipment is) absolutely the best."