"Extra, extra! Read all about it!" That's the classic cry of a newsboy from the turn of the last century, calling attention to what was the latest news leading that edition of the paper. In that day, newsboys became a regular feature of the city's landscape from the moment a newspaper issued its first edition.
All of Joplin's papers had newsboys who hawked papers to regular customers and one-time sales. After 1900, the city was served by two or three papers at any one time: the News Herald, the Globe and the Morning Tribune. Each of them had their own crew of youngsters who grabbed their papers hot off the press and headed to their preferred location to sell their quota of papers. The number of newsboys varied with the season. There could be as few as 30 and as many as 60, depending on the ebb and flow of the local economy.
Prime locations
The typical location was a heavily traveled street corner. Fourth and Main was the premier intersection of the city, as the Connor and Keystone hotels were located on opposing corners. The Southwest Missouri Railway and Joplin and Pittsburg Railway lines also traversed the intersection, ensuring plenty of foot traffic. The offices and plants of each of the three papers were downtown within two blocks of the intersection. Main Street also provided plenty of saloons that proved a ready source of customers.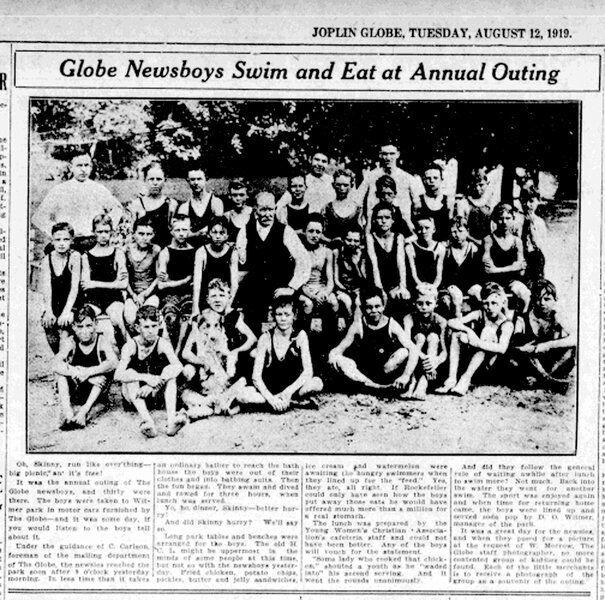 However, Joplin offered three more hot spots for newsboys. The railroad depots — Union Depot at First and Main, the Frisco depot at Sixth and Main and the Missouri Pacific depot at 10th and Main — were easy pickings for enterprising sellers. The number of passenger trains in and out of Joplin daily was impressive. The Frisco alone scheduled more than 20 trains a day. Union Depot served four railroads. The Missouri Pacific depot also served the Missouri, Oklahoma and Gulf Railroad.
The cost of city editions through the 1910s was 5 cents, or a "jitney" in the slang of the day. Localized editions for Webb City or Galena, Kansas, could cost a penny. The Globe and News Herald kept offices in those towns with their own corps of newsboys.
Child labor laws were rudimentary, and newsboys weren't included. Globe and News Herald photos showed newsboys who looked to be from 9 to 16 years of age. But there was no minimum age. Newsboys needed to be plucky to survive the rough-and-tumble environment.
Youngest News Herald newsboy
The News Herald's Industrial Annual for 1916 reported one such enterprising newsboy, Albert Barley from Webb City. Here is its account:
"Everybody who sees a copy of this News Herald's big edition will look twice at the picture of Albert Barley, 5 years old, the brightest little kid who ever stepped inside of a newspaper office and he looks it. Albert is the News Herald's chief salesman in Webb City, and that's saying a good deal.
"But Albert is in a class by himself. Fancy a 5-year-old selling 15 copies the first night of his venture. But somehow he had acquired the notion it was not venture, and he had all the confidence of the sure winner.
"'Give me some o' them papers; I can sell 'em.'
"'What, you?' said the big boss of the newsies, giving the little chap a look-over that would have settled the business with 99 out of 100 boys of Albert's age.
"'Yes, I can sell; you try me; give me 10.'
"He got his 10 News Heralds. His bright, cheery confidence had won out that far. And off he went to the street with an eye for what to him was 'big business.'
"Did he sell 'em? You bet he did, and in 15 minutes he was back for more.
"'Here's your money,' counting out the pennies on the cashier's desk. 'One, two, three, four, five, six, seven, eight, nine, 10. Is that right? Well, give me some more — another five.'
"And the whole office force gasped with astonishment.
"Albert had no trouble closing out the other five, and many an afternoon he has done as well, once or twice even better.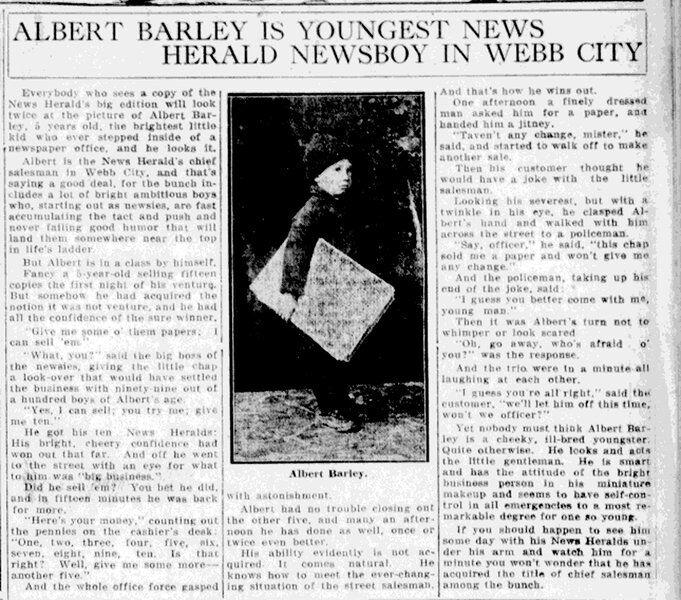 "One afternoon a finely dressed man asked him for a paper, and handed him a jitney.
"'Taven't any change, mister,' he said, and started to walk off to make another sale.
"Then his customer thought he would have a joke with the little salesman.
"Looking his severest, but with a twinkle in his eye, he clasped Albert's hand and walked with him across the street to a policeman. 'Say, officer,' he said, 'this chap sold me a paper and won't give me any change.'
"And the policeman, taking up his end of the joke, said: 'I guess you better come with me, young man.'
"Then it was Albert's turn not to whimper or look scared. 'Oh, go away, who's afraid o' you?' was the response.
"And the trio were in a minute all laughing at each other. ...
"Yet nobody must think Albert Barley is a cheeky, ill-bred youngster. Quite otherwise. He looks and acts the little gentleman. He is smart and has the attitude of the bright business person in his miniature makeup and seems to have self-control in all emergencies to a most remarkable degree for one so young.
"If you should happen to see him some day with his News Heralds under his arm and watch him for a minute, you won't wonder that he has acquired the title of chief salesman among the bunch."
Albert Barley was just one of hundreds of boys who hawked papers in area towns. Each one developed his own style, territory and regular customers. Their cries of, "Extra, extra! Read all about it" meant papers were available for a public hungry for the latest news.
Bill Caldwell is the retired librarian at The Joplin Globe. If you have a question you'd like him to research, send an email to wcaldwell@joplinglobe.com or leave a message at 417-627-7261.