Professional wrestling is known for colorful characters. One of the most loquacious and enduring was Pittsburg's Wild Red Berry. As a wrestler, manager and referee, Berry could be counted on to stir up a crowd with his words or deeds.
Ralph Berry was born in Conway Springs, Kansas, southwest of Wichita in 1906. His family moved to West Liberty, a coal mining camp near Chicopee, which is southwest of Pittsburg. The oldest of three siblings, he quit school at age 12 to work in the coal mines to support his family. In 1922, he apprenticed as a coachbuilder and blacksmith at the Kansas City Southern Railroad shop in Pittsburg. He was 16 years old.
Berry was fascinated by sports and arranged a deal with the Pittsburg YMCA to pay his fees by doing odd jobs for the Y. He worked at the KCS shops during the day and wrestled in the evening, then walked back home to Chicopee.
His first foray into the world of sport was as a boxer. At 17, he won the Tri-State Amateur Boxing Tournament along with a cauliflower ear. He was successful, winning a Kansas middleweight championship after 18 matches. However, he broke both of his hands in the process. He left boxing and moved to wrestling while still employed by the KCS.
Wrestler Red Berry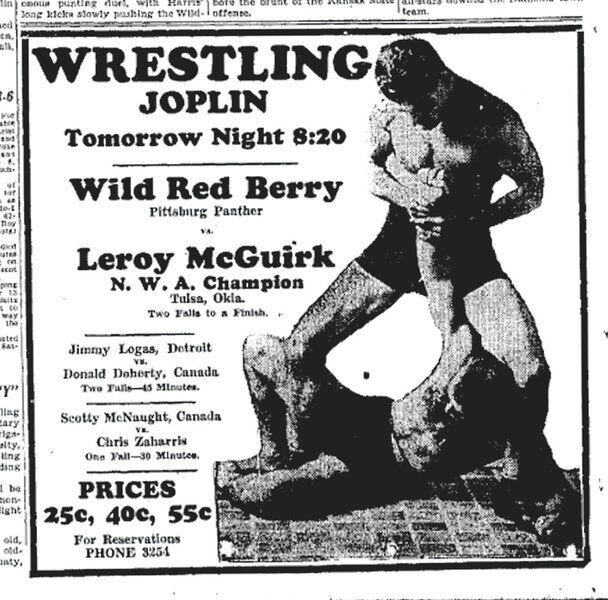 His first mention in the Globe was for the Shrine Boxing Card in Pittsburg in 1927, listed as "Ralph Berry, an ambitious Pittsburger." The next summer, he wrestled an exhibition match before a crowd of 1,500 people in Schifferdecker Park for the annual KCS company picnic. Now, he called himself Red Berry, for his red hair.
By 1932, he had become a regular on the sports pages of the Globe and News Herald. Wrestling was a weekly feature at Memorial Hall. Wrestlers were on regional circuits and often carried on grudge matches over the months and years so that a win was never final. A promoter could always schedule a rematch.
On March 2, 1932, Berry was in Kansas City, Kansas. A promotional stunt got out of hand when a policeman discovered Berry up in a tree in front of Memorial Hall. A complaint of disturbing the peace had been lodged. Berry protested he wasn't disturbing anyone — just doing his morning workout. Officers climbed the tree to retrieve him, and it eventually took five officers to take him to jail. It earned him the nickname "Wild" Red Berry.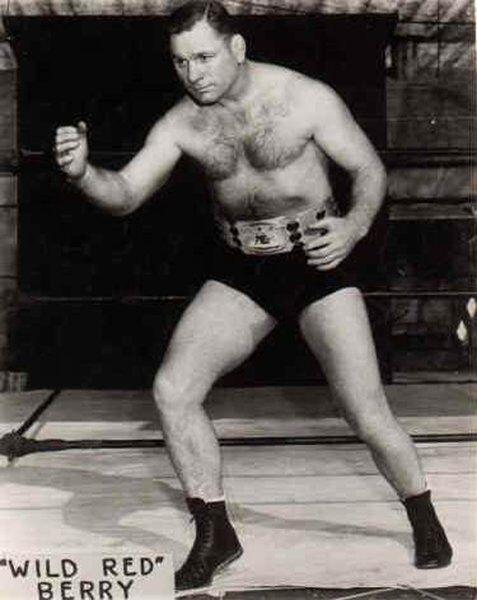 Because Berry was not an imposing figure, he developed the persona as a heel whose job was to rouse up the crowd. Even in the early 1930s, his reputation for roughhousing made him the wrestler crowds loved to hate — except in his hometown of Pittsburg, where he was beloved.
Wrestling columns in the Globe described matches in detail. Sports columnist Porter Wittich included snippets of matches in his daily sports roundups.
In the summer of 1932, one of Berry's more memorable matches included a bout with the referee as well. As referee H.C. Dodson tried to pull Berry and Young Stecher apart, Berry took on the ref. They went at it hammer and tongs. Berry was disqualified. The next month, Dodson was the ref for another Berry match. This time, both men ended up with black eyes. Berry "always seems to find trouble of some kind or other in the Joplin ring," the reporter wrote.
Over the years, injuries included more cauliflower ear, broken fingers and a broken back as he was thrown out of the ring in Texas. Even the fans got in the mix as a woman in California knocked Berry over the head with a Coke bottle. Still, none of that deterred him.
Light heavyweight champion
He won and lost the National Wrestling Association light heavyweight championship nine times from 1937 to 1947, trading it back and forth with Danny McShain four times. During World War II, he toured Army camps, giving judo lessons and hand-to-hand combat exhibitions. In 1946, he broke his arm during a match. He had to sit out for a year to recover. While healing, he began reading classics, Shakespeare and the Bible, committing much to memory. As one writer said, "he turned to philosophy." He was elected parks commissioner in 1947 and was acting mayor when the mayor was out of town. He gained the nickname "Mayor of Pittsburg."
When he returned to the ring, he began using expressions, quotations and enormous words in interviews. While "Wild" Red Berry was his persona, he would confound reporters with his vocabulary and witticisms — not at all what was expected of a wrestler. It grew to be second nature. Reporters such as the Globe's Sean Gregg took advantage of that verbosity for column fodder. All through the 1950s and into the 1960s, Berry wrestled with a vigor that amazed audiences. Still the heel and now able to taunt opponents with high-powered words or quotes, he continued to attract fans and haters in equal numbers.
For a tag-team match at Memorial Hall, he came out of retirement in 1962 with a vintage Berry taunt: "Those insignificant ignoramuses are illicit impostors. I'll personally incapacitate these insincere, inefficient, incapable, inept, inadequate imbeciles."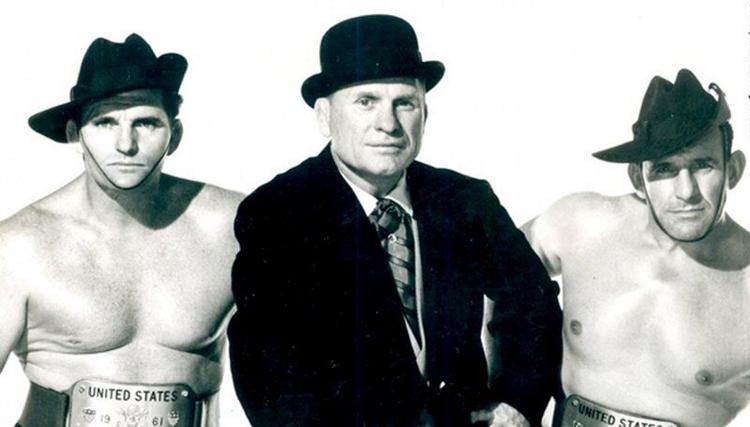 In 1958, he began managing wrestlers such as the Fabulous Kangaroos, Gorilla Monsoon, Hans "The Great" Mortier and Toru Tanaka. With a Derby hat, a houndstooth sport jacket and a sawed-off walking cane, which he used to assist his wrestlers on occasion, he was an iconic figure.
Despite his heel persona, when he retired to Pittsburg, Berry made speaking tours of YMCAs, boys clubs, and social and church groups, emphasizing clean living and physical fitness. Although his vitality seemed inexhaustible, a stroke in 1971 kept him from public speaking. A year and a half later, after 6,000 matches on three continents, Berry took a final count on July 21, 1973.
Fans remember him as an irrepressible presence in the ring, able to rouse a crowd to a fever pitch. When asked why he didn't retire in 1946, he replied, "I fought during the long struggles, and I'll fight until I can't fight anymore. This is the first time the real money has been there." When others had long left the ring, he kept true to his word. His career spanned 39 years as one of professional wrestling's iconic characters.
Bill Caldwell is the retired librarian at The Joplin Globe. If you have a question you'd like him to research, send an email to wcaldwell@joplinglobe.com or leave a message at 417-627-7261.