The weather put a damper on plans for the annual Kids Christmas Bird Count on Saturday, but when one family with two children walked in the door of the Shoal Creek Conservation Education Center, the mood among volunteers perked up.
The Louderback family from Golden City — dad Tim, mom Carrie, and children Arabella, 9, and Levi, 4 — became the focus of attention for the education center staff and volunteers with the Ozark Gateway Audubon Society for about two hours as they learned about birds common to Southwest Missouri in the winter, what they sound like, how to recognize them and their habits and characteristics.
Arabella said she likes watching birds at their Golden City home and enjoys learning about them.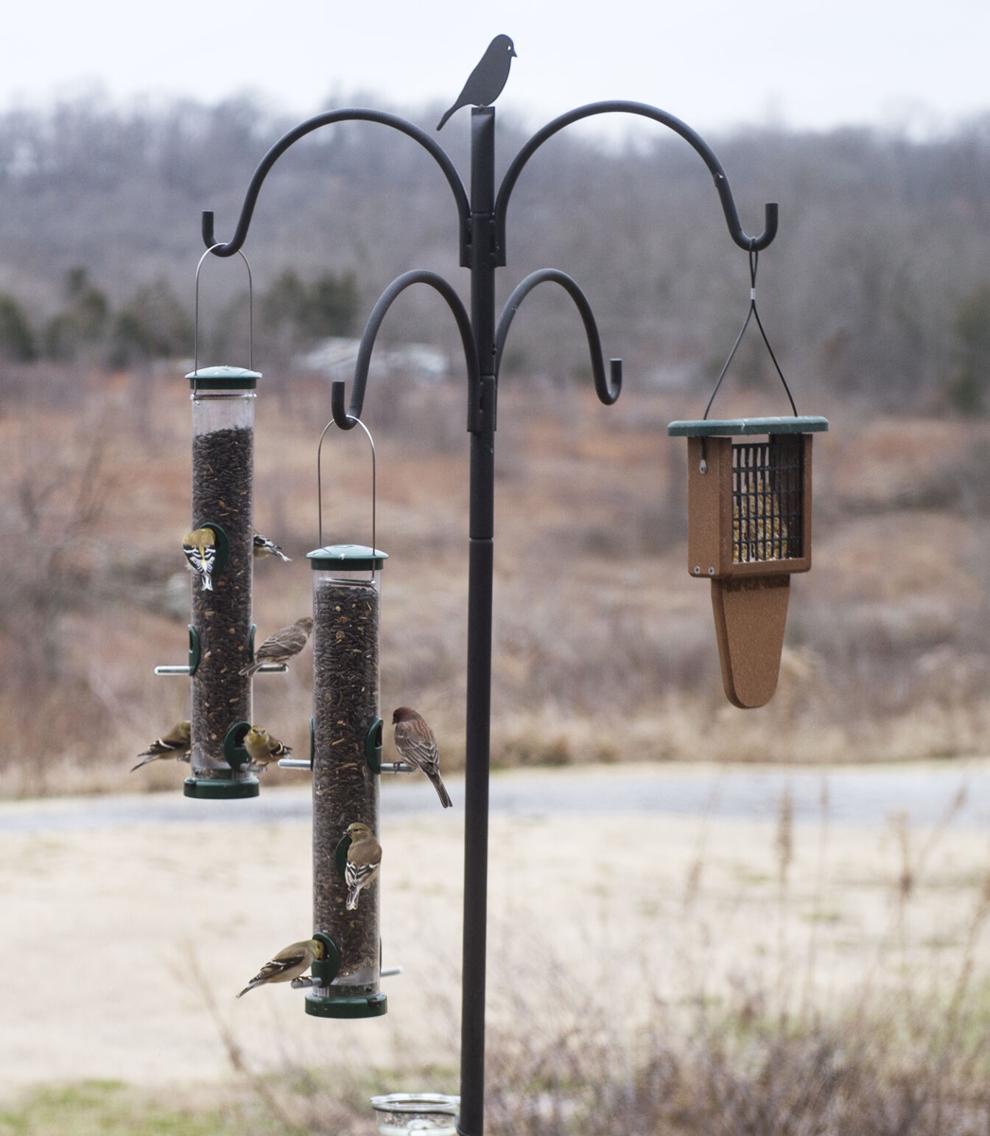 "I like what they do together, they're social," she said. "We go outside a lot and we usually have a pool out in summer and I have a bird book as a resource. I can write the kind of bird I see down and I can draw a picture of it."
It's that kind of interest in nature that the people who put on the annual bird count hope to instill in other children.
"Adults are a very important part when it comes to birding but the younger we reach our kids, the easier it is to get their love of nature started at a young age," said Jessie Ballard, a naturalist who led the event Saturday.
"I was in the woods growing up all my life, so I realized the importance of nature at a young age," Ballard added. "So having these kids outside, looking at birds, that's why it's so important that we start them young. Then they'll carry that appreciation through their adulthood."
Learning outdoors
Saturday's count started with an indoor briefing as Ballard talked about the features birders look for — colors and color patterns, size, beak shape, where the bird is seen and what it's doing. Then she talked about specific species that one can expect to see in different types of habitat along Shoal Creek.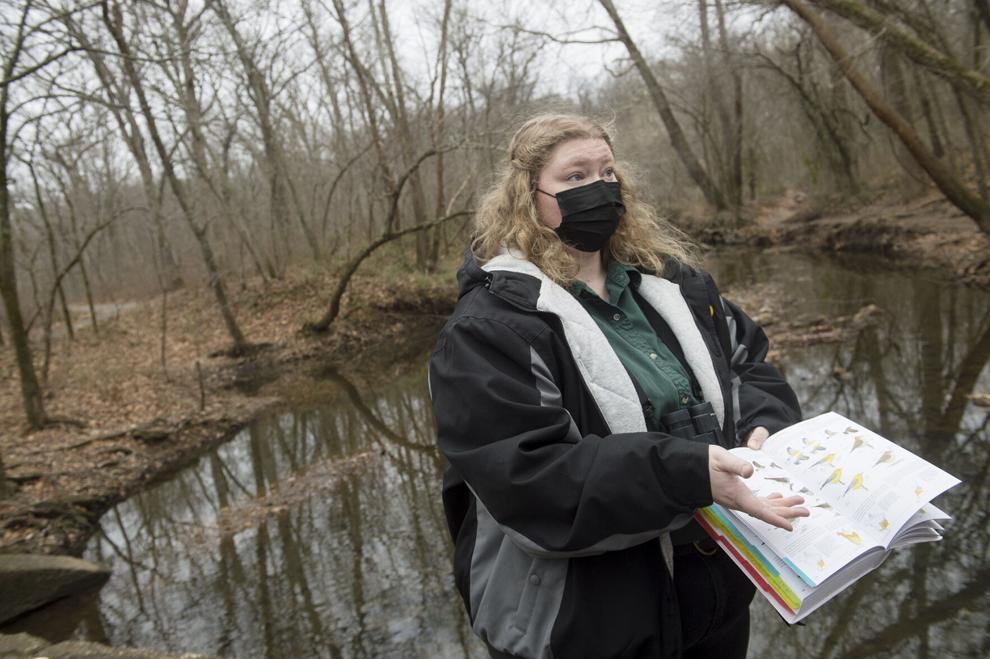 Some species of bird can be seen searching for food on grasslands while other species can be seen in wooded areas and still other birds can be seen along the banks of the creeks. Some of the more common birds are red cardinals, yellow goldfinches and blue jays. She described the smaller denizens of the forest, including the tufted titmouse, Carolina wren, three different kinds of woodpeckers, and others.
Then it was time to take the classroom outdoors with a slow walk along the trail, pausing often to peer through binoculars at birds large and small, close by and high in the sky.
Carrie said this event was an educational opportunity for her children and a chance for them to spend time together as a family.
"I feel like nowadays families really don't get outside much, or notice the things that are outside," Carrie said. "We don't really notice bird species anymore, we can't really identify things around us and I wanted our kids to be able to do that. My grandmother could name any bird she saw and she knew them by heart, and we've kind of lost that, I think, in this area. So we wanted to try to get our kids back in that."
Calvin Cassady, president of the Ozarks Gateway Audubon Society, said stimulating an interest in birds and nature at an early age was key to developing each generation of adults who would work to preserve nature in the future.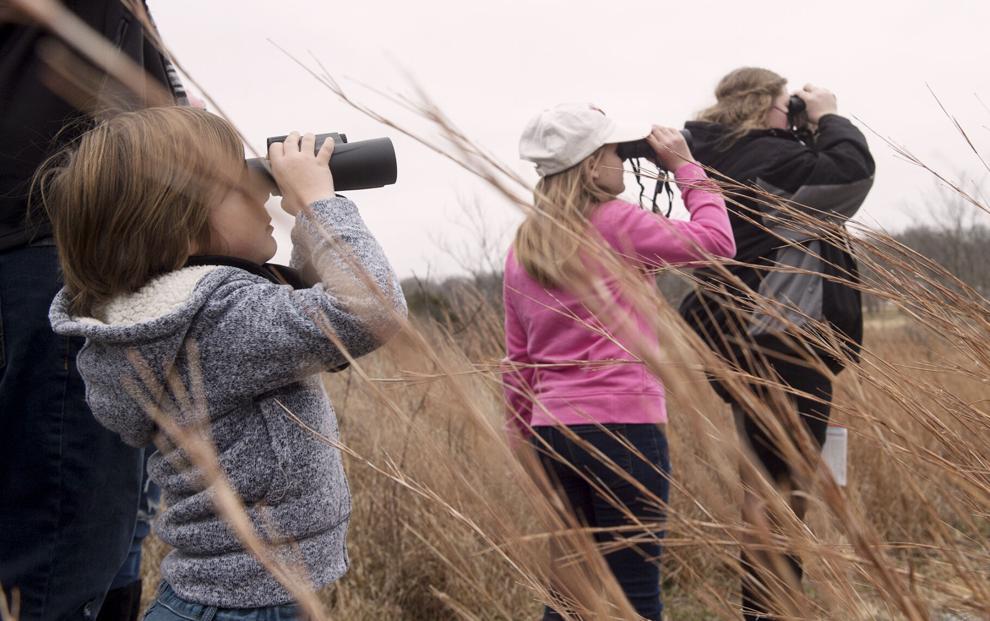 "You want to stimulate that kind of interest at as early an age as possible," Cassady said. "You can tell by listening to these two youngsters that they've had a lot of help and spent time outdoors, and they come from a family that recognizes the importance of nature and how everything has its niche.
"The Christmas Bird Count is the adult version, it's for the adults although children do participate. This is the children's version. This is where you start with them and you hope when they get a little bit older they'll participate in that Christmas Bird Count."
Education online
Ballard said the Shoal Creek Conservation Education Center has had to change how it presents programs since the start of the pandemic almost two years ago, but it is still working to educate people in as many ways as possible.
"We're able to do more events when it's nice weather, we're able to get outside," Ballard said. "This summer we still had several in-person events just being very cautious and safe and making sure everyone was social distanced or outside, things along that nature. But even with the pandemic we've never stopped doing programs. We've done virtual programs since day one, we've been doing in-person programs when we've been able to allow people to come in a safe manner."