Friends Ariel Kim and Jessica Cox have been bringing their kids to pick blueberries at Robertson Family Farm for four years now, and most of the children are finally old enough to fill a bucket instead of pop endless berries into their mouths.
"It's something fun for the kids to do in the summer, gets them out of the house in the morning, and the blueberries are good and healthy," Kim said.
Annalise Cox, 8, picked berries near her mother and outlined their fate: "We're probably going to freeze ours, and we'll make blueberry syrup and probably just bake with them."
The two families weren't alone. Rows of berries were jammed with early morning pickers Tuesday, helping to kick off blueberry season in the area.
Samantha Warren, manager of the Robertson Family Farm, 707 Saginaw Road, said her family decided to open on a weekday this year in hopes that the first weekend would be a little less chaotic.
But chaos was almost the name of the game after heavy rains in May drowned some of the family's fields. Warren estimates that 200 blueberry plants — a 10% impact — were either submerged or damaged by recent heavy flooding, creating an irretrievable loss in this year's crop.
Nevertheless, plenty of pickers were ready this week to forgive the flagged areas, swarming the thousands of still-healthy bushes. Kenan Booe, a local elementary school counselor, returned to the farm after first visiting last summer.
"This is my first time picking on opening day," he said, "and it's definitely more packed than I'm used to, but it's so nice seeing all the children out enjoying themselves."
Booe had big plans for his bucket of berries, hoping to experiment with compotes and barbecue sauces to top off a nice pork loin, followed by freshly baked lemon-blueberry bars and a bowl of homemade blueberry ice cream.
Robertson Family Farm will be open for picking from 7 a.m. to noon Tuesdays through Fridays, 5 to 8 p.m. Tuesdays and Thursdays, and 7 a.m. to 3 p.m. Saturdays and Sundays. The season usually lasts four to six weeks and will wrap up the week after the July 4 holiday. Berries are available for picking at $3 per pound. Pre-picked berries will be sold for $25 per gallon.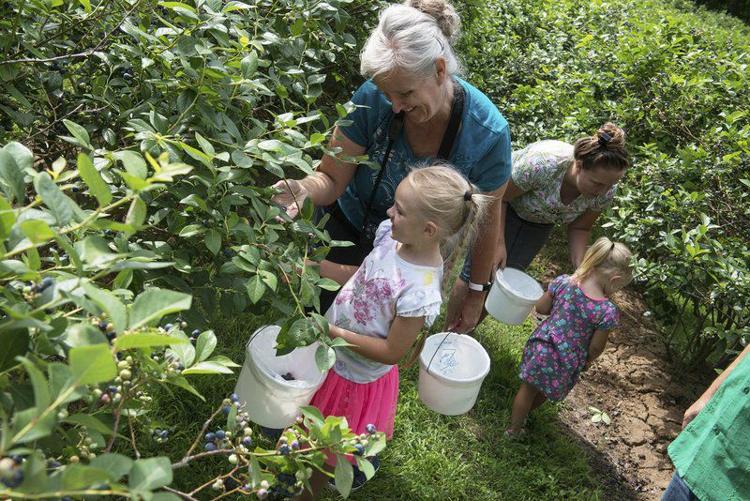 Blueberry roundup
Other area farms preparing to open for blueberry season include:
• Heritage Family Farms, 10807 Highway 43, Webb City.
Ted and Donna McDonald, co-owners of the farm, said opening day of the picking season will be Friday, but people interested in picking sooner should call and check. Picking hours are from 7:30 a.m. to noon Mondays, Wednesdays, Fridays and Saturdays, and from 5 to 8 p.m. Tuesdays and Thursdays.
The farm is located 6 miles north of Stone's Corner on Highway 43, and it has four varieties of blueberries. You-pick blueberries are $3.05 per pound, and pre-picked are for $5.05 per pound. Details: 417-673-2580.
• Mauller Family Farm, 18706 Linden Drive, Neosho.
One of the area's youngest blueberry-picking operations, Mauller Family Farm has 1,300 blueberry plants.
Opening day for picking is Saturday. Pickers are welcome from 6 a.m. to noon every day the berries are ripe, which will be updated regularly on the farm's Facebook page. You-pick blueberries cost $3.16 per pound, post-tax. Pre-picked blueberries are usually not an option. Details: 417-317-1098.
• Rausch's Blueberries, 21655 Route H, Monett.
Seven varieties of berries on 3 acres will be ripe for picking by Saturday, but pickers are encouraged to check the farm's Facebook page for updates about earlier openings.
The farm will be open from 7 to 11 a.m. and 5:30 to 8 p.m. Tuesdays through Fridays, and from 7 a.m. to 5 p.m. Saturdays and Sundays throughout the season. Blueberries can be picked for $2.99 per pound, or will be sold pre-picked for $3.99 per pound. Local honey, when available, will also be for sale. Details: 417-235-7825.
• Braker Berry Farm, 941 S.W. 90th Lane, Oronogo.
Opening day is set for Monday. Picking will be available from 7:30 a.m. to noon Mondays and Wednesdays, and from 5 to 9 p.m. Thursdays. You-pick berries are sold for $2.45 per pound; pre-picked berries will be $4.25 per pound. Customers may call in for orders any time.
Additional produce will also be available, including early tomatoes, early blackberries (for you-pick or pre-picked, starting in late June), lettuce, broccoli, cauliflower, cabbage and peppers. Details: 417-214-0807, 417-842-3609.