Two area residents began their separate roads to recovery this year after being diagnosed with breast cancer.
Leslie Taylor, of Vinita, Oklahoma, and Vernon Williams, of Monett, are both being treated at Mercy Hospital Joplin. Although the patients are fighting different forms of breast cancer, they both described it as a "blessing in disguise."
Taylor, 47, has a genetic history of breast cancer in her family; both her grandmothers were diagnosed with the disease. She received her annual mammogram in January, and doctors discovered something in her left breast.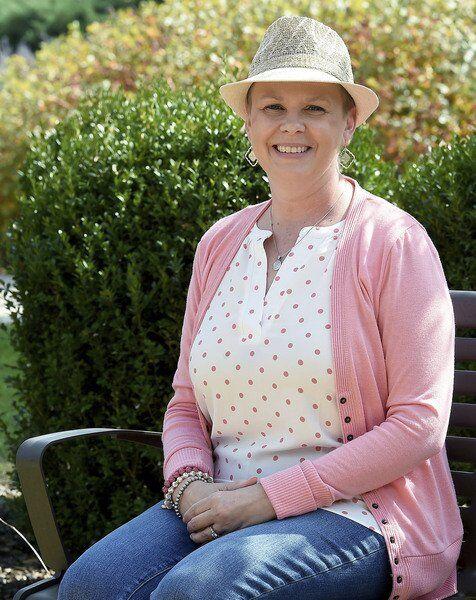 "Once you hit about age 39, they want to do baseline mammograms, so I was going in for my mammogram because they were watching every six months, and they noticed something in one of my breasts," she said. "Come to find out, I did genetic testing, and it was not genetic. The key and the message here is to get your annual mammograms and stay on top of it."
It turned out to be stage 2 invasive ductal carcinoma, the most common type of breast cancer. It makes up nearly 70% to 80% of all breast cancer diagnoses, according to the National Breast Cancer Foundation. The type of cancer is caused when abnormal cancer cells begin spreading from the milk ducts to other parts of the breast tissue, where it can spread to other parts of the body.
Stage 2 breast cancer means the cells have spread beyond the original location and into the surrounding breast tissue but not to a distant part of the body, according to Cancer Treatment Centers of America.
Before arriving at Mercy, Taylor received an initial diagnosis from the MD Anderson Cancer Center in Tulsa in March. But she wanted a second opinion.
"Someone had told me they had a good relationship with Mercy, and I decided to check it out because it's either 45 minutes to Joplin (from Vinita) or over an hour to Tulsa," she said. "I'm so happy with my decision. I would recommend anyone to come here. They have such great care."
Surgery, treatment
In August, Taylor had a lumpectomy, a surgical procedure in which doctors remove the cancerous breast tissue. She's currently in the maintenance stage of recovery.
Mercy Hospital coordinated with MD Anderson on a cancer treatment plan, she said. Taylor began radiation treatment on Sept. 30 and has more than 30 treatments left. She also received eight rounds of chemotherapy.
"Once you first get diagnosed with breast cancer, it's a long process," she said. "First, they identify something's wrong. Then they do a biopsy. Whenever you first have cancer, you want to get it taken care of and get it out of your body, but there are different steps you have to go through to make sure everything is being addressed."
Taylor's husband, Jerry, and her parents have been her support system through this life-changing event. Her husband attended all of her chemo treatments but had to wait in the car because of COVID-19 regulations.
"It wasn't just hard for me but it was hard for him too," she said. "We would use our video-calling on our telephones whenever I had doctor's appointments. I'd go in to my chemo, and he'd sit and wait. Jerry and I have been praying a lot to keep our spirits up. We're trusting that God will guide us through it. I'm confident in the place that he put us. I believe he put us where we needed to be at the time, and that was here at Mercy."
Taylor credits early detection and keeping up with annual mammograms for saving her life.
Male breast cancer
Breast cancer occurs rarely in men. About 1 out of every 100 breast cancers diagnosed in the United States is found in a man, according to the Centers for Disease Control and Prevention.
Williams said the rarity of the disease doesn't make it any less real. He had noticed a lump in his left breast and thought it was only inflammation. He didn't get it checked for years until about six months ago.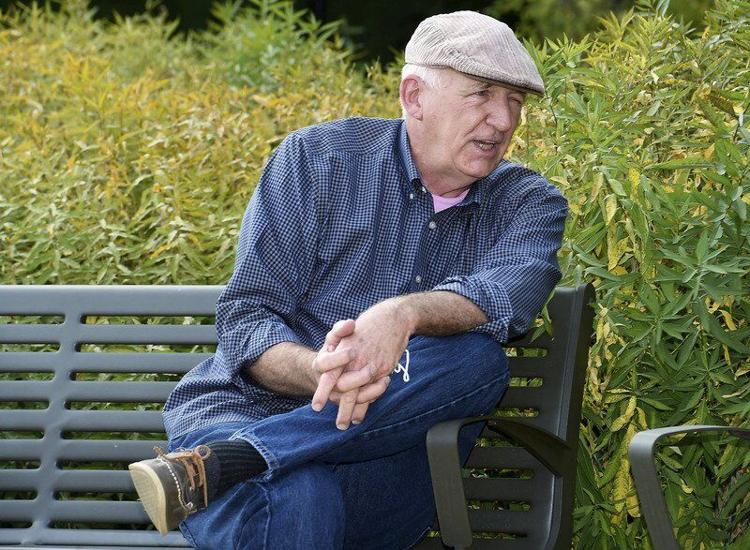 "That area felt like a firecracker had gone off, and it was very painful and swollen," Williams said. "The nipple inverted, and it took three days to get in to the doctor. The time I got in, it kind of subsided. He said, 'This has the signs of inflammation, but there's no heat or skin discoloration.' I asked if he thought it was cancer, and he thought it was a cyst that had become inflamed."
With the ongoing pandemic, it wasn't until a month later that Williams could get a follow-up appointment. He received an ultrasound in Aurora, which identified the lump as a cyst, but inside of the cyst was a peculiar-looking mass. The doctor suggested a biopsy, which identified cancerous cells.
"(The oncologist) said the concern is the lymph nodes as much as the breast," Williams said. "They took a biopsy and discovered that it was cancer but a very rare cancer. Only 1% of cancer patients have this cancer."
Williams had to decide whether to have the lump removed in a mastectomy or undergo a double mastectomy as a preventive measure to keep the cancer from spreading to the other breast. A mastectomy is a surgery in which all of the breast tissue is removed from the breast as a way to treat or prevent breast cancer.
The chances of a cancer recurrence in his right breast were 10 times greater than average, and if he didn't undergo the procedure, he would have to get annual imaging on a regular basis to keep track, Williams said.
"(The doctor) said based on his experience, he'd recommend a double mastectomy," he said. "The tissue on top of your pecs is a breast. It took me a while to get my brain around that. The breast tissue in a male covers the same area as the breast tissue in a woman. It stretches from your collarbone to almost the base of your ribs and to your sternum to where your armpit starts. That entire area has breast tissue."
Action plan
Based on his trust in Dr. Kenneth Watts, Williams decided to undergo the double mastectomy, which he received about seven weeks ago. The breast tissue was separated from the muscle and the skin and lifted out as one mass. The breast cancer had not spread to the lymph nodes, which means the lymph node mass didn't have to be removed during surgery. This was a positive sign, Williams said.
"I complained to the doctors and nurses that I didn't have any pain, and they didn't seem particularly interested in my sad tale," Williams joked. "It wasn't anything like I had expected as far as pain. I stayed that night and was sent home the next afternoon."
The incisions healed, and some pain occurred for about a week. He's now free from both cancer and pain.
"Dr. Watts said at six weeks, I'll be at 80% function, and he's about spot-on," Williams said. "I'm seven weeks out and at about 80% to 90% function."
When asked what he learned from this experience, Williams said he discovered there was a benefit to suffering.
"Is there a positive side of pain and suffering?" he asked. "From the Christian perspective, there is. That question was emphasized with me a lot internally during this process. For me, I could say that this experience, in one way or another, is all a blessing. Because I knew that the end result would be a blessing, I'm willing to engage the experience. I'm not running from it. It's also caused me to have empathy for people who have gone through these kinds of surgeries."
He recommends that anyone who has an odd sensation or object in their breast have it checked out immediately.
"Don't screw around with this because early diagnosis and early treatment decreases the effect of the disease on your body," he said. "You want to be aggressive in the actions that you take when you find something unusual. This is what my wife told me to do, and I ignored her advice for two years."