CARL JUNCTION, Mo. — When their 12-year-old son, Nic, accidentally lit his shirt on fire with a candle and badly burned himself, all Brandy and Stephanie Castlebury could think about was getting help for him.
And when Brandy Castlebury posted what happened to Nic on Facebook, she was trying to make sure family and friends were aware of the accident.
But the community of Carl Junction wasn't satisfied with just sending prayers and good vibes; they jumped into action and helped in ways she couldn't dream of.
"Honestly, we never expected what has happened — this was just us taking care of our kids," she said. "Never did we think it would get to where it's at right now."
The accident
Jan. 20 started as a typical day in the Castlebury home, with children playing in different rooms, some loudly, some quietly. The Castleburys have two grown children and have adopted six, all of whom have special needs: Kenzie, 22; Nic, 12; Phoenix, 12; Nazri, 9; Jackson, 4; and Chloe, 2.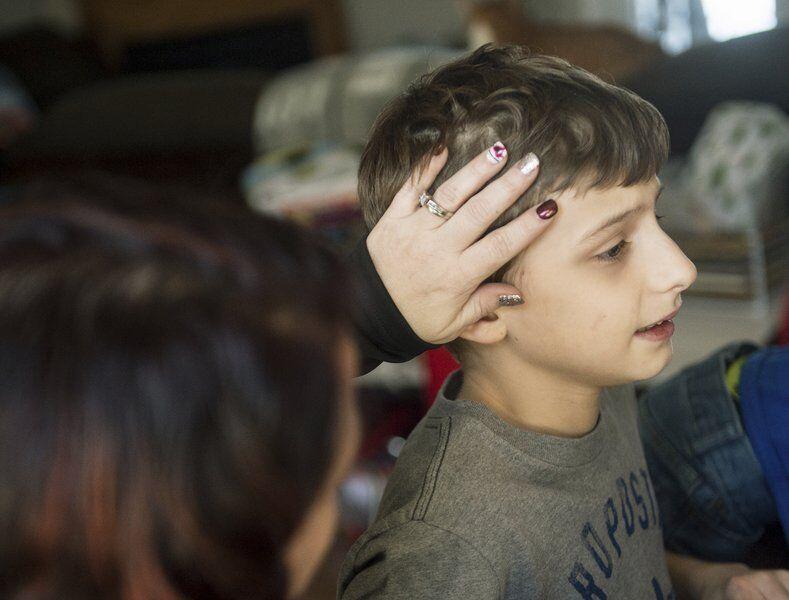 Life in the Castlebury home was a fun kind of chaos before that day, said Stephanie Castlebury, an officer with the Carl Junction Police Department and a school resource officer for the district.
"Brandy usually has all the homework done before I get home with the 4-year-old," she said. "We play games; our kids really like Uno Attack, especially the 4-year-old. Then we eat dinner as a family. Brandy is pretty on top of it at home; dinner is done when the kids are done with their homework and I get home, so that way we get to spend the evening with the young ones."
On that day, Nic, who is nonverbal with autism and other health issues, was playing in his brother's room when it was time to get him ready for bed, Brandy Castlebury said.
"I called him out of Phoenix's room and asked (him) to come here because I was getting ready to do his flush for the night before he went to bed," she said. "And he ran past me; he was in nothing but his diaper and his shirt. ... He just kind of bolted past me and went toward his bedroom."
About a minute later, the fire alarms in the house went off. Brandy Castlebury jumped up, wondering if she had left a candle burning in her bedroom. She sometimes lights them to make the house smell nice, she said, and she thought Nic might have blown out the candle on his way to his bedroom.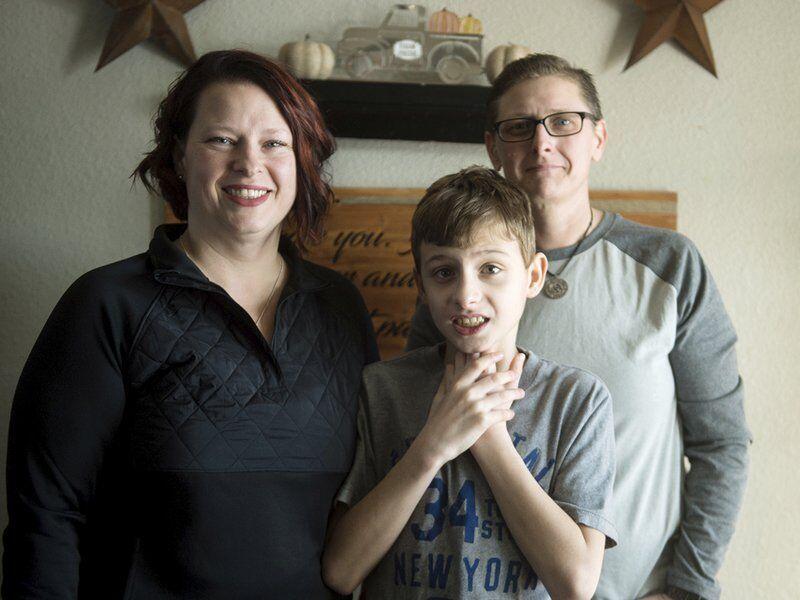 "I ran back there and looked, and the candle was blown out, but I noticed there's a whole lot of smoke and a really weird smell," she said. "I open his bedroom door and I look down, and that shirt is laying on the floor, and it's burning like a campfire."
She stomped out the fire and then realized that was the shirt Nic had been wearing when he ran past her. Then she looked at her son and saw his skin was a whitish-gray color. She screamed to her wife that their son had set himself on fire, and they called 911.
Recovery and community
Nic and Brandy Castlebury were rushed to a local hospital and then transferred to the burn unit at Mercy Hospital in Springfield. Nic, who had second- and third-degree burns over 12% of his body, received a skin graft, which was more painful than the burn itself, his mother said.
It was even more challenging for Nic than it might have been for other children because he can't communicate how he feels, nor can he explain what truly happened to him, Brandy Castlebury said.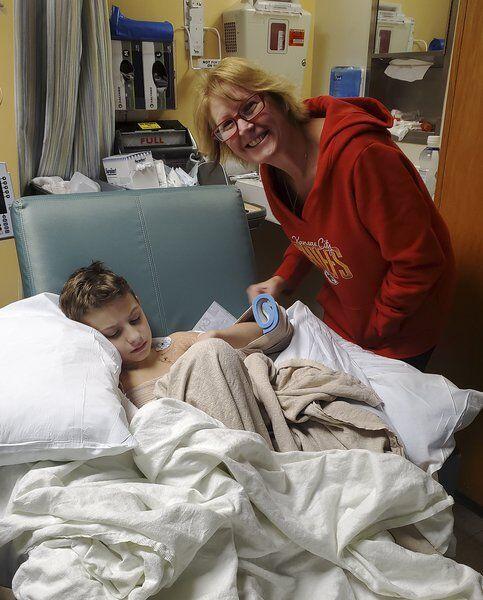 "Nic doesn't feel pain like maybe we feel pain," she said. "He has a very high pain tolerance, so I know if he's crying, he hurts. If he really hurts, he will come to me and he will cry, and he always puts his forehead to mine and touches his nose to mine and looks me right in the eyes."
Nic spent nine days at the hospital in Springfield. In the meantime, Carl Junction residents were rallying to help.
Sharon Clark, the city's retired postmaster, had gotten to know the Castleburys over the years and knew they would never ask for help outright.
"They would never let their children suffer, but they would never ask for help; they would find a way," Clark said. "I can't make the burns better, I can't go sit with the children to ease their fears because Mama's not there, but I can put a plea out there for prayers and for financial help to make sure they have money to go get food or a spur-of-the-moment pizza."
Brandy Castlebury said medical bills aren't a concern because Nic is covered by Medicaid. But they'll need assistance to maintain their vehicles as they face a year of travel to doctors and physical therapy appointments.
Even more helpful has been the meal train. The meal train, composed of friends, co-workers and the children's teachers, brings food to the family each night to take the stress of making supper off the Castleburys' plate.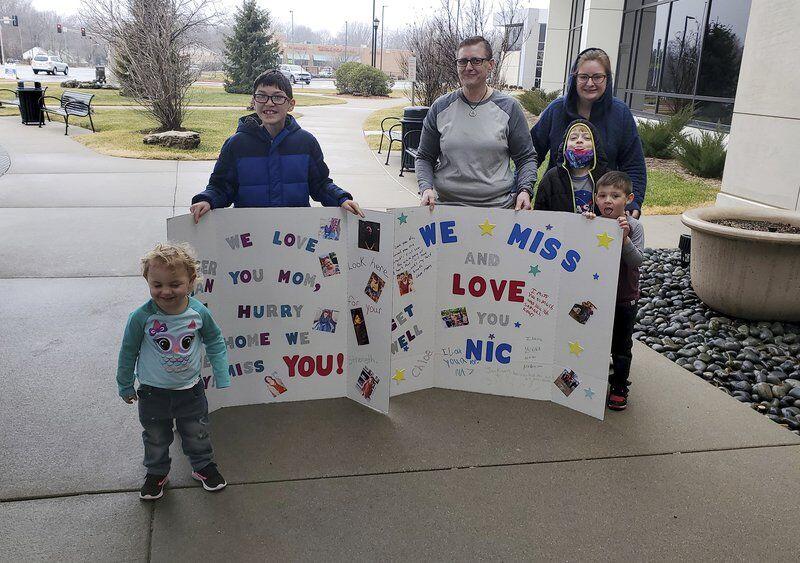 "It's been shocking; I'm appreciative," Stephanie Castlebury said. "I guess I didn't expect it. I'm just used to taking care of our kids. I never really thought about anything else."
Shannon Schultz, a former teacher of Nic's and a friend of the Castleburys, said it didn't surprise her that the community turned out to help.
"The family as a whole means so much to our tight-knit community," Schultz said. "Brandy spends her days taking care of not only her family but anyone she sees that has a need: running kids to and from appointments, constantly checking in with school staff to ensure that all children are successful, arranging meal drop-offs for friends in need, and the list goes on and on. Officer Stephanie is an essential part of not only the school district but the entire city of Carl Junction. The courage, love and support she provides our district day in and day out impacts hundreds of families."