CARL JUNCTION, Mo. — Clark and Rachelle Wilson, of Carl Junction, had no idea their 30th wedding anniversary on May 22 would end with a tornado ripping their home to shreds.
The couple, who lived at 401 N. Bluff Road, were celebrating their anniversary in Branson when the storm hit the area that night, on the same date as the 2011 Joplin tornado. Their home sustained significant damage to the roof, siding, interior and their yard was filled with downed trees and debris. A note on the front window says the home has been deemed unsafe and uninhabitable.
"We knew it was going to be bad," Clark Wilson said.
The Wilsons' son, daughter-in-law and two granddaughters were in the basement underneath the stairs when the tornado tore through Briarbrook.
"We stayed most of the night in Branson because there was just storm after storm going up I-44," Clark Wilson said. "We got up early the next morning and came. But we're so blessed and so lucky because that tornado missed the residential care center where my mother is. The kids weren't hurt. We're just fortunate that everyone's OK."
He walked through his former home Tuesday where the rain-soaked carpet showed a trail of footprints as if it were mud. A majority of the structure was littered with insulation, and portions of the roof were exposed. He pointed to a glass vase of flowers on a living room table that was left untouched by the storm while the rest of the room was in disarray.
"My granddaughter and I picked those peonies before we went down to Branson on Sunday," he said. "They sat right there in that spot through the whole tornado."
Fortunately, the Wilsons have insurance and were able to salvage many of their belongings. They're currently staying in one of their rental properties a few blocks away. Clark Wilson, who helped for nine months after the 2011 Joplin tornado, said he understands the significance of volunteer efforts, which have made a world of difference in the Briarbrook area.
"We're blessed to have good friends, family, and Schreiber, where I used to work, sent over a bunch of people, equipment and materials," he said. "We had all of the salvageable stuff relocated. We had guys chain sawing, packing and loading trucks up. I'd say in a matter of eight hours, we had the whole thing complete."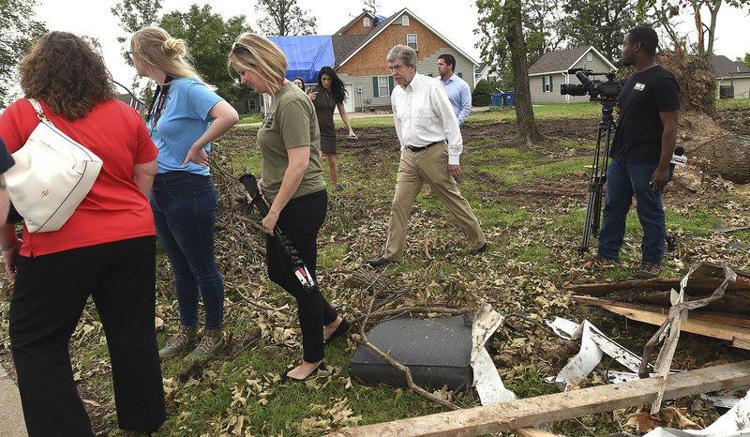 Visit from Roy Blunt
U.S. Sen. Roy Blunt, of Missouri, visited the Briarbrook area Wednesday. Other lawmakers who have visited the town in the wake of the storm are Gov. Mike Parson, U.S. Sen. Josh Hawley, U.S. Rep. Billy Long, state Sen. Bill White and hometown state Rep. Bob Bromley. Carl Junction has still not heard from the Federal Emergency Management Agency. Blunt said it appears to him that the level of storm damage will at least meet the $434,000 threshold required for FEMA assistance.
"The federal government can be significant in assistance of the public problems of streets and power and things like that," Blunt said. "The federal government comes in to try to help get the infrastructure and the community back in place rather than solving every problem that occurred."
Steve Lawver, city administrator, said the Briarbrook Golf Course is part of a Community Improvement District in Carl Junction, which makes it a public entity owned by the neighborhood. There are currently more than 100 trees down on the golf course, and several employees are out of work.
Lawver and Blunt said since the golf course is publicly owned, it could also qualify for funding assistance through FEMA.
"They (golf course) have their own insurance and their own coverage, and they're working through that process with their insurance too," Lawver said. "They're getting ready to go out on bid for their cleanup. It is a rather large district. There are 1,100-plus properties within that district."