CARL JUNCTION, Mo. — One year after the Carl Junction tornado, residents in Briarbrook are hopeful after having time to mend their lives back together, but the haunting twister continues to take a toll on their mental and physical health.
An EF3 tornado with estimated peak wind speed of 140 mph touched down in the Briarbrook area at 8:05 p.m. on May 22, 2019, destroying or damaging 330-plus homes and uprooting hundreds of trees.
Homeowners outside of city limits in Jasper County were also impacted where dozens of trees were thrown around like rag dolls. The community sheltered in place or sought refuge in nearby storm shelters, resulting in minimal injuries and zero deaths in the immediate area. Authorities said the same storm resulted in three deaths about 30 miles northeast in the Golden City area in Barton County.
Sam and Judy Burch, who have lived on Lakeview Lane for seven years, experienced damage to their roof, siding, garage and air conditioning unit. Everything was fixed by November, but they've both been experiencing health issues over the past year. Sam Burch believes he injured a shoulder while clearing out all of the debris and downed trees in their yard. Judy, who recently overcame a battle with cancer, said she no longer feels safe living in the area because of the intense storm and the stress associated with it.
"And we were one of the lucky ones on this block," said Judy Burch. "I told him I need to move back to Indiana. Storms trigger me now. The whole year was bad. When the skies get dark, I get freaked out. Now, I watch the weather more now than I ever have in my whole life."
Well past recovery
Steve Lawver, city administrator, said the city is well past recovery and has returned to normal. A majority of residents have rebuilt, and only a few houses were torn down and never reconstructed.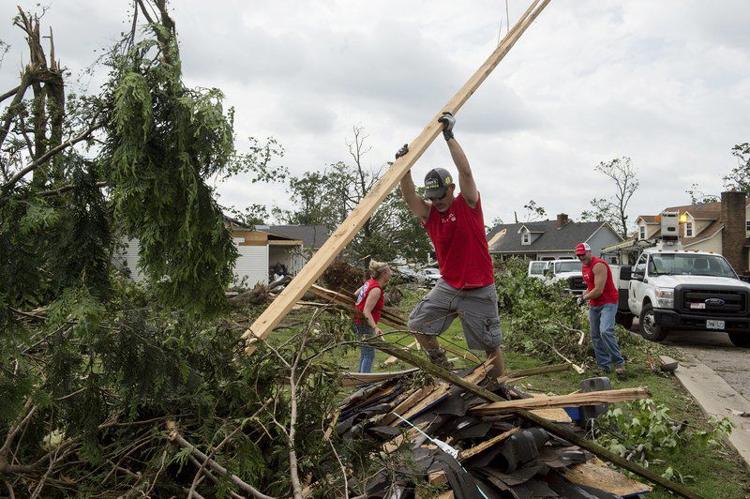 "As far as an estimate on home damage, I don't have any numbers on that," said Lawver. "It was so wide. It was anywhere from $10,000 for a roof to a complete rebuild of $150,000."
Isaiah Basye, wife Autumn, and their two young children are among the families who had to demolish the ruins of their "dream home" after moving in eight months prior. Their former home at 300 Turf Lane was ripped to shreds with only a portion left standing. Isaiah credits the volunteers for their support in helping the family get through one of the most difficult times of their lives.
"The day after the tornado, we had a small army out here," said Basye. "At one point, I remember I just stood and watched because I was just amazed with all of the people who came out to help, even complete strangers. They were chopping down trees and moving out valuables that were unharmed. For what should've been a very overwhelming day, it was overwhelming in a different sense. It was heartwarming to see how many people showed support."
Fortunately, Basye said, their insurance company cut them a check immediately to build a new home with the same floor plans and put them in a rental home in Joplin for the interim. They moved into their new home in January, which was rebuilt in six months. Basye's favorite part of the new house is the library, which is his sanctuary.
"It's like walking through the same house, but it's new, so it's kind of surreal," said Basye. "We're more used to it now. I was really impressed with our builders and their work ethic. This is our new dream home. Dreams change."
"As much as this sucked, it was a gift," he added. "It was a blessing. Looking back on it, it was terrifying and awful, but it was nice to see how much those people helped us out. We want to make sure to share our home with others."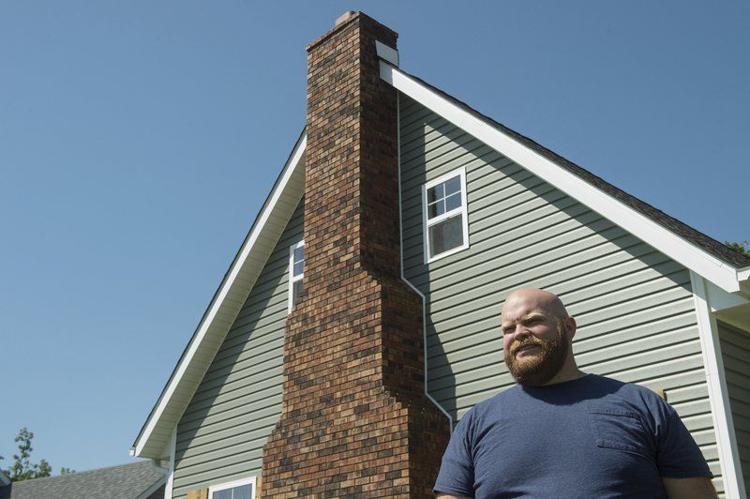 Basye said they definitely take tornado season a lot more seriously now. The storm affected their 7-year-old daughter, Maxx, the most. Last week, they adopted a Russell terrier named Benji from a shelter, and he has been a great therapy dog, said Basye.
Funding
Lawver said it will most likely be years before the town receives any funding from the Federal Emergency Management Agency to assist with the city government's cost of recovery.
Approximately $182,000 was used for debris removal, and an additional $48,000 was paid to repair an 8-inch sewer line that was damaged off of Lakeview Lane and Oak Street Circle.
"We're in the process of doing paperwork," said Lawver. "We've got entered in a grants portal system that FEMA uses, and they request information from us while we put together the numbers they need. Then, we send it off to them through the grants portal. Of course, you have no idea when you're going to get it."
In 2003, Carl Junction was hit by an EF3 tornado that destroyed more than 30% of the downtown buildings and hundreds of homes, and claiming the lives of an elderly couple. The school district alone needed $6.5 million in repairs. It has since built a community storm shelter.
Especially after surviving two tornadoes, as well as the Joplin tornado in 2011, people are more aware of the hazards associated with the storms, but it also means more post-traumatic stress disorder.
"My anxiety level goes up in May, there is no doubt about that," said Lawver. "I'm not a big fan of May. People are angsty. It's a real problem for people this time of year and a real mental issue because the anxiety level comes up with the storms that we get."
Positives
As many negatives as there were, there are also a lot of positives as a result of the tornado. Lawver said the city received an overwhelming amount of community support and the residents responded well to the situation.
"We have to move a lot slower than the residents, and I think our citizens were extremely gracious in dealing with us," he said. "I think they did a good job of dealing with each other, also. That volunteer response and the response of the people, they were out checking on their neighbors that night. We are there to support each other and do what we can to help our neighbors get through a difficult situation. I think we excel at that type of thing."
LaDonna Allen, city councilwoman and tornado recovery volunteer, said the outpouring of support from area communities and cities was special to see.
"You had people, of course, from all over the city but also surrounding communities that were just getting out and helping people, people they've never known before," she said. "It was the neatest thing to see the relationships that were formed."