CARL JUNCTION, Mo. — The phrase "kindness is contagious" is clearly evident in Carl Junction schools, where staff and students have incorporated random acts of kindness into their daily routines in an effort to make their peers feel valued and accepted.
Friendliness has flooded the halls of Carl Junction's intermediate and junior high schools since two student-led organizations have implemented different kindness initiatives in their buildings.
Whether it's just giving a student simple words of encouragement or helping someone carry their books, the staff and students are saying the kindness challenges are becoming more popular. A group of seventh and eighth graders at the junior high recently formed a kindness club called KREW, which stands for Kids Recognizing Everyone's Worth.
Every Friday morning, students in KREW arrive at school early to hold open doors and greet their peers with high-fives or display signs with uplifting messages. Addison Carroll, 13, an eighth grader in the club, said the kind actions are spreading rapidly throughout the student body, which is one of their goals.
"Kindness has a domino effect," she said. "It starts really small, but eventually we could have a whole generation of people who are kind, loving and genuinely care about each other."
Amanda Rich, KREW adviser and special education teacher, attended a training session last year about ways to implement social and emotional learning. A few activities were started by the staff, but Rich said it never fully took off until Scott Sawyer, the junior high school principal, asked her if she would spearhead the initiative.
Benefits of kindness
Sawyer said students gave him enthusiastic presentations on project ideas for KREW. Because the club is student-driven, it's more effective and resonates more with their peers, he said.
"Some of our best ideas are coming from our students, and when students are able to contribute that way, they get a level of buy-in into their building and into their education that I think is infectious with the other kids," he said.
KREW has 16 students divided into three groups focusing on welcoming pupils, mentoring other students and sprucing up the building to make it friendlier. Youth ministers and volunteers from area churches and organizations have stepped in to contribute as positive adult role models.
"The welcome team, they want their classmates to feel welcome and excited to start the day," Rich said. "They also want to look at changing some of the physical aspects of the building. We're going to get together with the art club and see if we can do a couple more murals. We're designing some posters to put in bathrooms with quotes about random acts of kindness."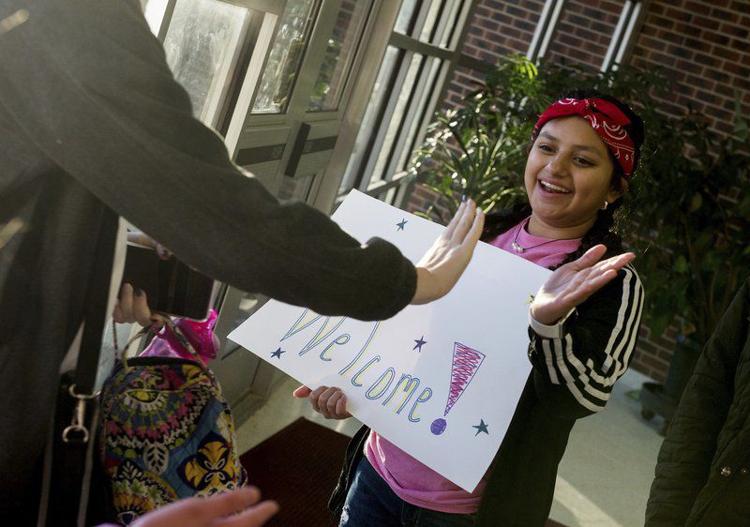 Research has shown scientific and psychological benefits to kindness including the release of oxytocin, the "love hormone," and the decrease of things such as stress, anxiety, depression and blood pressure. By teaching children to be givers of kindness, it increases the feelings of well-being and happiness, improves friendships and reduces bullying, according to Marilyn Price-Mitchell, an author and developmental psychologist and researcher.
Luke Battagler, 13, joined KREW because he thought it would be a fun experience to help others. He was one of several students Friday morning holding up signs and welcoming students as they entered the junior high.
"Whenever a new student comes, we go to each class, show them where their lunch is, and then we're doing fundraisers to get shirts and supplies to give to them as a gift when they come," the eighth grader said. "It seems to make people a little bit happier when they get here."
Younger students
A similar group formed at the Intermediate Center three years ago for fourth, fifth and sixth graders. Principal Gretchen Demasters said her school's version of KREW is called the Student Vision Committee, which is made up of two students from each class who assist with kindness activities all year long. It has more than 100 members.
"Last year as a group, they came up with an 'I need' box, where a box was put into every room, and if there was a kid who needed some pencils or someone to sit with at lunch, they can anonymously slip that in," Demasters said. "The students in the Student Vision Committee are checking that box throughout the day to make sure they help get that need met."
This quarter, pupils are participating in random acts of kindness challenges as a reminder that it doesn't take a lot to be kind, Demasters said.
"They started walk-up days where every Monday they walked up to someone and met someone new," she said. "Hopefully, this helps incite some of that intrinsic motivation that we're hoping to start seeing at this age. Academics is really important, and I want them to work hard, but I also want them to learn to be nice and get along with others."
Maggie Stone, 11 and a fifth grade member of the Student Vision Committee, said she joined because she wants to help inspire people to be kind to others.
"It's pretty cool how we inspired the junior high to do their own, and it's something I could get involved in when I graduate" from the Intermediate Center, she said.
Dallas Hooker, 11, is one of the student leaders in the Student Vision Committee. Kindness challenges proposed this month included encouraging pupils to sit with someone new at lunch, he said.
"I hope they feel welcome and feel like they do have friends, even when they feel like they don't," Hooker said. "It's helped a lot."