CARTERVILLE, Mo. — Although there are hundreds of recommended stops along the length of Route 66, Patricia Silvestre set her sights on a tiny building in Carterville.
"This is the real America," she said, sitting in the corner of Larry Tamminen's ice cream shop and Superman memorabilia museum.
The red, yellow and blue-themed building has become a popular attraction for international Mother Road enthusiasts as they trek from Chicago to Santa Monica, California.
"We prefer the small villages," Silvestre said in accented English. Accompanying Silvestre, a 41-year-old from Oeiras, a suburb of Lisbon, Portugal, on the trip were husband Nuno and 10-year-old daughter Constanca. "We want to know the real American culture, the real American people" and not, she added, the Hollywood version of America.
While the size of the United States hasn't surprised her — she studied America for a year before crossing the Atlantic Ocean to Chicago to begin their 10-day trek — its people have. She has become enamored with Americans, based on interactions in the Midwest.
"The people, the American people … you are very, very nice. In Portugal they say, 'Americans not very nice' — no, you are very nice. Everyone talks to us. Everyone smiles."
Before departing, Silvestre penned a note for Tamminen. It read: "Without persons like you, the Route wouldn't be the same."
Kind gesture
Tamminen will tell you that Carterville's Main Street has become an "international road" and that "all countries come through (his) front door."
Now in his 13th year of operation, he said he gets 1,000 foreign travelers on Route 66 between June and September each year.
Richard and Carolyn Holmes, from Lincolnshire, England, visited last month. Tamminen's shop, Carolyn Holmes said, was a must-stop on their road trip itinerary since day one. Unfortunately, they arrived when the store was closed. Tamminen, mowing the grass out back, spied the couple peering through the shop's front window. He unlocked the building to give them a personal tour.
That gesture, Carolyn Holmes said, "is what we have found along the route — kindness (and) service with a smile."
She said international travelers are fascinated by American history and that everyone wants a piece of that happy 1940s-style road trip.
Route 66 "evokes memories — seen on screen — of America as she was, families on road trips, staying in motels, eating at diners, seeing sideshows and eccentric museums," she said, "a slower pace of life, family-centered, and without the current stresses and strains of modern day living."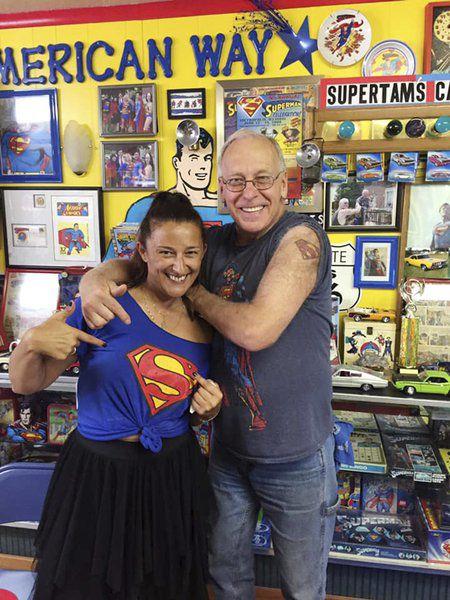 Marian Pavel, who visited Supertam on 66 two days earlier, said he fell in love with middle America during his first trip on Route 66 in 2016. During that trip, the Bratislava, Slovakia, resident traveled long stretches of road "where you won't meet another person for a long time, and (can) enjoy the bliss solitude with the wind in your hair."
To help out his fellow international travelers, he created the first mobile phone Route 66 navigation app, called Route 66 Passport.
"Route 66 is fascinating for many reasons. It is extremely diverse, you go through eight states in the U.S., nature and landscape change every day, right in front of you," Pavel said. "I am fascinated by the fact that almost 100-year-old roads have been preserved, as well as many bridges, buildings (and) places. The ghost towns, various historical sites, car wrecks on the side of the road are also extremely attractive, (creating) an unrepeatable mix that gives you many beautiful experiences on the road every day.
"But I am most fascinated by people who live on Route 66 or run a business. Their stories, hospitality, charms of meetings, random small talks and strong friendships for rest of life are (all things) why I always have a strong desire to return. Route 66 is unreplaceable — no other place in the world resembles it."
China connection
Since Tamminen opened Supertam in 2006, his most frequent international travelers have hailed from China.
On their way to California from Chicago, hundreds have stopped to say hello, shake Tamminen's hand and snap countless pictures of his Superman collection.
Chinese travelers will often tell Tamminen: "You know what?' You are famous in China." There's a hint of pride in his voice when he tells this story to others. "I'm probably on TV in China somewhere," he said.
Route 66 is so popular among the Chinese tourists, Tamminen said, that their government created a sanctioned Mother Road map to use while traveling in the United States. His tiny Superman museum and ice cream parlor is one of 14 "official" stops listed for the Show-Me State.
"I'm the only stop for the Chinese traveler in Southwest Missouri that's actually on Route 66," said Tamminen, a former board member of the Route 66 Association of Missouri. "And I'm the only (local) stop where they can come in, stop, relax and talk.
"The Chinese are fascinated by the American roads and American homes and the backyards," he said. "They are a very giving, caring people."
In the back of his shop, next to the freezers where he keeps his famed ice cream on ice, he proudly displays gifts he has received from Chinese travelers. There's a boxed bottle of beer from Beijing, a wooden toy kite from an annual kite-flying festival, a good luck charm purchased from a street vendor in Tibet, tea, and packs of cigarettes, though Tamminen isn't a smoker. He also has been given Chinese money, both coins and bills. He'll use that money, he said, to buy ice cream when he visits China one of these days.
"I've fallen in love with the Chinese," he said. "They come in here, they're glad to see you, they're just as nice as the dickens. Chinese people are much more respectable and polite than we are."
Salutations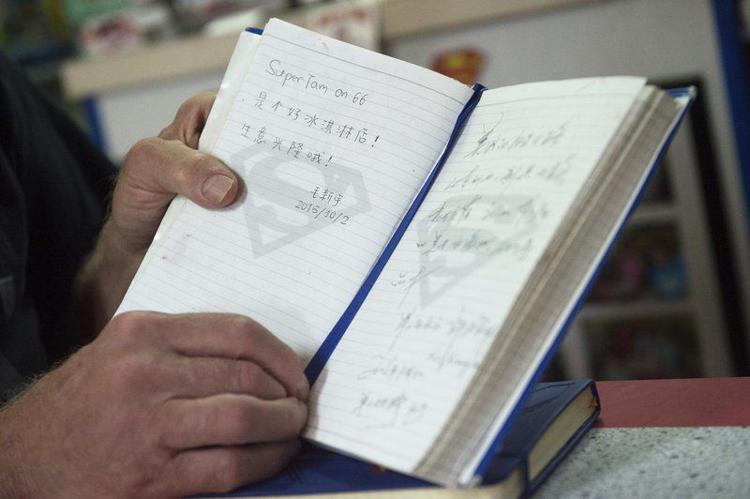 Tamminen asks each visitor, whether hailing from Holland or Hoboken, to sign his guest book. His first international traveler was from Kawasaki, Japan, on May 7, 2007. In October of that year, the Collins family from Liverpool, England, stopped to say hello.
A South Korean, Eungio Oh, sampled ice cream on Oct. 8, 2007, and found it delicious.
"I hope I am furthest guest to visit," Oh wrote in English, adding sketches of the South Korean flag and an ice cream cone.
Other visitors have come from Brisbane, Australia; Paris, France; Newcastle, England; Zelenograd, Russia; and Krakow, Poland, to name just a few.
Johanna and Alarik Hagland, an astronomer and lawyer, respectively, from Sweden, visited in 2011. "Fun times," they wrote." Had a really good conversation and enjoyed it. Really awesome."
More visitors followed, from Portugal, India, Norway, New Zealand, Ireland and Canada.
The most famous visitor to walk through Supertam's front door was a friendly man named Mao Xinyu from China. "Nice place you have here. Good luck in the future," he wrote in Chinese, but also penning "Supertam ice cream" in English. Tamminen said he knew next to nothing about the man until future Chinese visitors spied the signature in the guest book and "lost it."
Mao Xinyu is the grandson of Mao Zedong, the former chairman of China who died in 1979, Tamminen said. Mao Xinyu, a major general in the People's Liberation Army, traveled the length of Route 66 as a tourist — though he had a driver and sat in the back of the car.
"He's a big guy, they'll tell me," Tamminen said of his Chinese visitors, who will often take pictures of Xinyu's signature. "They're thrilled that (Xinyu) stopped here in Carterville."
Last month, Abby Winfield and her father, from Sheffield England, visited Supertam.
"What's great about Route 66 is that it allows all these magnificent businesses and shops to exist — and that's what makes the journey," she said. "We loved the shop and the ice cream was to die for but it was chatting to (Tamminen) that made it special. To hear the passions and interest and lives of other people and hear the passion they have (for Route 66) is amazing."
'So dang fun'
Initially, Tamminen's sole purpose in opening up his business was to show off his Superman collection and share it with other enthusiasts. He later added the ice cream parlor to give visitors an incentive to stay.
"I just didn't think I would be meeting people from all around the world and be a destination spot on a Chinese (tourist map)," he said with a chuckle.
"I believe I'll live a couple of years longer because there's no pressure and what I do is just so dang fun."