CARTHAGE, Mo. — Carmen Wilkerson came to the United States from Mexico in 1988 to meet the man she had been corresponding with via mail. They had formed a relationship, and a few months after arriving they were married.
Wilkerson's journey first took her to Oklahoma, where she worked at a poultry plant as a legal resident.
"I went to work in a chicken plant because I didn't know English, then I wanted to work in the office, so I had to learn English," Wilkerson said. "Then it was easier for me to communicate. Then when I was working in the office, there were people more qualified and I said, 'They're going to take my spot.' So, I decided to go and get my high school GED, so I felt more confident."
Five years ago, Wilkerson and her husband moved to Carthage to help her daughter care for two children.
When her husband became sick for a time, he asked her what she would do if something happened to him.
"He said, 'What will happen to you if something happens to me?'" Wilkerson said. "I said, 'I'll just go back to Mexico.'"
For years she continued living in the area as a legal resident with a green card, but with more time and expense involved in renewing that card and a deadline looming in 2020, Wilkerson decided to take the next step.
She became a U.S. citizen, with help from citizenship classes at the Carthage Public Library.
She is one of 20 who have used the class over the last few years as a pathway to citizenship. Some of those graduates and their families gathered Saturday at Carthage Municipal Park to celebrate their accomplishments and renew friendships.
"I decided instead of renewing it (green card), I'll just go ahead and study for citizenship," Wilkerson said. "And then one day I went to the library and saw the sign on the board that they were giving classes. I don't know if I would have gotten my citizenship if I hadn't seen that sign."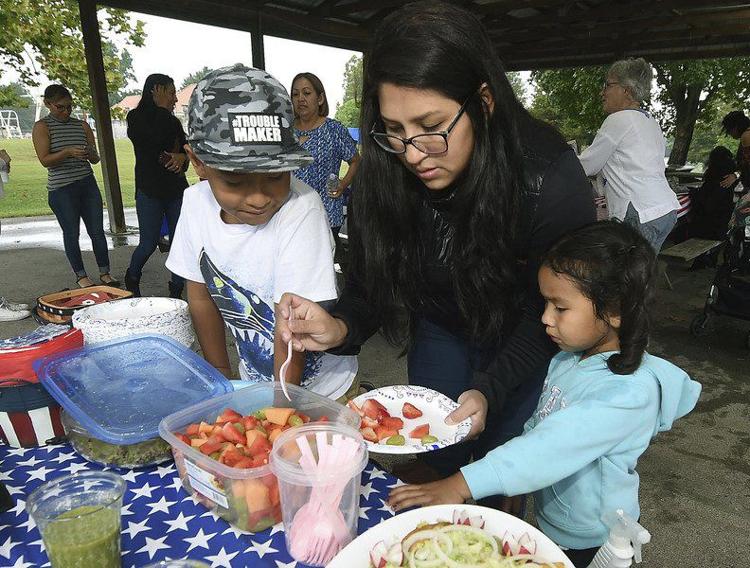 Celebrating success
Pat Wakefield and Rhonda Wyrsch, two teachers in the class, brought books they had made featuring each of the 20 graduates and pictures from their citizenship ceremonies.
Wakefield and Wyrsch said the classes are not regimented, and they focus on material the students need to understand the citizenship process and pass the tests. But they also teach other things that students want to know.
"Last week, I don't remember what our plan was, but we didn't teach to our plan. Someone had a question about the branches of government so we just talked about those. It was interesting to them," Wakefield said. "Then something came up about contractions — "we're," "you're," "your" — and one of the students said, "I just don't understand that." So next week, guess what we're going to talk about? We look inside their heads and discover what they need."
Carthage Public Library Director Julie Yockey said the program is unique.
"There is not another public library in our state that offers this program," she said. "And remember, we live in a very unique community, with almost 40% Hispanic population."
The Kent D. and Mary L. Steadley Trust provided $60,000 over the first three years of the Carthage Public Library's citizenship program for books, technology and other needs. The Missouri State Library Board provides $10,000 a year to sustain the program.
Wakefield came to the library in 2016 to start the citizenship programs after years as a public-school teacher. She was one of the first teachers to focus on helping immigrant students when they started streaming into Carthage nearly three decades ago.
"I taught in Carthage from 1990 to 2002, then again I came back in 2009 and retired," Wakefield said. "When my husband was in the U.S. Air Force, we lived in Panama for a year and a half and I learned a little Spanish. Twenty years passed and I never spoke a word of Spanish. I was an elementary teacher in various places because of the Air Force. Then in 1993 these kids started coming to Carthage and I had one who didn't speak English in my third grade class. I began to take courses in multicultural learning, and from that I was involved in a grant to get my ESL (English as a Second Language) certification."
Wakefield said in her first year the number of immigrant students who needed help with English grew from four to 60. The second year she started with 100 students, and by the end of that year the number grew to 300.
"When I first started, all of my students were new immigrants coming to Carthage, they needed me, and I was it for Carthage," Wakefield said. "We were like a family; I had eaten in every one of their houses. It was different from now. Now the Hispanic community has its own churches, own neighborhoods, their own stores. They have a network."
Wyrsch joined the program soon after it started. She had been a teacher in Webb City for 27 years before becoming certified to teach English to students who spoke other languages.
Wyrsch said a trip to Japan as a Fulbright Scholar in 2001 changed her outlook on life and teaching.
"I had always had an interest in people from other countries," Wyrsch said. "I was in Japan for three weeks with 100 teachers from the United States, two from each state, and when I looked around I thought, 'I can't read anything here, I can't understand anything.' If I ask a question, I have to hope maybe they speak English, and it led me to an even bigger interest in kids who might have this problem in our school. I came back and there was a grant through (Pittsburg State University) where you could get your ESL certification, so that's what I did."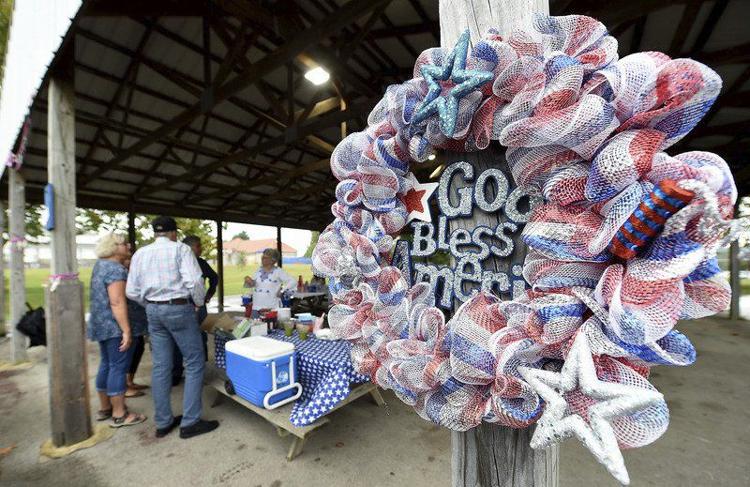 Longtime resident, new citizen
On Saturday, Wilkerson's daughter, Micaela Wilkerson, also of Carthage, brought her two young sons to the celebration. She said she was proud of her mother for her accomplishments.
"She studied so hard and she was so excited," Micaela Wilkerson said. "So were we, we were glad we could be there with her to celebrate it. It's a process, it's hard. I was thankful she was able to become a citizen, especially with everything going on in the country, it's so hopeful now."
Carmen Wilkerson said becoming a citizen gave her new confidence and a more secure future.
"There was something inside that said, 'I did it.' I felt accomplished," Wilkerson said. "I went to classes for a year to do this. Becoming a citizen gives you confidence. You can work wherever you want to work, and as old as I am, I'm assured I'll have the benefits of being an American citizen."