CARTHAGE, Mo. — Randy Ridings has already completed what most people would call an epic adventure, but he's not done with it, and he's determined to finish.
Ridings has traveled nearly 3,000 miles over the past two summers in a human-powered amphibious vehicle he and his father, Jim Ridings, of Oronogo, built.
Randy Ridings calls the vehicle a quadyak — it's a kayak on an aluminum frame with four wheels that can move almost seamlessly from land to water. And his journey isn't finished — he has about 1,000 miles to go.
Ridings' goal for the journey is to travel across the U.S. diagonally, from northwest to southeast, using roads and the rivers that run from the mountains to the Gulf of Mexico.
He left Newport, Oregon, on June 6, 2018, and traveled 2,400 miles in 80 days to Hutchinson, Kansas, in that first summer before returning home to Carthage. He resumed the trip this past summer, traveling another 400 miles along the Arkansas River through Kansas and Oklahoma to Ozark, Arkansas, and the inlet to Lake Dardanelle.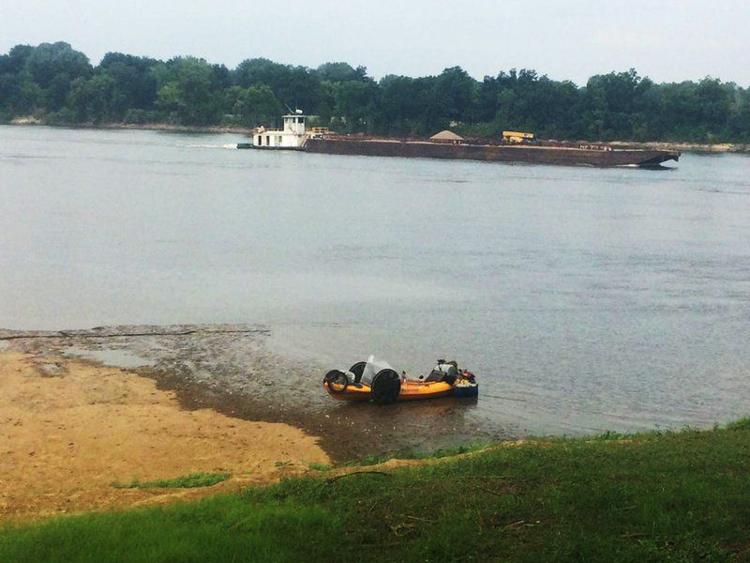 Next summer, he plans to travel the last 1,000 miles down the Arkansas River to the Mississippi River, then travel overland across Mississippi to the Pascagoula River and south to the Gulf of Mexico. Then he'll travel east along the coast of Mississippi, Alabama and Florida, cross the northern Florida peninsula and end up on the Atlantic coast.
"I did 2,400 miles last summer, which is the same distance as from California to South Carolina," Ridings said. "... I'm doing a diagonal trip to maximize my use of water. If you go diagonal from northwest to southeast, you get to the middle of the country, and you can start catching the rivers that eventually flow to the Mississippi and then down to the Gulf. In order to make it a true amphibious trip, I wanted to do it diagonally, so the whole trip is going to end up being closer to 4,000 miles."
The quadyak
Everything is a compromise on Ridings' homemade quadyak. It's heavier and harder to handle in water and on land because it has to keep the characteristics that make it work on both.
"When you make an amphibious vehicle, you have to compromise," Ridings said. "It's never going to be as fast on water or on land as the fastest thing you could make on water or on land. It has to be rugged. I beat that thing up."
Ridings said a typical bicycle with a rider traveling across the country with supplies and gear can weigh about 250 pounds. A kayak with a person, gear and supplies for a long float can be about the same.
"The biggest challenges were climbing roads in the mountains because it's a very heavy rig," Ridings said. "It weighs about 150 pounds empty, closer to 220 pounds once I load it with my food, water, clothes, camping gear, tools and all that. I weigh about 200 pounds, so I'm going down the road at about 420 pounds. Pushing that over the Rockies was tough."
Ridings said he had trouble with flat tires on the trip because the rig uses standard bicycle tires on a vehicle that's almost three times as heavy as a standard bicycle. Also, he was riding in scorching summer weather in Idaho last year, and the patches he'd use to repair flat tires would melt in the heat.
In Nebraska, he was trying to use the North Platte River for much of his trip, but he discovered there were irrigation dams every 10 to 12 miles on the river. After portaging around a couple of these dams, he gave up and returned to the road.
During the summer of 2018, Ridings used a recreational vehicle as a base. He'd drive the RV ahead about 200 to 400 miles, then either get a ride from a stranger or pay for a bus ticket back to where he had stored the quadyak and ride to the RV.
That meant trusting people he had just met with either his experimental quadyak or his RV.
"I kind of nicknamed this trip the 'kindness of strangers tour,'" Ridings said. "Everywhere I went, I met people who helped me out. I would meet people in cafes that would let me park my RV at their home, give me a shower, cook me a meal.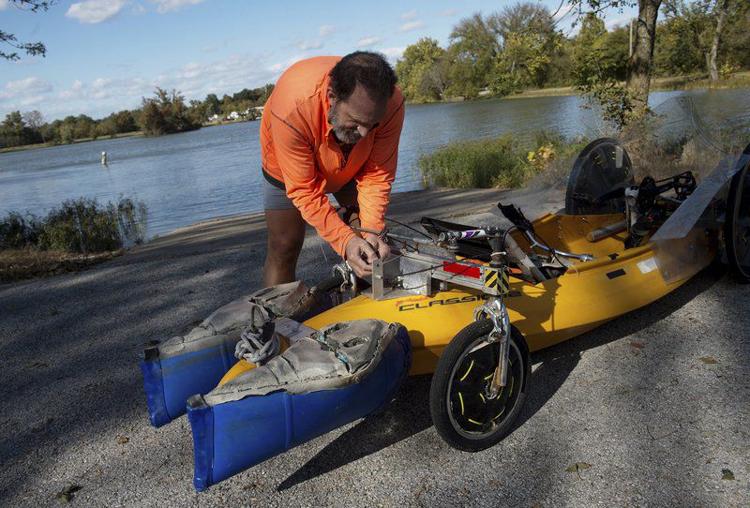 "I went into one (bike shop) and I said, 'I need to work on this thing; I need to take this axle apart, and only I know how to do that. Could you give me just a corner to work in, and I'll take it apart? And as I find broken stuff, I'll buy it from you, and you can help me get it back together.' I'd work all day in that bike shop, finding stuff that was messed up, then at the end of it, the people who owned the bike shop took me home and had me sleep on their couch and cooked me breakfast the next day," he said.
Perfect tool
Ridings said he's always wanted to make a splash with some kind of epic adventure.
"I'm 55 now," he said. "I told my family when I was 49, 'I'm turning 50, I'm going to do some epic trip, I'm going to walk the Appalachian Trail or bike across America or something like that.'"
He looked at trips other people had made. When he got the idea to build the quadyak, he realized he had the perfect tool for his trip.
"The thing I didn't know was whether or not I could do it," Ridings said. "I was worried that my legs couldn't handle it, (and) my lungs. I had asthma; I only have 70 percent of my lung capacity, and I mostly worried that I wasn't going to be physically able to do it, that I had let my window pass for me to actually be able to pull something like this off.
"The funny thing is I don't think I could do the Appalachian Trail. Ankles and feet — I just have some problems with them that I can't walk that kind of distance with that kind of weight on my back anymore. But I can sit and pedal for 14 hours straight no problem, because I've done it."