CARTHAGE, Mo. — Carthage High School art students are putting the final touches on a project that will represent Missouri on a national stage.
Students in Mallory Kaysen's 3D Design class are working on large ornaments that will hang through the holiday season on Missouri's tree, one of 56 smaller trees representing the 50 states, U.S. overseas territories and the District of Columbia that will surround the National Christmas Tree in Washington, D.C.
The students this week are finishing 24 grapefruit-size plastic globes for shipping to the National Park Service in Washington.
Kaysen said the project came in at the last minute but was too good of an opportunity to pass up.
"It was challenging to incorporate this project into my lesson plan," she said. "It came up in August, but it was such a cool opportunity for my students to represent our school and represent Missouri that I wasn't going to say no."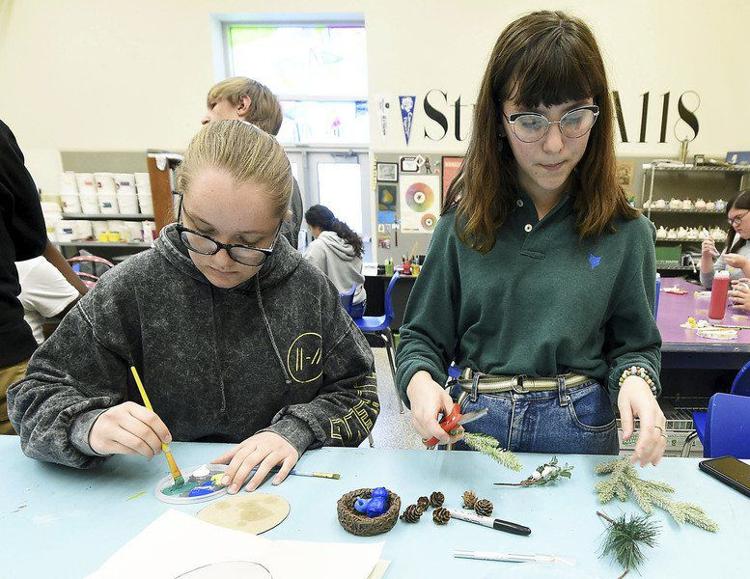 Planning and construction
Kaysen said the park service shipped the clear plastic globes for the students to use to the school about a month ago.
The students researched Missouri landmarks and themes to decide how to make their ornaments. She said the students used polymer clay to create landmarks and scenes representing Missouri to put inside the globes.
"They all came up with different designs," Kaysen said. "I said they're Missouri-themed. The students submitted four different designs, and we talked about which one was their strongest design. We tried to diversify and not have a bunch of Gateway Arches, so we had to do lots of research, and we learned a lot of facts about Missouri, too."
Kaysen said the project incorporated research into Missouri history, geography and math.
"We had to do a lot of measuring to make sure the creations fit inside the globes," Kaysen said. "I think they've got to practice a lot of collaboration, too. Probably at least two or three kids have worked on each ornament."
Tom Jones, who retired as an art teacher after 30 years in Jasper and Carthage before returning to Carthage as a counselor, said he's never heard of an area school getting a chance to help with the National Christmas Tree.
"This is a big opportunity — I don't think the kids are aware of how big a deal this is," Jones said. "I think it's an awesome opportunity for them to showcase Missouri talent."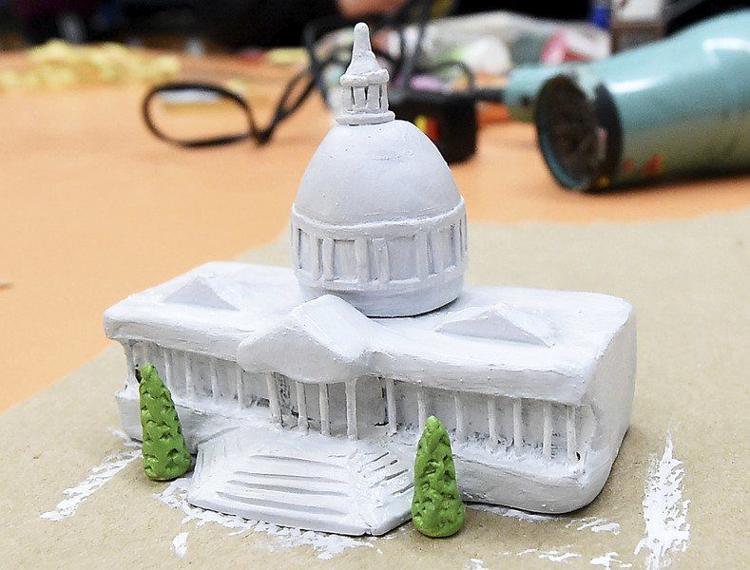 Ornament ideas
Senior Alex Hernandez said he thought the project would be simple, but he put more thought and work into it than he expected.
"When I heard we were going to do this, I actually got an interest in it," Hernandez said. "... I was thinking, 'I'm going to make something simple.' It was a little harder than I thought. It just takes time. Almost two weeks already just to make it, that's longer than I expected."
Hernandez's ornament features a representation of a local landmark, the Praying Hands sculpture created by artist J.E. "Jack" Dawson in Webb City's King Jack Park.
"It's a really creative sculpture, and whoever made it actually took the time to put a lot of detail into it," Hernandez said. "I was impressed. I travel to Webb City a lot, and I always go past that park where the Praying Hands are, and one day I decided to get out of the car and actually go see it up close."
Marli Perry, a senior, assembled a globe featuring a sign inside that played on the ways people pronounce the state name. Inside the globe was what looked like a billboard that said "Missourah" and "Missouree."
Perry said she has no doubt in her mind how the word is pronounced, but her teacher gave her the idea to play with pronunciations.
"I've heard people say 'Missourah,' but I know it's 'Missouree,'" Perry said. "I had the idea to put these lights at the top and have this sign with 'Missouri' on it. She added the idea of putting the pronunciations on it."
Perry said she was excited about the project but nervous when she made her globe.
"I was really surprised," Perry said. "I mean, we're Carthage, and Joplin is more well known than Carthage, so I was surprised that our school got picked. I thought it was really cool."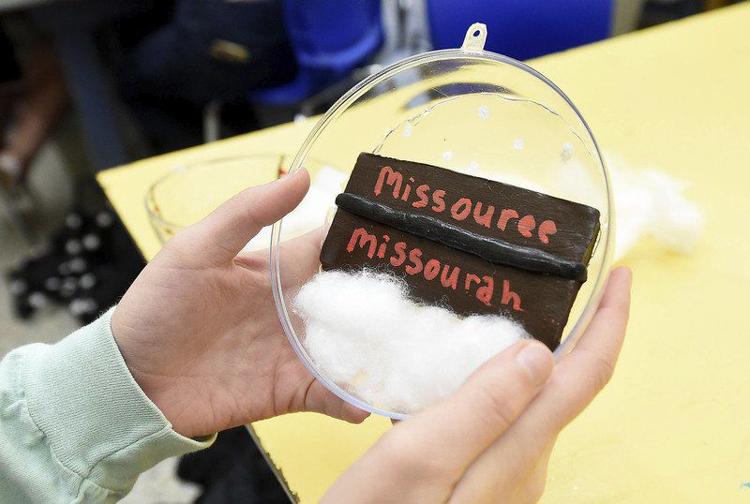 Present and past
Lily Sullivan, a senior, put together a scene one might see driving into Missouri at the state line but with an ancient twist.
"I wanted to do an entrance to Missouri, what kind of stuff you see, so I painted the road and the Missouri sign and the Route 66 sign because Carthage is Route 66," she said. "I thought it was too boring, so I wanted to do something else, so I thought about something like a little cave because we have caves under Carthage. Then I looked up different fossils that have been found, and I really couldn't find much about fossils in Missouri, so I drew random skeletons. I wanted to put in there so that was what you saw under the road."