CARTHAGE, Mo. — At this time during a normal year, a sea of large tents would cover the grounds on Grand Avenue between Highland Street and Fairview Avenue, and the community would be abuzz about seeing friends and enjoying the food from a land far from the middle of America.
But Marian Days, the religious festival that brings tens of thousands of Vietnamese Catholic pilgrims to Carthage, won't happen next month for the first time in 42 years because of the coronavirus pandemic.
The community is already tallying the toll in lost revenue and lost opportunities to mix with friends they normally only see for one week a year.
"I grew up on East Fairview directly across from the street from the campus" where Marian Days is held, said Stephanie Cummins, of Webb City. "We would have families that my parents allowed to camp in our yard and then, in a few cases, allowed them to use the electricity from our house. I grew up with Marian Days being more than a religious ceremony for the Vietnamese. I grew up with it being a festival for the whole neighborhood. I think its value is more than just an economic impact on our community. I, for one, will miss participating this year."
The Rev. John Tran, provincial minister of the Congregation of the Mother of the Redeemer, said there was no choice but to cancel Marian Days, although its cancellation leaves a hole in the ministry of the congregation. He had announced the decision in April.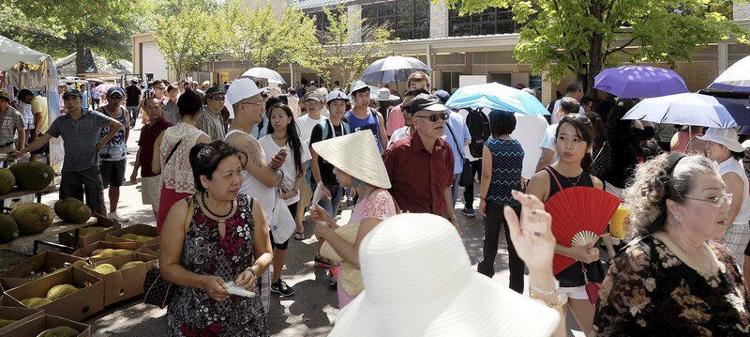 "It's a big loss for us because it's our main mission to the community to spread the gospel, the love of God and the love of Mary to all the people," Tran said. "This year, we don't have it, and it's hard after 42 years; it's a big stop for us. A lot of people called in and asked why we canceled it, and we send our message that the safety and the health of the pilgrimage is our main concern."
Tran said he's glad to have called off Marian Days early after seeing current outbreaks in Jasper County and in Texas, Florida and California, where many Marian Days pilgrims live.
"We are doing short clips online of Marian Days past to help people," Tran said. "We don't have the event, but we hope everyone will come together in spirit to pray for the world, pray for America, pray for Vietnam and pray for all family members. Just like every year, we are calling on people to do that, and we invite them to take a spiritual pilgrimage (and) meet in spirit."
Sales tax loss
The economic impact of canceling an event that brings an estimated 100,000 people or more to Southwest Missouri is hard to calculate, but officials say it's real.
Mark Elliff, president of the Carthage Chamber of Commerce, said the city may receive more than $150,000 in sales tax revenue from people coming to the festival. Much of the shopping happens at big-box stores such as Walmart and Lowe's Home Improvement, and at some of the fast-food restaurants in the south part of Carthage.
Law enforcement officers and other emergency personnel who work the massive security operation set up by the Carthage Police Department to cover the event typically benefit from some extra income during the festival.
Police Chief Greg Dagnan said his department sets up more than 400 six-hour shifts to cover the event, and officers receive $25 an hour to work those shifts. The Congregation of the Mother of the Redeemer reimburses the city for about three-quarters of the cost of that security operation, but for officers, that's a significant extra income.
"My husband, as a Carthage Police Department lieutenant, always worked Marian Days security," said Debbie Duncan, wife of the late Lt. Barry Duncan. "When our kids were young, we always used his income from that to buy our kids' back-to-school clothes. I know the income is a big boost for police, sheriff, fire and EMS workers from a lot of towns around here. The ones that work it count on it for extra income every year."
Dagnan said some officers would volunteer for multiple shifts.
"It really is a good amount of money, and there are officers who will take vacation from their department so they can just work as much Marian Days as possible because a lot of these departments don't offer overtime," he said. "The only chance they might get to work overtime is to work Marian Days."
Marian Days also usually provides extra money for the Fair Acres Family Y, director Jonathan Roberts said.
"Typically, in those eight to 10 days they're in our community, a lot of their families like to come out to the Y sometimes just to get out of the sun," Roberts said. "We offer free internet (and) showers as well as exercise alternatives, so we usually see a lot more day passes and visits during that week. It's significant for us. It's between $5,000 and $10,000 for that one week, so for us to make that back is not exactly easy, being a not-for-profit."
Lodging
Michael Goolsby and his wife, Jeannie, run the Grand Avenue Bed and Breakfast, located a few blocks from the festival. He said Marian Days was "a big part of our annual revenue."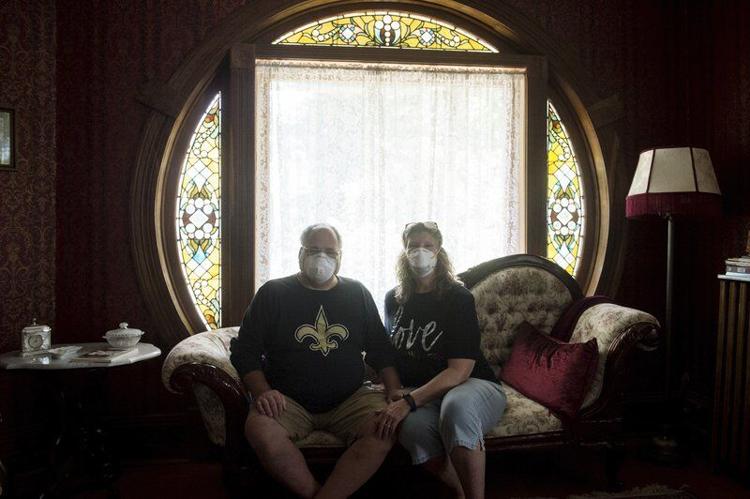 "We opened 23 years ago the day after Marian Days," he said. "The previous owner stayed through Marian Days and got all that revenue before selling to us. In fact, she wanted to move the closing date from Aug. 1 to right after Marian Days. We were new; we didn't understand why."
Debye Harvey and her sister, Priscilla Bledsaw, have been restoring the historic Boots Motel one room at a time for the past eight years. The sisters had planned to finish renovation of another room in time for Marian Days to capture the extra income.
"We've been full that weekend every year since we opened because of Marian Days," Harvey said. "We had people traveling Route 66 who would come in, and they were really surprised that there were no rooms for 50 miles around because of Marian Days. We actually were restoring an additional room this year because we had so many people who wanted to stay at Marian Days. They come back every year; they make their reservation as they leave."
Elliff said the impact will be regional because visitors to Marian Days stay at motels as far away as Joplin, Springfield and Northwest Arkansas. The impact is more than economic for Carthage, he said.
"There's the socialization impact with all those visitors who come to the community," Elliff said. "There are families that have come here for years and developed friendships with people here in Carthage. Not getting to see them in what's been an annual tradition, it's a disappointment. We also look forward to the boba (teas) and all the food, and we don't have that this year. It's more than just an economic impact — it also affects our community and our day-to-day lives."