Ashley Stokes already knows where she wants to focus her career: robots.
Specifically, she wants to use her knowledge of and skills in technology, engineering and math to enter the field of robotics, an area still largely dominated by men.
"I like to figure out problems and figure out, logically, how things work," said Stokes, a senior at Carl Junction High School. "I find the 'doing' process more interesting; I like seeing my work happen. And I love math — math is my thing."
Stokes is among the female students nationwide bucking a trend of young women opting not to pursue careers in STEM fields. Six out of 10 Americans are interested in pursuing STEM careers, but only 39% have felt encouraged to do so, according to the fifth annual STEM survey by Emerson, a global technology and engineering company based in St. Louis.
The company said the disparity is even more pronounced among women, where two out of three say they're not encouraged to pursue a career in a STEM field. Most attributed this to stereotypes against women and a lack of female role models in the field, according to the survey, which was released last week.
Local educators say many STEM subjects in area high schools and colleges are becoming more balanced between male and female students, but they continue to push for gender diversity in order to tap into the benefits that strong STEM fields can bring.
"Diversity of anything is important," said Karisa Boyer, a science teacher at Joplin High School. "Science is all about questioning things, so you need to have lots of ways to think about something to solve it."
Diversifying STEM fields
Even as demand for STEM careers increases, researchers and employers have long bemoaned the lack of women in such fields. Nearly a decade ago, a report from the American Association of University Women called "Why So Few?" documented how negative stereotypes about girls' ability in math can affect their performance and lower their aspirations for related fields over time as well as how bias, often unconscious, often limits women's progress in STEM.
"To diversify the STEM fields, we must take a hard look at the stereotypes and biases that still pervade our culture," the AAUW said in that 2010 report. "Encouraging more girls and women to enter these vital fields will require careful attention to the environment in our classrooms and workplaces and throughout our culture."
But progress has been slow. In 2017, the U.S. Department of Commerce reported that women filled 47% of all jobs but held only 24% of STEM jobs, and that more women held undergraduate degrees than men but made up only 30% of STEM degree holders.
Local STEM educators are determined to change those numbers.
"Science only excels when you have different people coming up with different ideas," said Jeanne Norton, an associate professor at Pittsburg (Kansas) State University. "If the goal is to solve a problem or invent a product or expand the knowledge base, you have to have people who think differently. If you have 50% of the population who aren't really participating in that, that's a lot of solutions that aren't being brought to the table."
Norton's mother was a physics professor, so she grew up doing science experiments and other hands-on activities that sparked a love for STEM. In college, she pursued degrees in chemistry and spent her summers working at a small-town hardware store, which furthered an interest in materials. She now works in PSU's plastics and engineering technology department, researching bioplastics and other environmentally friendly resources.
Norton said enrollment in her program by female students is around 30%, and she believes increasing that percentage toward the 50-50 mark will only benefit the field and the future research that could come out of it.
Marsi Archer, dean of the School of Arts and Sciences at Missouri Southern State University, agrees. Like Norton, her own parents had science backgrounds and encouraged her to pursue STEM; she now holds degrees in chemistry and inorganic chemistry.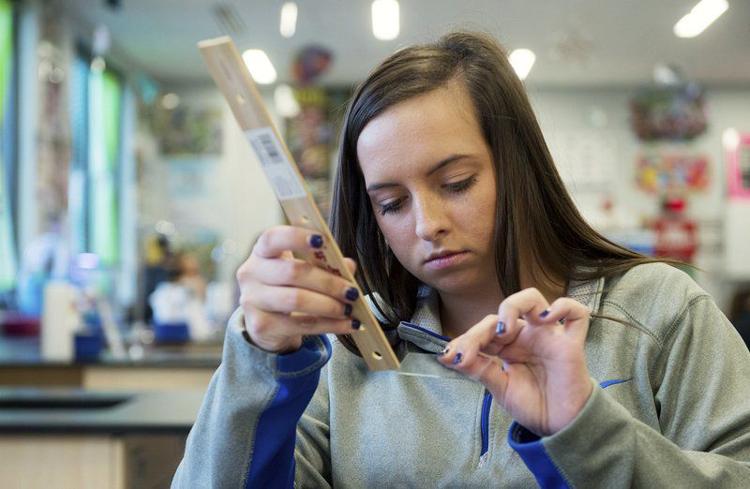 "My grandmother used to say that a lot of household appliances were designed by men, and what she meant by that was they were designed by somebody who wouldn't necessarily be using them," Archer said. "Having that diversity of backgrounds and views (in STEM) helps to design better products and helps to recognize that there are problems that might not otherwise be noticed."
Achieving gender balance
Some fields have already achieved a greater gender balance than in years past. The department of graphics and imaging technologies at Pitt State was founded more than a century ago as a male-only printing department, but today, its enrollment is about 52% female to 48% male, said Christel Benson, an associate professor.
Even so, educators want their students to be aware of that balance as they build their portfolio, she said — because once they enter the workforce, they'll be working for clients who are likely to be a different gender.
"There are times when we push them to diversify their portfolio (and ask them) to create a project that's not (marketed) to their gender," she said. "What colors would you pick? What fonts would you pick? They have to do a little more research in trying to get them not to fall into the stereotypes."
Young women in STEM also say they believe the imbalance between men and women is slowly changing and improving, thanks in large part to the women who have blazed the trail before them.
Sonakshi Soni graduated from Pittsburg State in 2014 with an advanced degree in engineering technology, and she now works in Michigan as a plastics engineer.
She knew early in childhood that the sciences were for her, but she had to make a way for herself in what was at the time a still heavily male-dominated field. In her college courses, only a handful of her classmates were women, and she had to convince a few potential internships to give her a chance.
"I don't think they mean any disrespect, but I think they see a lady and say, 'Let us help her,'" she said. "But I'm here to learn, and I can do it myself."
What helped her succeed was a strong role model and mentor — Norton, of PSU's plastics program.
"She's a woman, and she's respected in her field," Soni said of her former professor. "That really helped me see that's what I should achieve. People should look up to you, no matter if you are a woman or a man."
'Prove them all wrong'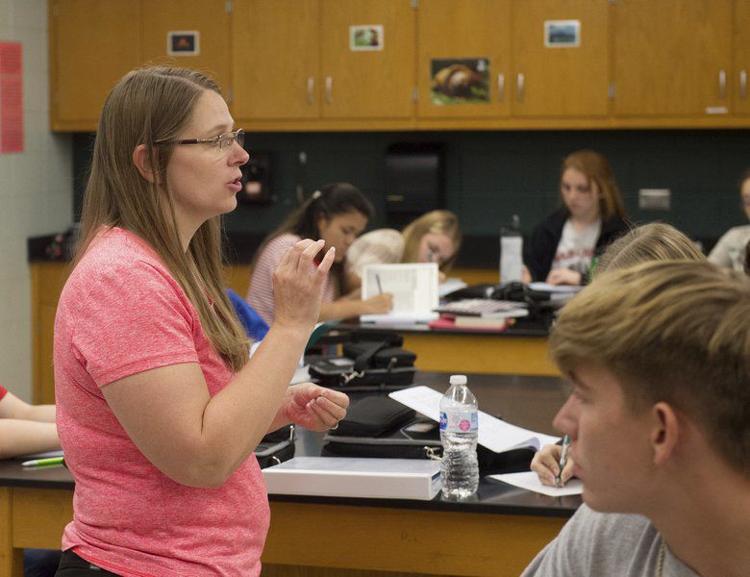 It was on a biology-centered study-abroad trip to Costa Rica as a Missouri Southern student that Dione Friel knew biology was her future career path. Now a science teacher at Carl Junction High School, Friel says her job is to connect her students with the aspect of biology that most interests them.
That included the female student who, upon enrolling in Friel's class, declared she didn't like science and would never like science. Friel took that as a personal challenge, and that student is now a pharmacist in Oklahoma.
"If I can find the one area they're interested in, then I've done my job," Friel said.
Friel said her goal as a science teacher is to ensure that all of her students — but especially the female students — feel confident in the subject. She also works hard to illustrate for them the broad range of possible career choices available to them in STEM, and she discusses with them notable woman scientists of the past, including Rosalind Franklin, whose work led to the understanding of DNA.
"I love it when I have girls in my classes (because) they bring a different viewpoint," she said. "I don't know why there's such a stigma that they can't do it — because they absolutely can."
Stokes, the Carl Junction senior, has already earned a certificate in programmable logic controllers through dual-credit courses from Crowder College, and this year she's pursuing a certificate for industrial maintenance technician. Ideally, she'd like to attend Missouri Southern to major in engineering technology and math, and eventually find a job that allows her to work with robotics — the kind you might see in a manufacturing plant, for example.
"I like the logic of them; I like being able to see the work happen," she said. "You finish a program, and you see the robot move."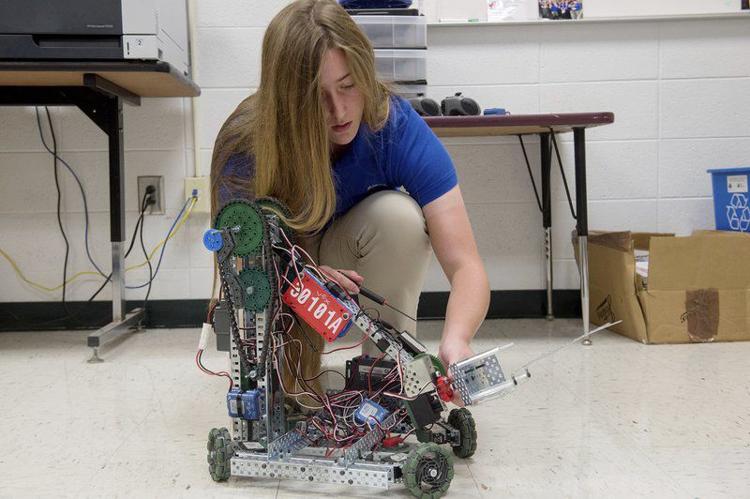 Stokes, also a national officer with the STEM-oriented Technology Student Association, grew up in a family that had long been involved with the TSA, so problem-solving and hands-on activities were a routine part of her childhood. But over the years, she noticed that her male classmates were overwhelmingly more interested in technology than her female peers. By her sophomore year of high school, she was the only girl remaining in her engineering class. She also was the only woman in her Crowder classes.
She's also fought a few stereotypes along the way. The first day she walked into an Introduction to Welding class, the instructor assumed she had never welded before. He was right, she said, but would he have assumed that of a male student?
"I just like to prove them all wrong," she said.