The completion of the long-anticipated trail project by Missouri Southern State University and the city of Joplin was celebrated with a ribbon-cutting Friday near Turkey Creek.
City and university officials had initially announced the project in February 2013 with construction slated for later that year. The estimated half-mile trail is fully paved and curves under shade trees.
"It's been going on for plus-nine years, which is a testament to how well the city and Missouri Southern work together, and we do that very well," Rob Yust, MSSU's vice president for business affairs, said at the ceremony.
The 10-foot-wide, asphalt-covered trail starts at the edge of the Regal Northstar movie theater property and stretches toward Missouri Southern's tennis courts near Green and Gold Boulevard. The trail can accommodate both cyclists and pedestrians, and it has solar-powered lights and 13 security cameras, which were added by the university.
"I didn't think this day was going to come, and it got to be a joke with the board every time I'd talk about it," Yust told the Globe. "We started this nine years ago, and I looked at my notes from the board meeting, and we had anticipated on finishing it in the summer (2014)."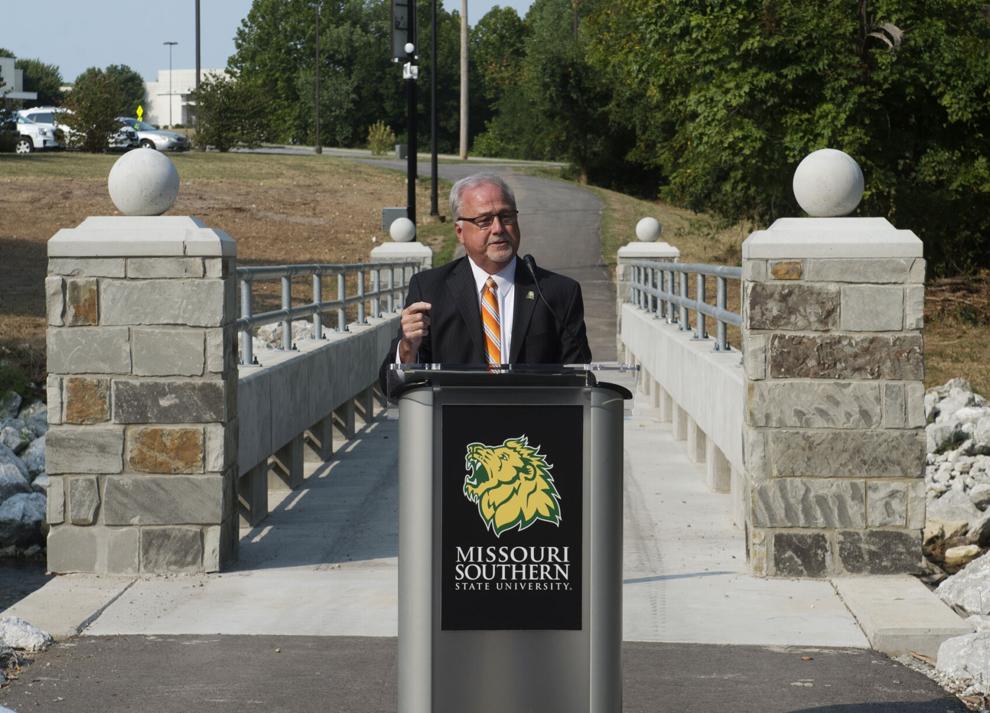 A heavy-duty 90-foot concrete pedestrian bridge installed over Turkey Creek on the trail allows students, faculty and the community to travel safely from campus to access shopping and restaurants. The goal of the trail is to create a safer pathway for students who won't be forced to walk or bike alongside heavy traffic on Newman Road or Range Line Road to visit a popular retail district.
"This was designed originally to expand the city's trails system to Missouri Southern and points eastward," Yust said. "We were looking for a better way to add safety for our students to be able to walk to the mall, to the theater and other places like that. The city did a fantastic job in securing a grant from the Missouri Department of Transportation. It was very much a collaborative effort from all parts."
Dan Johnson, the city of Joplin's assistant director of public works-engineering, said they had hit a few roadblocks with the bridge construction because of its location. That coupled with permission from landowners, comment periods and design issues delayed the project significantly.
"The biggest challenge on this trail was getting across Turkey Creek, which is a mapped stream," he said. "It's mapped by the U.S. Army Corps of Engineers as a flood plain, and we needed their permission to build this bridge across it. We ran into some problems early on with that."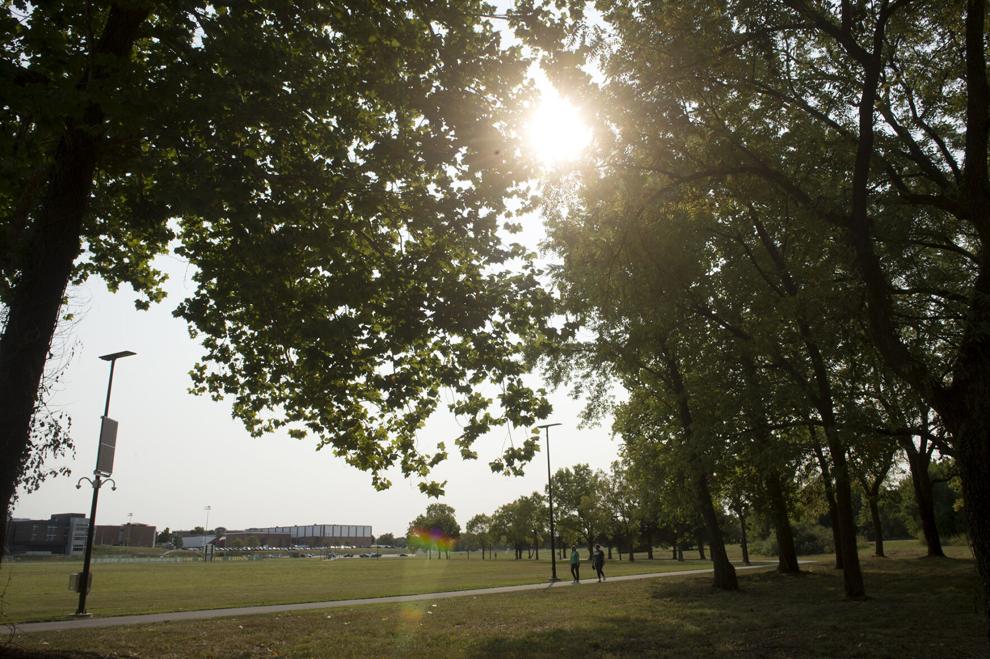 The $453,000 project was funded through a Federal Highway Administration transportation enhancement grant provided to the city of Joplin. Congress created the Transportation Enhancement Program in 1991 to ensure transportation spending supports more than just roads.
"It's been a great opportunity for the students in our community to be able to leave campus and get into our retail and commercial districts without having to use vehicles," said Keenan Cortez, mayor pro tem. "They can jump on their bicycle and be over at the mall or the movie theater in no time where they can take a walk and get a little exercise and then go over to the food court. This is a great deal and a great day for the city of Joplin. I'm so proud of how this turned out."
MSSU provided and installed the lighting while the city oversaw the construction of the trail and bridge. The federal funding provided nearly $273,000 for the trail, and the city paid the remaining $180,000.
"The city loved the opportunity to partner with such a diamond in our community," Cortez said. "Missouri Southern State University is one of those gems in our community that makes Joplin what it is, and that's an honor for the city to be able to partner with Missouri Southern to get this project completed."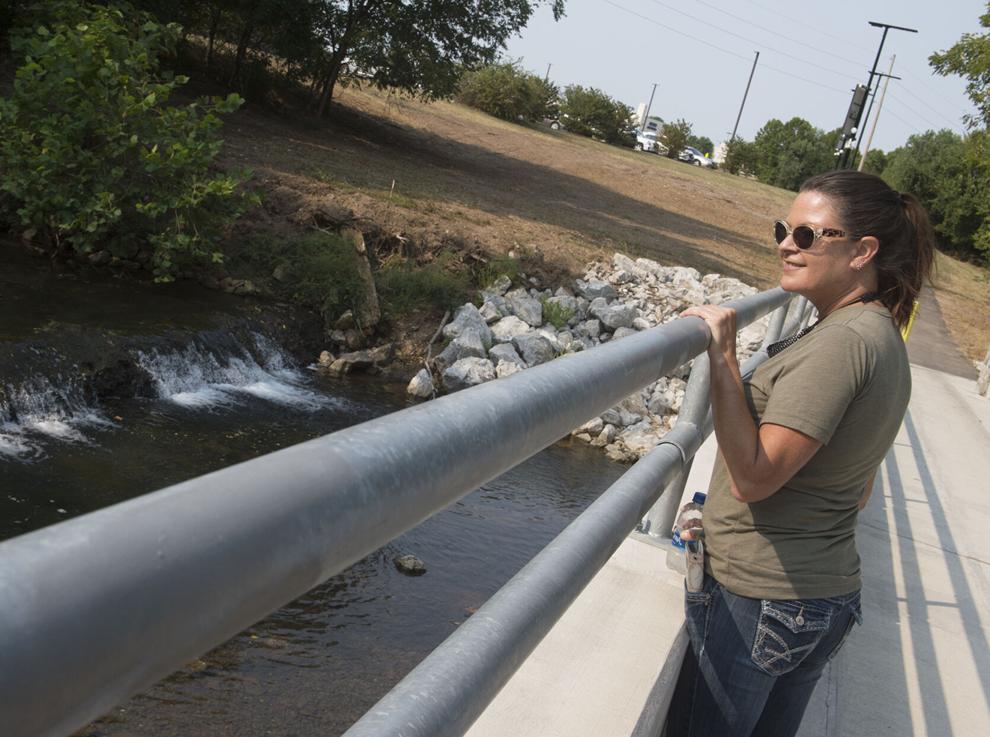 Exercise equipment will also soon be placed strategically along the trail by Missouri Southern, according to Yust.
Andrea Cullers, associate professor of kinesiology and co-director of the Lion Co-op, has served as a liaison with the area's community health collaborative and on the One Joplin Health Team, which focuses on increasing healthy weight, improving mental health and decreasing substance abuse. She said that the trail plays an important role in One Joplin's walking initiative for a healthier community.
"I'd also like to thank the Missouri Department of Health and Senior Services for awarding Missouri Southern a worksite wellness grant, and it's helping to fund the placement of exercise equipment along the trails," she said. "I look forward to seeing you all out here in some capacity — walking a dog, roller-skating, walking or enjoying a picnic under the trees. This is a great addition."