COLUMBUS, Kan. — Despite setbacks with the pandemic and weather, the Columbus community has kept the wheels turning on a project that honors a teen who died while attempting to rescue others.
Francis O. Reeves Memorial Park in Columbus pays tribute to Ian Qualls, a local 14-year-old who perished in a house fire while trying to save the lives of those trapped inside on Nov. 22, 2015, in Oswego. Charlene Sinclair, 71, and her daughter, Martha Clower, 49, also died in the fire.
Ian's Place in Reeves Park has been transformed into an all-wheels park that features concrete and wooden ramps, tunnels, obstacle courses, a mini yellow brick road, musical instruments and a moving sunflower sculpture. The park can be used by bicycles, scooters, skateboards and in-line skates.
A special event will be held for the public at 6 p.m. Thursday for the grand opening of Ian's Place, which is located near Sixth Avenue and East Walnut Street. A dedication ceremony will follow at 7 p.m.
Columbus Public Library staff will hold a children's activity, and there will be games throughout the park all evening. The event will feature four food trucks, including Maggie's Curbside Kitchen and Ghetto Tacos, as well as homemade ice cream and kettle corn.
The project, which is estimated to be worth approximately $150,000, was a communitywide effort and was funded through memorial and public donations. City Council members Jan Houser and Jerri Burton both serve on the Property, Parks and Pool Committee, which helped put the project in motion.
Creating the park
Burton said the idea was first brought up years ago and that money had already been donated for the effort, but the city was unsure how to move forward. The project eventually fell to the wayside, but it was resurrected after Burton mentioned it in a City Council meeting late last year.
"We already had money donated to start the skate park before Houser came on the City Council, but we just had no clue where we were going to get all of the money from," Burton said. "We originally thought we were only going to afford something like Baxter Springs has, but that wasn't good enough. We went a little further."
Houser and her husband, Wes, donated $50,000 for the park, the city contributed $20,000 and American Ramp Co. in Joplin also made major donations. Jerry and Susan Reeves Beggs donated the outdoor musical equipment.
"American Ramp said they're going to add a skateboarding area to honor this boy," Houser said. "It's really cool. It's a wonderful gift to the city, and they just got the sculpture put up (on Monday). American Ramp designed and built that sculpture. This is all done for Ian Qualls and his family."
The Qualls family will also be recognized along with project donors and principals during the dedication Thursday. Katy Qualls told the Globe in December that her son would have been thrilled by the park.
"I think he would be humbled that it carries his name, and I think it would be a place that he would've loved," she said at the time.
Houser said she purchased 18 bicycles and four skateboards for a giveaway contest. Sammye Opela, another City Council member, bought helmets for each one. Prizes of bicycles and skateboards will be awarded to winners of the art and essay contests hosted by the city. Live music will be performed, sponsored by Jay Hatfield Chevrolet and Mike Carpino Ford.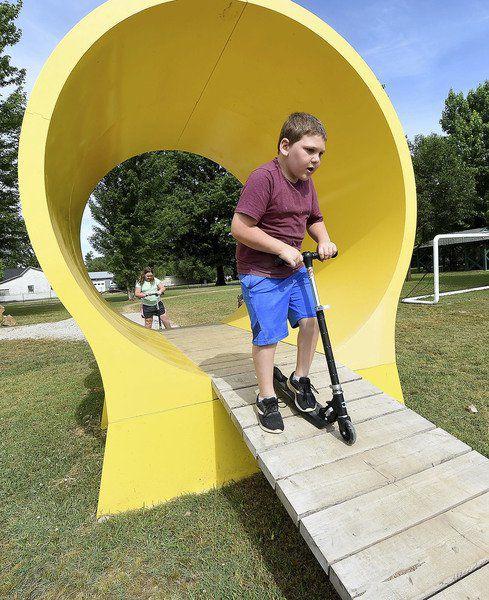 American Ramp plans to bring professional skateboarders and mountain bikers for demonstrations. Walmart on West Seventh Street in Joplin and True Value Hardware in Columbus also contributed to the cause.
Test run
On Tuesday, Burton brought her two grandchildren — Gavin, 6, and Emily, 8 — to Ian's Place for a test run. They rode the track on their scooters and tested out the musical instruments.
Emily Burton said she likes that there's a safe place they can play rather than being out in the street.
"Good thing I have this because now I don't have to ride in the road and break my ankle like I did one time," she said. "I really have nowhere to ride my bike."
Garrett Crozier, city parks laborer, said he's been maintaining the park since construction began and described the project as a complete transformation of space.
"When I first came out here, it looked like a shady little park that no one would ever go to, and everything was rusted," he said. "Now, it has modern play equipment, soccer goals, a bike track and clean tennis courts. It's getting better and better with each passing month."