PITTSBURG, Kan. — A cloud of smoke filled the air as school students watched intently while Civil War reenactors dressed as Union and Confederate soldiers fired a cannon during a demonstration on Friday at the Crawford County Historical Museum in Pittsburg.
As part of a daylong tour, groups of students from area schools roamed the grounds of the museum, which transported the youngsters back in time to the 19th century. A variety of tents were set up throughout the property where Civil War reenactors wore period-authentic dress and demonstrated skills such as blacksmithing, stone carving and basket weaving.
The Civil War Living History Re-enactments are one of the many activities being held this weekend as part of Pittsburg's 35th annual Little Balkans Days. The festival, held annually on Labor Day weekend, celebrates the rich ethnic heritage of Southeast Kansas.
The event is named after the immigrants who settled in the region because most of them came from the Balkans in southeastern Europe.
Steve Maddox, of Carl Junction, has been reenacting for over four years, and demonstrated what life would've been like in the 1830s to the 1850s when everything was handmade. Gourds cut out in different shapes and sizes hung from his tent as the children gathered around him to hear about the creation of past and modern art.
"You couldn't go to the store and buy a horseshoe or a knife," Maddox said. "A blacksmith had to make it. I think blacksmiths are like computer programmers of their day. You had to have a blacksmith. Every town and every military unit had to have one."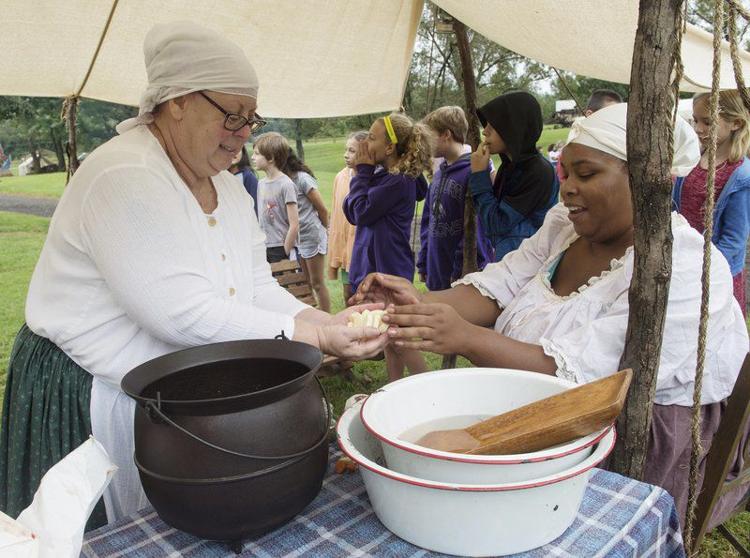 Maddox held up a variety of different gourds that were cut and repurposed into candle holders, bottles, ladles and even a guitar. One of the gourds, referred to as a dipper gourd, was marked with white spots to portray the Big Dipper in the constellation Ursa Major.
"During the underground railroad, people were fleeing to go north," he said, holding the dipper gourd. "The only way they knew where north was back in those days because they didn't have compasses, they followed the North Star. They would put this gourd in the fork of a road and it would point what lane to take that was going north."
Ellie Carper, 10, a fifth grader at George Nettels Elementary, described the school day tour as fun and an exciting way to see how previous generations lived. Her favorite part of the day was seeing the transformation of period dress from the beginning of the Civil War to the end.
"It's actually really cool to learn what my ancestors and people did back then, and learn about what they used to have that changed over the years to what we have now," she said.
Carper said she's going to try to persuade her family to take her to the rest of the activities during Little Balkans Days this weekend. Kylie Parsons, a paraprofessional at George Nettels, said the students learned about everything from military infantries to medicine.
Parsons mentioned how the Living History activity made the children excited to learn and gave them an interactive, hands-on experience. She said it was meaningful for her to take her students to the Little Balkans festival because she grew up attending the event when she was their age.
"It's carrying on a tradition," Parsons said. "I don't have any children of my own, just nieces and nephews. I want them to experience the same things that I got to experience. I like to get together with my sister and we go check out the Quilt Show."
The festival is also a tradition for many others, including the Minton family. Kyle Minton, of Pittsburg, checked out the free petting zoo at Sixth and Pine streets with his wife, Kaitlyn, and their two sons, Kooper, 3, and Kade, who's 10 months old.
"Everyone looks forward to Little Balkans Days," Kyle Minton said. "I've been to almost all of them. When I was a kid, they always did a 3-on-3 basketball tournament, a downtown car show and had rides."
The Kramer Livestock Farm Petting Zoo out of Parsons had a variety of animals such as a camel, a minidonkey, a minihorse, an alpaca, fainting goats and African tortoises. Kooper Minton couldn't help but giggle uncontrollably as a tribe of goats nibbled at the food pellets in his hands.
"He really liked hearing the turtle crunch the lettuce," Kyle Minton said.