Workers at the historic Schifferdecker house restoration project have uncovered pieces of history from beneath the foundation of the carriage house on the property.
About 400 pieces of dishes, bottles, hand tools and other household items — believed to be from the 1890s era of the Schifferdecker ownership — were carefully excavated by hand after a construction crew on Dec. 21 hit what apparently was a trash disposal site on the property.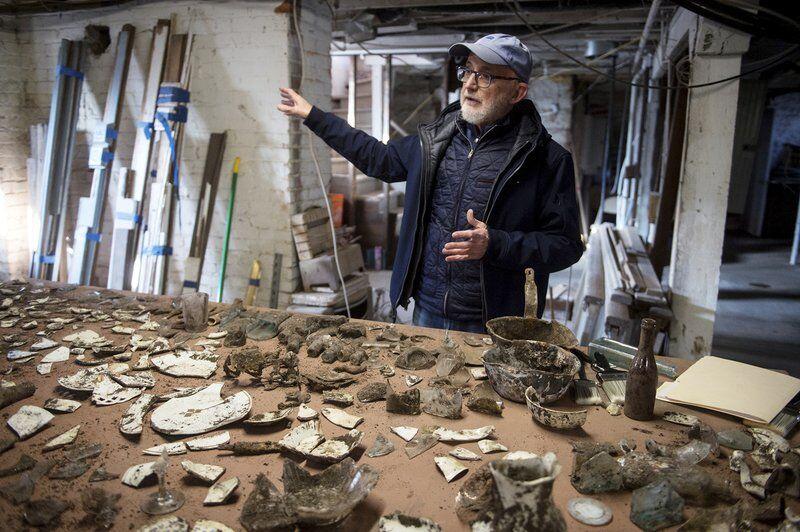 The Schifferdecker house at 422 S. Sergeant Ave. was built in 1890 and is one of three houses being restored as part of the Joplin Historical Neighborhoods Inc. project. The houses will become living history museums to depict the life of affluent Joplin families of the era. The other houses are those of Schifferdecker friend, business associate and neighbor Edward Zelleken, 406 S. Sergeant Ave., and the A.H. Rogers home across the street at 621 W. Fourth St.
Brad Belk, preservation director and curator of the project, said the find is exciting for several reasons.
"What I like about it is it gives us a little insight into the Schifferdeckers," he said.
"In most historic house sites, they have the luxury of having the entire furniture sets or the entire china set of the original owner," he said, but in this case, the occupants of the house, Charles Schifferdecker, his wife Mina, and her mother, Frederika Martens, all died within two months of each other in 1915. The Schifferdecker couple had no surviving children; they had one son who died in 1878 when he was a year old.
Belk said it is unknown what happened to the contents of the house after the deaths, although he is searching for any records of an estate sale or some other action taken regarding the household goods.
'Found underfoot'
But like so many historical sites, dirt can yield trash and treasure, and both can prove valuable for information.
"So much of our history has been found underfoot," Belk said. "No civilization passes without leaving a trace behind. We feel there will be other discoveries as we continue our work."
Before the advent of trash cans and solid waste pickup services, people buried their trash and unusable items, Belk said.
In this case, there was no intentional dig for artifacts. A crew from the project contractor, Generations Construction of Joplin, was digging near the carriage house as part of the process of pouring new concrete footings for the outbuilding. It had been tipping slightly as its foundation wore away, and work was being done to stabilize it, Belk said.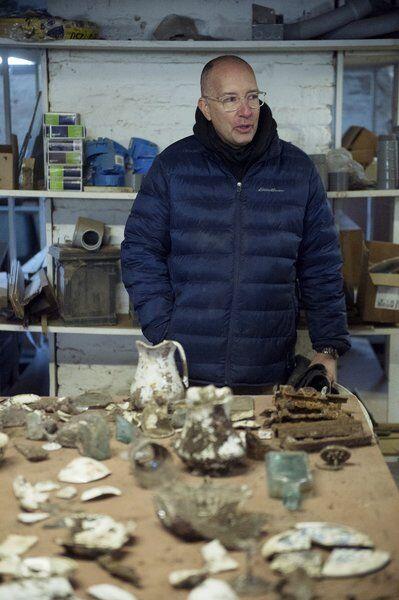 Ryan Scheuermann, project manager for Generations, said, "We were digging a hole and using an excavator ... and noticed a glistening in the light because it was a nice, sunny morning. I thought I better stop what I was doing, and I asked James (Newby) to look at the pile at dirt. And he said with amazement, 'Oh man, we've got a bottle over here that's fully intact.' So at that point, we stopped what we were doing and started sifting through all of the dirt and started becoming archaeologists ourselves."
The crew sifted slowly through the dirt to find the relics. The area of the find was about 5 1/2 feet long by 5 1/2 feet wide and about 6 feet deep. They worked about a day and a half to recover the items, Scheuermann said. It was well contained within that area, he said, indicating that it was an intentional dump site.
Matthew Houston, a general laborer on the crew, said his first thought was there would only be one or two pieces, but there was much more to be unearthed.
"I found it really, really exciting because it's so different than what we normally do on a daily basis," Houston said.
James Newby, journeyman carpenter, was most interested in pieces of a metal toy train found. He also was excited to see some antique bottles uncovered.
Enhancement of restoration project
Scheuermann said the crew, which includes another worker, Brandon Day, has removed about 100 tons of dirt from the project site, "and this is the only thing we have found thus far, and this is phenomenal." He said 100 tons is a lot of dirt, "but one would think you would find a lot more (artifacts) in the amount of history around these homes. I think we will find more. We just haven't dug in the right places yet."
Some of the antique bottles recovered bore the name "Dr. Pierce's Favorite Prescription." According to Belk's research, it was available from around 1880 to 1900 and was advertised as "The Only Guaranteed Cure for Female Weakness and Kindred Ailments."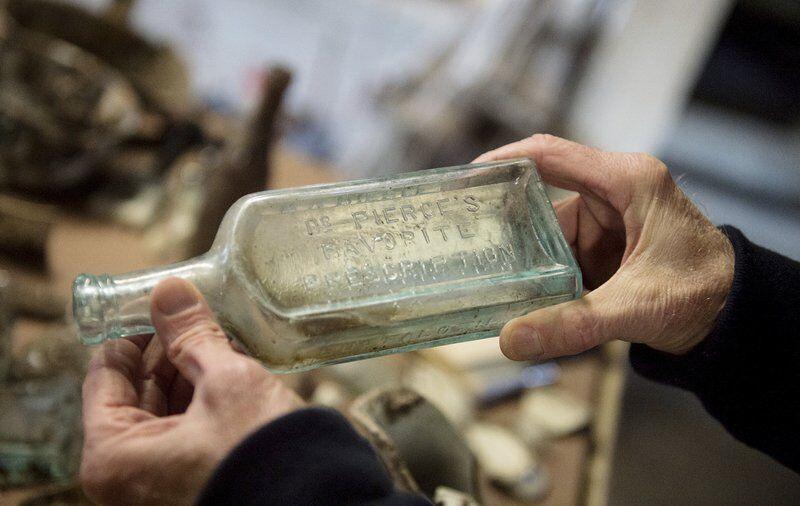 The medicine's creator, Ray Vaughn Pierce, was considered a doctor in alternative medicine circles as a graduate of a Cincinnati medical institute and built the county's largest patent medicine manufacturing operation of its day, according to Belk's research.
Like other patent medicines back then, the ingredients of Pierce's concoction included opium and hard liquor. Advertisements for the brew included purported testimonials from users.
In one, a woman said she had been so distressed that Dr. Pierce's Favorite Prescription was the only thing that helped her sleep. "I believe I took eight bottles and then I felt like a different person," the testimonial read. After having a baby, her old "complaint" returned, but she was soon relieved again by the use of Dr. Pierce's concoction, the ad reads.
There is still work to be done on the relic discovery, Belk said.
"Our plans are to properly clean and continue to research the origin and significance of the artifacts," he said. "We will eventually display a portion of them. ... This find becomes another fascinating educational component, further enhancing our restoration story."